World's End Lodge: Centre of execursions
By Sanath Weerasuriya
Out of many destinations, adventure places, exotic locations or even beaches, Horton Plains is the most outstanding and unique place in Sri Lanka.
Though it is situated in one of the most beautiful and enthralling heights, Sri Lanka is not marketing it in a proper way.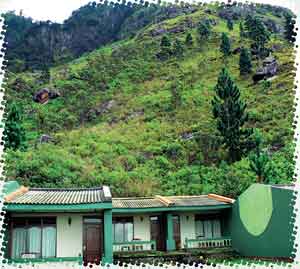 Front view of the Lodge
Apart from the sanctuary and the popular World's End, Department of Wildlife, has no proper place of lodging to hundreds of guests visiting the venue daily.
'World's End Lodge', which has 4500 elevation, is located in Lower Ohiya, the Southern drop of the Plains.
'World's End Lodge' is one of the oldest places in the region, dating back to 1986. The Lodge is situated on the original road leading to World's End in Horton Plains overlooking the misty edges of the Plains.
'World's End Lodge' is just four and half hours drive from Colombo on Badulla Road. The turn off is at 177th km post, just before Haldumulla Town.
This short four km narrow winding road is one of the original roads towards Horton Plains, a remote wild windswept plateau, the highest in Sri Lanka first discovered by Sir Thomas Farr, an English Planter in 1890.
'Once this had been a good road used by horse carts but now reduced to only a foot path after a bridge has been washed away in the 1940s. Follow the telephone posts as the path wriggles along some breathtaking scenery with a steady accent and you will come to a virtual stop after about 1.5kms' said Angelo Dias Wanigasekera, the Resident Manager of the 'World's End Lodge'.

Resident Manager Angelo Dias Wanigasekera
The Lodge has 16 rooms in three different structures. The original Bungalow has four rooms and World's End Lodge, which was built later, has seven well appointed rooms. The latest addition is five roomed 'Eagle's Nest'.
'This is our new wing, which is just eight months old. This has separate dinging area, roof top balcony, and lobby with TV and bar area' he added.
All rooms are in perfect harmony with elegant furnishing, design and style with English type bathrooms. The private verandah has a bird's eye view of Southern Sri Lanka.
On a clear day guests can see Kirinde light house, Chandrika Weva, Uda walawe, Dondra and Deniyaya too' 'Nearly 40 pax including children can be accommodated in the hotel. And our cuisine includes wide array of eastern and western dishes prepared by our master chef Indika' Wanigasekera said.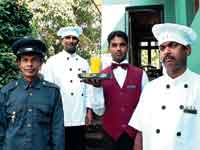 The WEL Team
'If you are tired of having your meals inside why not inquire about having a private B.B.Q. with a bon fire by the poolside, weather permitting' he added.
The garden fresh vegetables comes to the kitchen from the hotel vegetation. Apart from the food and the location, the attraction is the spring water swimming pool.
'World's End Lodge' is popular as a central point for excursions, trekking and adventure activities.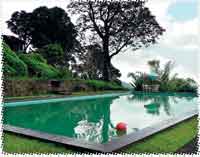 Pool
Horton Plains is the popular trek, which is a whole one day affair from the hotel. 'Even if you go half way you will be rewarded with a magnificent view perhaps one that is even better than the one from World's End cliff edge' he added.
There are numerous paths inside hotel's 140-acre private jungle land to walk along. All these nature walks are absolutely safe and very interesting. In all the streams the water is safe to drink
'You can also climb the mountain right behind the Lodge. Unless you are a good mountaineer do not go beyond where the path ends. On a clear day if you climb up early morning you'll be able to view the sunrise from the East Coast of Sri Lanka' said Angelo.
Bambarakande Falls (790), the highest in Sri Lanka; accessible by road is also an interesting trek for the energetic.
For a day's outing the hill country resort towns of Nuwara-Eliya and Bandarawela are only a few hours drive.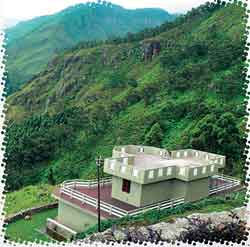 Eagle's Nest
'Diyaluma, Dunhinda and Ravana falls are also interesting places to visit. If you pass Haputale do not forget to visit Adisham, a Benedictine monastery once a Castle in England now rebuilt here'
The World's End Lodge is own by businessman Salinda Dharmaratne.