'Ridma Plus' from Chaminda
Chaminda Livera, a popular Sri Lankan musician residing in France will give his first stage performance in Sri Lanka on August 12 at 3.00p.m. at the Elphinstone Theatre in Colombo.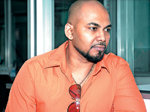 Chaminda Livera
The show titled 'Ridma Plus' will have Chaminda performing mainly Sinhala songs and a few English songs, all of which are of western rhythm and are a mix of rock and roll, reggae, African music etc. They are also all original compositions by Chaminda which have already become popular among his fans in Paris.
An old boy of Maris Stella College. Negombo, Chaminda had his initial training in music at the Don Bosco youth centre and along with being the main vocalist in his band he also plays drums, guitar and keyboards. His earliest inspiration to become a singer came from his maternal grandmother who was musically oriented, he added.
"I play at shows in France regularly and have also played in Germany and England. Soon I hope to play in Italy and Cyprus," said Chaminda who has his own band in Paris. His band is also backed several local singers and dancers when they performed in Paris.
However for his show in Sri Lanka, expect for two dancers, the others will be his old friends in Sri Lanka who formed part of a band before he migrated to France 18 years ago. They include Manjula Moonasinghe,(head of band-keyboards), Leader, Chandana Boteju and Ajith Gamaarachchi.
Chaminda had his first exposure to the Sri Lankan audience when his song "Hinahee, Nelavee" reached third place on the "Rasa Risi Gee" chart and stayed there for several weeks. This music clip was made in Paris and Chaminda was surprised when a guest at a wedding he attended recently recognized him from his music video and inquired when he was hoping to release another song.
"I have made another music video and hope to release it soon." he said.
Among Chamnida's fans in Paris are not only Sri Lankan but also many French people. The chorus of one of his songs is sung in French as well.
So music fans if you want to have a really different musical experience, here is the chance to experience it on August 12 at the Elphinstone Theatre in Colombo.