Sangeetha in producer's role
By Susitha R. Fernando
There are a number of actresses in Sri Lankan cinema, who turned successful producers during the course of their careers.
Nita Fernando, Malani Fonseka, Sriyani Amerasena, and Geetha Kumarasinghe are the stars who not only made box-office hits, but also award winning productions.
An award winning actress, Sangeetha Weeraratne is the latest to join the band of actresses turned producer.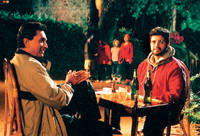 Ravindra and Dayan in a scene from 'Sewvandhi'
'Sewvandhi' her debut production to the direction of acclaimed director Vasantha Obeysekera is sure to turn a different page in her career as an actress.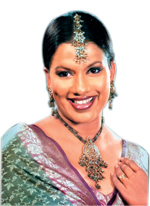 Sangeetha Weeraratne
Sangeetha who is still busy with the post-production of 'Sewvandhi' spoke about her experience being a producer when TV Times interviewed her at her ABC Lane residence, Colombo-2.
TV Times: How challenging was the role of the producer?
Sangeetha: Having been brought up in surrounding with stars and crew running around my house, my film production was a way of life. From the time I was born my father made films. I could remember those days my father would be out of the country almost every month. In fact I can remember when I was very young, Thaththi used to go to India very often and oh my god I thought that India must be very close to us.
So production was something I was interested in when I was very small as well. One reason for this was I liked mathematics and accounts in film producing. I was interested in these aspects in addition to acting. How much money goes into different areas of the production, I was more interested in that. And film production was a family business for me. I knew how to treat my artistes, how important my crew is, how to treat them well and how to handle props and crops. In addition while acting, I was also amassing experience.
TV Times: What kind of support did you get from your team?
Sangeetha : Their support was immense. Actors Kamal, Ravindra and the rest them were very accommodating. They were not worried about how much money they would get. The crew was excellent. I had a hard working production team.
TV Times: You worked with one who is known as a tough director?
Sangeetha: That is the idea I too had when I was doing 'Maruthaya' in which I played one of the lead roles. He was popular as a tough director, who shouts at people. But I realised that this was wrong. He only shouts at people when things are not done properly.
TV Times: Did you think that it was a risky decision to invest money on a film?
Sangeetha: I love my films. How can we expect the people in the business to put money if we are thinking like that. I think the sensible thing to do is to do a good film for the screen and try your utmost to sell it out of the country. There are many European countries which are ready to support. Other ways to find alternate markets are to take our films to Sri Lankan audiences living abroad. In filmmaking there are different ways to recover your money.
TV Times: What are the areas that you would improve if you do another film?
Sangeetha : Marketing. Marketing a film is an area I never thought of before I did a film. I was only thinking of completing the film. But now I have realised that I should have thought about it right from the beginning when making the film as well as producing. Marketing would be one aspect I would pay more attention next time.
TV Times: What gave you the idea to do Tamil versions of 'Sewvandhi'?
Sangeetha: It is not a new idea from me. My father had done complete Tamil films. We make lot of films but Tamil people never watch them. Irrespective of language there is a film going audience among the Tamils, who would not miss a good artistic film. Whether Tamil or Sinhala at the end of the day we are in one culture.
Spending a lot of money I made three copies of the Tamil dubbed versions for the first time in addition to 20 Sinhala copies.
TV Times: How was it being 'Sewvandhi' ?
Sangeetha: It was very very interesting, It is a character which goes through a lot of emotions. It was a wonderful experience. Sewvandhi could be your mother, sister or a friend. It is from real life. It was different from all the other film of Wasantha Obeysekere. Sewvandhi gives a twist and a surprise at the end of the film for the audience.
TV Times: What would be your next step?
Sangeetha: Well, preparing for the next film. I have not yet decided, who is going to be my director. In fact there is a long list of people I need to think about. I was introduced to cinema by Roy de Silva. And there are also many like Mr. and Mrs. Peries who taught me a lot in this field. So once I select my director I would start working on it.

---
Sangeetha's Voyage

Born on December 13, 1973, Sangeetha studied at Methodist College Colombo.
Started acting career in Dr. Lester James Peries' miniplay 'Golu Handawath' (Silent Heart), the first film she played was 'It's a Matter of Time', the English film made by Roy de Silva.
Her successful career as an actress had garnered her award almost all the years she had been in the cinema. Along with 'Sewvandhi', Sangeetha had acted in forty nine films.
1993 Best Newcomer for 'Saptha Kanya' (Sarasaviya).
1994 Best Actress for 'Nomiyena Minissu' (Sarasaviya).
1995 Merit Award for 'Maruthaya' (Sarasaviya).
1996 Critic Award for Best Actress in 'Dorakada Marawa'.
1998 Best Actress OCIC for 'Dorakada Marawa'.
1999 Best Supporting Actress for 'Pawuru Walau'
(Presidential Award).
2000 Outstanding young personality- Junior Chamber
Sri Lanka for the contribution to the arts.
2001 Best Actress and Most popular
Actress for 'Aswesuma'
2002/2003 Most Popular Actress (Sarasaviya)