Journeying towards musical heights
They're passionate, energetic and committed. Voices in Harmony is raring to go. Vidushi Seneviratne speaks to the choristers about the concert and their wonderful teacher.
Voices of all tones and pitches drift towards you from the top floor of a certain residence the minute you walk in the gate. Follow the voices up the stairs, and giving you a hint of what to expect, you encounter almost a hundred pairs of colourful slippers and shoes, which you need to step over, if you are to get to your destination. Once you're there, you're welcomed by an indescribable amount of pure and almost overwhelming energy…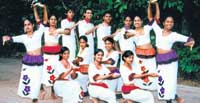 Pix by Anuruddha Medawattegedara
Welcome to a rehearsal of Voices in Harmony. This was evidently a haven for the musically-inclined. Preparing for their show 'A Musical Journey with Ruwani Seimon' scheduled to be held next weekend, the gifted members of this choir seem to be channelling their zest for music, towards making the performance a success. All set to rock your world, Voices in Harmony will be performing on August 18, 19 and 20, at 7.15 p.m., at the Lionel Wendt theatre.
The rehearsal was a hive of organised chaos when I met them, as a few members of the senior choir struck up poses for photographs in the garden, another group intensely practiced an item in an interior room, and the juniors donned their creative costumes and prepared for their photoshoot. Involved a hundred percent and single-handedly ensuring that everything went smoothly, was Ruwani Seimon, their dynamic, disciplined and much-loved teacher. Her levels of energy (which still amaze me), evidently rubs off on her pupils, along with her drive and commitment to do what she does.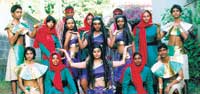 This being the eighth concert by Voices in Harmony, it will definitely be a memorable journey through the history of the choir, with a number of their favourites, redone this time round. The senior choir will be doing a medley of semi-classical and inspirational songs such as "Amazing Grace," "You'll Never Walk Alone" and "Impossible Dream," a Sinhala medley with songs such as "Dannobudungé," "Nimhim Sewwa" and even a few baila songs, along with a series of catchy tunes from Bombay Dreams. Sure to be a hit with the audiences, the junior choir will be doing an entertaining medley from Pocahontas, a pop music medley and "Lion Sleeps Tonight," also known as Mbube, done by a small group of juniors in an African language.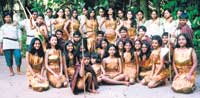 Managing to catch up with a few of the senior members of the choir, in the midst of the activity, it was clear that the immense love for music that they shared was obviously the one constant feature common to all of them. For Asanka Perera (21), a bassist, having sung with Ruwani for the last ten years, this is the eighth concert he will be a part of. "I initially joined Voices in Harmony for singing examinations, but you also learn a variety of music, as well as make loads of friends, and though it's made up of members of various ages, it's the music that makes us all bond with each other." With the seniors pitching in quite a lot during concerts, Asanka, who is a part of the Cantata Singers, looks after the basses, while others take charge of their area of speciality.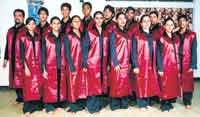 "Singing has always been an interest for me, and I thoroughly enjoy being a part of Voices in Harmony. It's a really interesting experience for me, since there is a great amount of brotherhood among all the members, though the choir has no age limit, and are from varied schools and other educational backgrounds," says Priyan de Livera, another senior member of the choir, who has been singing with Ruwani for the last five years. "The common link between us is the love for music, and of course Ruwani's dynamism and commitment is extremely stimulating for all of us."
When asked to describe the show, Charith Peris (21), Ashanthi Colombage (19) and Dilini Perera (19), all of them having sung with Voices in Harmony for a relatively long time, sum it up as a "bi-annual overdose of fun!" "But apart from the fun, it's also a lot of exercise," says Ashanthi, adding that what's special about their choir is probably the fact that they really perform all the songs in their shows. As Dilini put it, "It wouldn't be natural if we just stood still and sang any of those songs, since none of us can ever be still for even a short period of time!"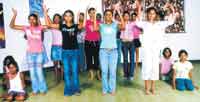 So what does their teacher really mean to them? With all three of them instantly going into a reflective mood, they described her almost as a "habit." "She's been there for a majority of our lives. Her 'positive-ness,' perfection and motivation is what pushes us to be what we are. We end up applying these principles to our day to day lives as well," is their joint response, all of them adding that they plan to be a part of Voices in Harmony for "as long as possible."
Nihara Perera (13) agrees that being a part of the show is a great experience, since though it's chaotic and tiring, it's also a lot of fun. As for her teacher, she feels that she is truly an inspiration to all her students. "She has taught us that anything is possible, if you have a positive attitude. I definitely want to stick with her for as long as I can." For Avishka Mendis (12), in the choir for three years, he is thoroughly enjoying himself with the show. "It's a good place to make new friends, and it's a lot of fun. Apart from singing, the main thing I've learned from Miss Ruwani is to be punctual!"
The senior choir in Voices in Harmony includes 53 members, while 40 members make up the junior choir. Diversity is one of the key features of the choir, starting with the fact that it's made up of members of all ages, and various educational and professional backgrounds. The performance too will be an assortment of entertainment, with songs performed in English, Sinhalese, Tamil, Hindi and even an African language. Giving Voices in Harmony distinctiveness is the fact that almost all their items are actively dramatised, and not just sung, with the choreography handled solely by the seniors.
Though Voices in Harmony have used live back-up music for previous concerts, this year's show is going to different, with the background music being done by the use of tracks, handled by Mahesh Denipitiya, an expert in the Sri Lankan music industry. The main sponsors for the performance are Brandix, Singer and Pepsi. The electronic media sponsors are Channel 1 MTV, Sirasa TV, YES FM and Sirasa FM, while the print media sponsor is The Sunday Times. The performance is in aid of the Cancer Society and for cancer patients in need.