Potter's final round
Malveena Jayawardhana (14) can't wait till July 21. She and her brother Mandara (18) are already begging their father to preorder the upcoming Harry Potter book. "Since it's the last book, J. K. Rowling must have something unexpected in store for us. I expect it to be a book filled with suspense, excitement and sorrow," says Malveena.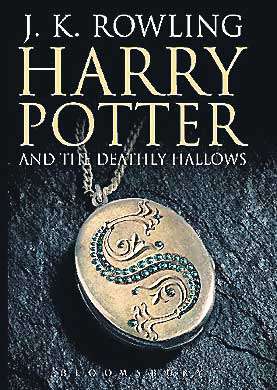 With just over 90 days to go for the release of the much anticipated seventh, and final, installment of the famous Potter series, fans all over the world are showing mixed feelings. Titled Harry Potter and the Deathly Hallows, it's scheduled to be released at 0001 hrs on July 21 this year.
Most fans are excited at the prospect of finally getting their hands on the book that they hope will answer all their questions about the Potterverse but at the same time are quite upset about the fact that this is going to be the very last one.
Rowling herself was torn between heartbreak and euphoria. Posting her feelings on her official website, she said, "I always knew that Harry's story would end with the seventh book, but saying goodbye has been just as hard as I always knew it would be. Even while I'm mourning, though, I feel an incredible sense of achievement. I can hardly believe that I've finally written the ending I've been planning for so many years. I've never felt such a mixture of extreme emotions in my life, never dreamed I could feel simultaneously heartbroken and euphoric."
The first Harry Potter book was published in 1997 in Great Britain as a children's novel. However, as the series progressed, it rapidly became a favourite among children and adults alike.
On the surface, the books tell the story of a boy wizard whose parents had been killed by a powerful evil wizard and the boy's quest to rid the Wizarding world of this dark wizard once and for all. However, the story goes a lot deeper than that, according to almost everyone in the vast Harry Potter fandom. They insist that the books dwell on a lot of modern day issues such as racism, prejudice, the battle between good and evil, right and wrong and what's easy and what's right, and even love. It's not merely a story of a boy riding a broomstick but a well written coming-of-age story, they stress. "It's a very engrossing series for all readers, young and old," says Lohitha Gunathilake (22).
Leading bookshops in the country have already got preorders for the upcoming book from the local fans of the series. Sarasavi Bookshop will be importing 1500 copies initially. The management of Sarasavi said that they've got more than a 100 preorders so far and that the first 100 people to order the book will receive a free copy of one of the previous books as a special gift.
A big question that fans are intensely debating about is whether or not Harry will survive his final confrontation with his nemesis, the evil, and very powerful, Lord Voldemort which will take place in the upcoming book.
"Well I hope Harry will live and Voldemort will die," says Mandara (18), while Malveena has a similar expectation. "I hope Harry won't die", she says emphatically.
Shanika Suwaris (20) is not quite sure what she wants from Rowling. "Well, I doubt whether a happy ending would suit the whole series, but at the same time I don't want Harry to die and make it a tragedy. But then again, J. K. Rowling is a great author; she'll have the best story one could imagine embedded in Harry Potter 7," she says.