Know your oils
Coconut - the best for Asian cooking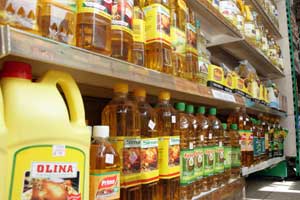 It is now considered that coconut is superior to all other oils, especially the extra virgin coconut oil for Asian cooking. The unique health benefits of coconut oil are directly related to its chemical structure. The fatty acid chains are medium sized and they are fully metabolised in the liver, used as energy, without being stored as cholesterol and transported through the blood stream to other sites.
By contrast, most common vegetable or seed oils are comprised of long chain fatty acids. These long chain fatty acids, unlike the medium chained ones in coconut, are difficult to metabolise in the liver, and are packaged with lipoproteins needing special enzymes for digestion. They put more strain on the digestive system and the liver.
Coconut has lauric acid (monoglyceride) which is disease fighting, the same chemical found in mother's milk. Lauric acid enhances the immune system of the body and has many antimicrobial properties.
Different oils fill different needs- for health, taste and cooking. For good health, our bodies need a variety of healthy fats that are found naturally in different oils. Fat obtained from animals, vegetable seeds and nuts all are formed of fatty acids. Each fatty acid has a chain of carbon atoms.
In saturated fats a pair of hydrogen atoms is attached to all carbon atoms in the fatty acid chain. Saturated fats are solid at room temperature, very stable, resist oxidation (responsible for rancidity), and are primarily found in meat, dairy including cheese, and palm and coconut oil. Saturated fats can raise levels of "bad" LDL cholesterol and total cholesterol increasing the risk of heart disease. They may also increase the risk of certain cancers. Their usage should be limited to less than 7% of your total calories.
Polyunsaturated fats are liquid at room temperature unlike the saturated ones, and very unstable, oxidising easily and going rancid. They are found in seafood, corn, soybean, safflower, sunflower oils, peanuts, mustard etc. In these fatty acid carbon chains, a few carbon atoms are minus hydrogen atoms, and the carbon atoms are joined with double links.
Monounsaturated fats are more stable generally than polyunsaturated fats. They are found in canola, olive, and peanut etc. All oils contain in addition to the main fat, smaller amounts of other fats. For instance canola oil, though labelled as a monounsaturated fat contains polyunsaturated fat, too.
Pressed vs. Chemically extracted oils
From a health point of view one should know how the oils are obtained from the seeds and nuts. Olive oil, avocado and walnut oils, being soft are expeller pressed, centrifuged, and labelled as "cold pressed". Hard oilseeds like soy or canola require preheating before pressing.
In contrast, common mass-market oils generally are extracted with toxic chemical solvents such as hexene. More chemicals are added at very high temperature, strained, deodorized and bleached, rendering them inferior in taste and fragrance, with poor maturational quality. All chemicals cannot be removed from the extracted oil, and their carcinogenic properties should be considered.
This is what we buy as refined vegetable oils in the supermarkets. To make them more stable and increase shelf life, trans-fats are also added. Avoid these mass-market oils for cooking.
Unrefined oils
Unrefined oils are not clear and transparent. They are cloudy. They are "whole" oils and retain their flavour, colour and fragrance. They are more nutritious. No transfat is added, and as such, they have a shorter shelf life than refined oils.
In the old days, grocery shops in Sri Lanka, had unrefined coconut oil in large rectangular tin cans. The fragrance and the taste were appetising. They were cloudy with particles, and smelt like the "poonac" given to cattle. You took your own bottle with you and the thick oil was poured into it with something like a soup spoon with a long handle, through a funnel. The stopper was invariably improvised with rolled-up newspaper. That was the genuine pressed coconut we used for cooking and the flavour was unbelievable. Gone are those days.
Even today in some homes in the coconut growing districts, folks press their own fresh coconuts to get oil, for cooking purposes. Virgin coconut oil would be the closest to use from a nutritional level, and also taste-wise. Unrefined oils are good unheated used in dressings, or in very light sautéing or baking.
Refined oils
These oils are repeatedly filtered and strained to get the clear fluid. Refining reduces the nutrient level and flavour. They are more resistant to heat and more stable and can be used in high heat cooking and frying. Refined peanut oil (not available in Sri Lanka) would be a good choice to use for very high heat cooking and even deep-frying. It is used in Chinese cooking to get that special flavour.
Cooking oils
Canola refined - used for baking, sautéing, frying and high deep-frying. Canola is higher in omega-3 than olive oil.
Canola unrefined - good for baking, sautéing, frying. Mild and nutty, the least saturated of all culinary oils, it has an impressive amount of monounsaturated fat and can be used for high temperature frying.
Corn, refined, unrefined - for baking, sautéing (not for frying). If not certified organic, it may be genetically engineered.
Olive, unrefined, refined - good for baking, sauté and frying. Olive oil is highest in healthful monounsaturated fats, but it has few healthy omega-3 fatty acids and can't be used for high-temperature frying as in Asian cooking. Flavour varies based on olive variety and region. High in antioxidants.
Peanut, refined - good for baking sautéing, frying and deep-frying. Light flavour.
Peanut unrefined - good for baking and sautéing. Subtle peanut flavour. Good in Asian dishes. Not freely available in Sri Lanka.
Sunflower, polyunsaturated, refined - for baking, sautéing, and frying (not for deep frying). Multipurpose but not for high-heat cooking.
Sesame, refined - for baking, sautéing, and frying (not deep frying)
Sesame, unrefined - for baking and sautéing. May help with high blood pressure.
Trans-fats
Many processed foods contain partially hydrogenated oil. Hydroge-nation is the process where unsaturated oils are pressurised with hydrogen vapour to make them more saturated and stable.
These man-made fats contain molecules called trans-fatty acids, which interfere with normal metabolic functions, and are thought to be a major culprit in the development of cancer and other diseases. Avoiding them is important for health. They are found in some margarines. So think hard before you next buy your cooking oil.