At the United Nations General Assembly (UNGA) meeting in New York last week, Sri Lankan President Mahinda Rajapaksa defended his brand of politics while almost suggesting to other heads of states that his government's counter terrorism policies should be a global case study. During his speech at the UN headquarters on September 23, President Rajapaksa, appeared to rebuff India on the Tamil issue.
"A great deal has been said by those beyond our borders about our Tamil community. Let me be clear, no nation on earth can wish Sri Lanka's Tamil community more good fortune than Sri Lanka itself," he said. Although President Rajapaksa said the same in public gatherings within the country earlier making the remark at the UN seemed to have been a diplomatic tactic.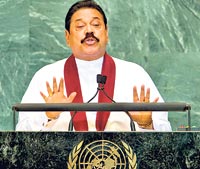 President Rajapaksa addressing the UN. AFP
Well aware that he was amid leaders of nations who had pursued the UN to investigate allegations of war crimes against the Sri Lankan armed forces in the final stages of the civil war, President Rajapaksa said that it was worthy to "examine capacity of current international humanitarian law to meet contemporary needs." The "asymmetrical nature of conflicts initiated by non-state actors gives rise to serious problems which need to be considered in earnest by the international community," he added.
While seemingly praising his (own) government for decisively ending the civil war last year, President Rajapaksa called the current times a "crucial juncture" in Sri Lanka's history as his second team in office was about to begin in November. The President's speech writers appeared to have craftily chosen words to outline his vision: "Lasting peace, healing wounds, ensuring economic prosperity and guaranteeing the rights of the whole nation to live in harmony."
"We are mindful that in order to fulfil these aspirations, economic development and political reconciliation must go hand in hand. Towards this end, constitutional changes which appropriately reflect aspirations of our people will be evolved with the full participation of all stakeholders," he said. The President however did not elaborate on the nature of "constitutional changes" or identify the stakeholders. Besides, he could not have been referring to the 18th Amendment since it had had been passed by Parliament way before he left for the US.
President Rajapaksa also told the UNGA that "90 per cent of the internally displaced persons had returned to their original villages that were previously riddled with landmines." The Sri Lankan economy, he said, was only on its way to realise the peace dividend. "We are experiencing steady and sustained growth including during the last quarter of over eight per cent, moderate inflation and low interest rates."
The President asked member nations to include Palestine as full member; to empathise with Cuban people by lifting embargos and assist the African continent in its efforts to elevate the quality of life on its people.
In the sidelines of the UNGA the President held bilateral meetings with foes and friends. He met Norwegian Prime Minister Jens Stoltenburg on September 21. The meeting, according to the Sri Lankan embassy in Washington DC indicated a "fresh relationship" between the two countries.
According to the statement from the embassy, President Rajapaksa is said to have "explained" to the Norwegian leader that there was "no purpose in those who claimed to support" the Tamil people of Sri Lanka. "Campaigning for them from abroad, rather than come to Sri Lanka and work with the people here."
Eric Solheim, Norway's Environment Minister and a name easily recognised in this country for his association with the LTTE talks in 2002, who was present at that meeting, is said to have expressed his interest in visiting the island nation to scout for areas where Norway could work.
President Rajapaksa held extensive discussions with close ally Iranian President Mohamoud Ahmadinejad on the same day.
On September 20, President Rajapaksa met German Chancellor Angela Merkel at a reception hosted by her in New York. Earlier in the day he had met the Emir of Qatar Sheikh Hamad bin Khalifa Al-Thani, who reportedly agreed to supply this country with Liquid Natural Gas. Qatar is home to 95,000 Sri Lankans currently working there. Sri Lanka made a request to be included as observer in the energy-rich Organisation of Islamic Nations.