Some experimental music can be rather demanding of its listeners – one must pay attention, sifting through chaotic notes to uncover the melody hidden within. Both musician and audience must be willing to enter into the adventure together, and it's likely that no one in the audience will hear quite the same thing.
The three young musicians in front of me are persuasive, they make this sound like a good thing. Eshantha Peiris, Sumudi Suraweera and Isaac Smith play the piano, the drums and the bass respectively. All three have spent many years abroad (Isaac is from New Zealand)and they're collaborators in the new music school Musicmatters. Together they're hoping to introduce something of a revolution – bringing innovative teaching and groundbreaking performances to Sri Lankan audiences.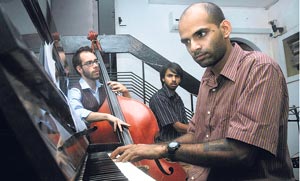 Absorbed in the process: (L-r) Isaac, Smudi and Eshantha.
"I find that a lot concerts here claim to be innovative and groundbreaking and all that. Is there some way we could describe our so-called experimental music in such a way that people know what kind of thing to expect?" Eshantha is not altogether happy with the way the interview is going.
He's earnest about setting 'Knowing Now' apart from other concerts of its ilk. Neither of the other two have easy answers – without limiting themselves to a single genre, the best they can do is tell me that the pieces combine pre-arranged music with a great deal of improvisation.
It turns out they don't want to claim the adjectives innovative and groundbreaking after all, instead they'd rather settle for introducing, and I paraphrase, 'a concept that is new to Sri Lanka, but is fairly common in international music circles.' "We feel like after being involved in scenes overseas, here we have to go back a few years to build up an audience and to connect them to where things are elsewhere in the world," says Sumudi.
The idea for the concert is clearly a reaction to what the three perceive as the "stagnation" of the local music scene. Without dismissing the chart-toppers and dance floor hits, Isaac says that he'd like to see Sri Lankan musicians go out into the wild as it were, to see what other roles music could fill in a post-war world. "There is a potential for music to function in so many beautiful ways," he says, earnestly. Leading by example, the trio will attempt a set of original compositions. Though each brings specific elements, rhythms and melodies to the stage, the end product is a result of the interaction between all three, as each musician fills in the gaps and elaborates on the other's composition.
"It's like we have A and B and it's up to you to decide how we get from one to the other, or we can decide how we're going to do it together," explains Isaac. That much of this filling in will be happening spontaneously on stage is evidence that they have complete faith in each other. Though Sumudi and Isaac have played together on and off for nearly five years, the trio itself is still a tender four months old. Still, over the course of our discussion, I discover that they're all equally enamoured of the word 'process.'
The composition, the actual performance and even the act of listening is intimately tied to an understanding of process. We would like the audience to have an understanding of the processes that underlie each number, says Eshantha. How essential is it? "I wouldn't say you need to know what the process is to enjoy it, the same way that you would not necessarily need to know the process behind the creation of a piece of modern visual art in order to appreciate it," he says, adding that "we might explain a bit about each piece to our audience, in order to provide some context." The audience can also expect the appearance of a guest artist for the sections composed by Sumudi. Explaining that the vocalist's performance will not be based on lyrics, Sumudi says his compositions are inspired by the patterns of low country drumming.
With a PhD in enthnomusicology, Sumudi has gone on to transfer many of the rhythms of traditional music to his drum kit. Though they have all strayed into other genres, Sumudi and Isaac are primarily Jazz musicians, while Eshantha's forte is classical music. They're very clear though about transcending those backgrounds and mastering new styles. "We perform regularly and it's an important part of being a musician, which is to grow and not become stagnant," says Eshantha. (You can catch some of the action at the Big Ears series held regularly on the premises of Musicmatters.)
'Knowing Now' will be on October 17 at the Punchi Theatre from 7 p.m. onwards. Priced at Rs. 500, tickets are available at Musicmatters, 92/1a, D.S. Senanayake Mawatha, Borella. (tel: 2686615) from 10 a.m. – 7 p.m. Print media sponsors: The Sunday Times.