The cordial tenor that has characterized India–Sri Lanka relations in recent years seems to have been reaffirmed during the three-day state visit of Indian External Affairs Minister S.M. Krishna that ends today (Sunday). The importance of the developments in this external relationship so vital to Sri Lanka seems to be somewhat understated in the media. The formal occasion for the visit was the 7th Session of the India - Sri Lanka Joint Commission, co-chaired by the two External Affairs ministers.
Described as a mechanism to review the implementation of bilateral commitments, the Joint Commission meeting covered a whole gamut of subjects from infrastructure (railways, housing, harbour and airport rehabilitation) to trade, investment, agriculture, education, health, de-mining, fishing, tourism and much else. The visiting minister also met President Mahinda Rajapaksa. The Joint Commission meeting is intended to build on the understandings reached during President Rajapaksa's visit to India in June this year.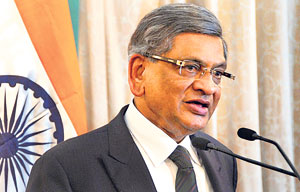 Indian External Affairs Minister S.M. Krishna
The item of most strategic importance on Krishna's programme however would seem to be the inauguration of two new Consulates General of India, in Hambantota and Jaffna. It appeared that this activity was deliberately downplayed by both parties. At a joint press briefing in Colombo on Friday the issue was subsumed under the general rubric of "improving people-to-people contacts," alongside more mundane activities such as the resumption of ferry services between Colombo and Tuticorin, and Talaimannar and Rameshwaram.
The new Indian Consulates were mooted in the context of China's expanding strategic footprint in Sri Lanka, with the Chinese-aided construction of the Hambantota port as its centerpiece. The Indian anxiety that characterized that period now seems to have given way to a more suave and matter-of-fact attitude. "The Indo-Sri Lanka relationship need not be at the cost of other countries," Krishna said. "Sri Lanka's relations with other countries depend on Sri Lanka itself. We respect that. We would like to work very closely with Sri Lanka. We would like to see a prosperous, stable Sri Lanka at peace with itself."
The Times of India however did not mince its words in underscoring geopolitical implications of the visit:
"Foreign minister S.M. Krishna will be in Sri Lanka over the weekend to do a couple of things - " it said, " - open consulates not just in Hambantota but in Jaffna as well — and send a message that with India's expanding presence in the island nation, it's not playing second fiddle to the Chinese. With two massive infrastructure projects in Sri Lanka, Hambantota and Colombo port, China posed a direct challenge to India's influence in its strategic backyard. But with the Lanka conflict behind them, India is trying to regain its act in the island nation".
The two governments agreed earlier this year that the consular district of the Indian Consulate in Jaffna would cover the five districts of the Northern Province, namely, Jaffna, Kilinochchi, Mullaitivu, Vavuniya and Mannar. The consular district of the Consulate in Hambantota would cover the districts of Galle, Matara, Hambantota and Moneragala. Moneragala will be transferred from the consular district of the existing Assistant High Commission of India in Kandy.
Is there a softening of tone on the part of India with regard to other issues as well? Reiterating India's commitment to Sri Lanka's overall development, in response to a question Krishna said "We will do everything depending on the comfort level of the Sri Lanka government."
With regard to the completion of IDP resettlement and delivery of a political solution, which have been sticking points in the relationship in recent times, India's terminology seemed to indicate a greater understanding and readiness to grant its small neighbour the time and space to resolve matters in its own way. On these points Krishna said:
"The cessation of hostilities in Sri Lanka in May last year provides a historic opportunity to address all outstanding issues related to rehabilitation as well as a political settlement in a spirit of understanding and mutual accommodation. It is our hope that a structured dialogue mechanism to work towards this end will be launched soon. We have been assured that it is the intention of the Sri Lankan Government to resettle the Internally Displaced Persons by the end of this year."
Meanwhile in a letter to the Indian minister before his departure for Sri Lanka, Tamil Nadu Chief Minister M. Karunanidhi is reported to have expressed concerns about the "untold miseries and innumerable hardships" of 30,000 IDPs still in welfare camps in Sri Lanka (out of 300,000 persons who were initially displaced by the war). Karunanidhi leads the DMK party in Tamil Nadu which is an ally of the Congress-led central government in India. Asked for his comments on Karunanidhi's assertions Krishna was guarded in his response, saying that there were some IDPs who were still "finding their feet," but that he was sure the Sri Lankan government was sensitive to the issue.
To Sri Lankans, Karunanidhi's periodic expressions of concern over the IDPs must sound somewhat strange, considering that there are some 100,000 Sri Lankan refugees in camps in Tamil Nadu where conditions are, by all accounts, far worse.
Mr Krishna is the highest ranking Indian diplomat yet to call on Sri Lanka since the war's end in May last year. At that historic moment too the first foreign delegation to arrive was from India, Sri Lanka's solitary (and therefore all important) neighbour. It comprised then Foreign Secretary Shiv Shankar Menon and National Security Advisor M.K. Narayan.
After that current Foreign Secretary Nirupama Rao visited Sri Lanka in March and again in September this year. Ms Rao accompanied Krishna on this visit as well.
The status of the delegations and their agendas would seem to indicate progressively more high powered moves on the part of India, to mark its diplomatic presence in Sri Lanka. Minister Peiris hinted that the next visit would be by Indian Prime Minister Manmohan Singh, on the occasion of the 2011 Buddha Jayanthi celebrations in Sri Lanka marking the 2600th anniversary of the Buddha's enlightenment.
The writer is a senior freelance journalist.