Hemmed in on the north by Hunnasgiriya mountain range and the south by Rikillagaskada-Hantane mountain range, lies Sri Lanka's latest Test venue, the Pallekelle International Cricket Stadium. Situated in the mid country dry zone, Pallekelle becomes Test center number eight.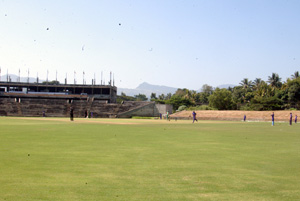 The game is scheduled to be held from December 1 to 5 this year. With the skies opening up during the last few days, a few facts pertaining to rainfall will be relevant. The lowest rainfall in the Kandy District is at Handagama and Pallekele. Kandy receives between 350 and 400 millimeters of rain in November. It has been calculated that, over the last 30 years there are 16 rainy days on average in November. Thus, the prognostics for the first ever Test at Pallekele are not all that good.
In his capacity as Operations Manager of SLC, Bandula Warnapura saw to it that a lot of work was done regarding the turf strips and the outfield. Blue grass has been used on the pitches and Santana (of Australian origin) on the outfield. Both were obtained from the Victoria Golf Club. However borrowing no longer becomes necessary as there is a nursery at Pallekelle now.
There are 75 yard boundaries on the Western and Eastern sides, an eighty yard boundary towards the media box, longest of all, an eighty four yard one towards the grandstand. A level filter system ensures that play can restart within 30 minutes of a stoppage.
The ground area covers nearly five acres while the entire complex is about 14 acres in extent. There are ten turf strips, of which the three in the center have been set aside for international matches. As many as 20 turf practice strips have been constructed behind the grand-stand.
The pitches at the new ground have been played for about two and a half years. Pakistan and Bangladesh played an Under 19 ODI in late November last year. About 40 matches have been played here prior to the Test and these include Provincial, Under 19 and 'A' team matches.
Asitha Wijesinghe, a physics graduate from the University of Peradeniya, is the curator and talking to him is, in a sense, an education. The pith and the substance of his comments are most interesting and informative.
Mr. C.P.P. Raj, a former Antonian, Kandy District and BRC player is the Operations Manager. He maintains a firm grip on things. From all accounts, and from personal observation, the pitch will be a good one for batting.