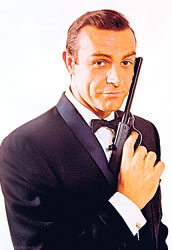 Sean Connery in Russia With Love
LONDON, (Reuters Life!) - A pistol used in a publicity shot for the James Bond film "From Russia With Love" sold for 277,250 pounds ($439,000) at a London auction, around 15 times its pre-sale estimate.
The result partly made up for disappointment at Christie's auction house when a rare Darth Vader costume, expected to fetch between 160,000 and 230,000 pounds, failed to sell.
The weapon was a Walther air pistol which Bond actor Sean Connery held in a photo-shoot used for the main image in the poster and advertising campaign for the 1963 movie.
It had been priced at between 15-20,000 pounds before the pop culture sale, and the last time it went under the hammer was in 2001 when it sold for 14,100 pounds.
The Darth Vader costume was believed to have been for the production of "The Empire Strikes Back", the second "Star Wars" film to be released.