Meet Dolly; she's a charismatic, calculating and masterful, society woman. Not to mention a match-maker extraordinaire. In the play 'Hallo Dolly', directed by Indu Dharmasena, Dolly decides it's time she found herself a match and sets her sights on her friend, the rich and successful Scrooge, Harendra Wanawanagedera.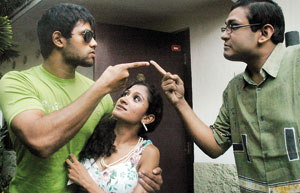 Pix by Saman Kariyawasam
But that's just between you and Dolly. As far as Mr. Wanawanagedera knows his good friend Dolly is trying to find him a suitable match, while keeping his overly dramatic niece from marrying a noisy musician-type. The story unfolds as Mr. Wanawanagedera asks Dolly to take his niece, Ayesha, to Colombo to tear her away from her boyfriend, Sangeeth, whom she's determined to marry. In the meantime, Sangeeth finds out what the old miser is up to and concocts a plan for Ayesha and him to elope when she arrives in Colombo. While the two young lovers scheme, Dolly does a bit of scheming herself. She artfully orchestrates a series of matches to deflect all of Mr. Wanawanagedera's potential brides from ending up with him. And shows the old magpie that she is his perfect match!
The star of the show is Koluu; acting as none other than the manipulating but well meaning, Dolly. "So there are all types of intrigues around Mr. Wanawanagedera, his assistants and the niece," shares Koluu. "I basically stir the pot and see that everyone is fixed, so the man is left with no one else, but me."
Describing what he likes about the role, Koluu says, "I love this character because she's like a nosy-parker. I, of course, have a wonderful time because I get into three outrageous outfits, which is always a treat for me. It's a good fun script, so I'm looking forward to it."
Gehan Cooray who plays the role of Mr. Wanawanagedera's incompetent clerk, says that what he likes about the character is that he's an innocent; a wholesome person. "He always speaks his mind, there's no subtext with this character— what you see is what you get. And like Koluu said it's a really fun play, and it's wholesome entertainment."
Having acted in the play when it was first staged in 2004, Gehan says he's thrilled to be playing his role for the second time. Although, if you've seen the production back in 2004, don't expect a complete re-enactment. Indu has shaped it up a bit. "I've revamped it. It's much sleeker now," he elaborates.
The play has special meaning for Indu who staged it back in 2004 in memory of his friend, the talented journalist, Richard de Zoysa, who was abducted and murdered in 1990. "Actually, Match Maker is something Richard de Zoysa was keen on doing. He wanted me to write the script. In 1973, in a S. Thomas school play Richard played Dolly. Richard and I had a few meetings as well, to write a Sri Lankan version. 14 years after his death I was finally able to do it and we dedicated the play to him."
Speaking about his character, Indu says "I play Avanka, Mr. Wanawanagedera's apprentice. That's what I played the last time also. He's like a Western version of after-being-in-Colombo-Tommiya," says Indu, referring to another popular character in a series of plays he's written. "He says he's 36 years old and hasn't kissed a girl, so he says his main aim is coming into Colombo is to have fun and somehow kiss a girl also."
Playing the role of the man everyone jumps through hoops for, Abbasali Rozais is Mr. Wanawanagedera. "I'm a stubborn foolishly old fellow," he explains. "It's a classic case of the miser. The stern old man who is a bit too stern than is good for him," he explains, adding "the play is a bit like a romantic comedy."
The cast includes some new and some familiar Indu players. Sanwada Dharmasena is potential bride number one and fashion designer, Mihiri. New to Indu's pool, Oshini Gunawardana plays the role of Araliya, Mihiri's assistant. Sanjana Selvarajah is Dolly's friend, Karen while Ruvendri Wakwella plays the drama-queen, Ayesha. Sangeeth is played by Dilshan Perera and Shohan Chandiram appears as the restaurant manager, Ruddy.
To watch Dolly orchestrate a series of matches that will have you in stitches be at the Lionel Wendt Theatre, at 7.30 p.m. on the May 27 and 29. Tickets can be purchased at the Lionel Wendt and are priced at Rs. 1500, 1800, 600 and 250- balcony. Hallo Dolly is produced by the Rotary Club of Colombo Metropolitan, and is sponsored by ETV, EFM, the Daily Mirror and The Sunday Times.