Shades of Darkness - Noir Theatre Fest 2011 enters its final weekend on July 29, 30 and 31st featuring four plays directed by Tracy Jayasinghe, Ruvin de Silva, Feroze Kamardeen and Brandon Ingram.
The final weekend of Noir showcases Duty to Protect by Simon Harris, Insurance and Starving Children by Eric Bogosian and Commencing by Jane Shepard.
Gehan Blok, Feroze Ahamed, Rashmi Fernando, Andre Perera, Sheruni Alles, Thanuja Jayawardane and Sulakshani Perera take the stage, bringing to life the varied stories and emotions of the plays.
Tickets for Noir are available on ticketslk.com, The Punchi Theatre and at Commons Coffee House.
Noir is being staged at the Punchi theatre in Borella.
Noir Theatre Fest is sponsored by Dialog Axiata, South Asian Technologies, Canon and Whatsup Colombo. Official Production house is Halien Production House and electronic media is YES FM.
The Sunday Times and Daily Mirror are the official print media for Noir Theatre Fest.
ODEL wins award for animal welfare activities
ODEL has been acknowledged for 'Outstanding Contribution by a Corporation' to the welfare of community animals through its Embark initiative, at the Animals Asia Welfare Awards 2011.
These awards, also known as 'The Andrews' in memory of Andrew, the first bear to arrive at the Animals Asia Rescue Centre in Chengdu, China, in October 2000, recognise the passionate efforts of organisations and individuals committed to the welfare of animals. Andrew died of cancer at the Rescue Centre and the awards are dedicated to him and many other bears rescued by the organisation in subsequent years.
A total of nine awards were presented in Chengdu at the 'Asia for Animals Conference 2011' to individuals and organisations nominated by delegates who attended the conference. ODEL was the only corporate entity recognised at the event. The conference was held under the theme 'Out of the Box - bringing animal cruelty to an end.'
Presenting the award, Animals Asia commended ODEL for successfully persuading people to reduce cruelty to animals and focus on animal welfare through the Embark Corporate Responsibility initiative. A statement by the organisation said: "Project Embark has been a good partner and supporter to key Sri Lankan animal welfare NGOs and with its high profile, backed by the respected ODEL name, has raised awareness about animal welfare issues in Sri Lanka, especially in the media."
Book Buzz in Kandy
The Book Buzz series is back presenting Gratiaen Prize winners Sakunthala Sachithanandan and Delon Weerasinghe at the British Council Kandy on Saturday, July 30 at 5.45 p.m.
Sakuntala Sachithanandan won the 2010 Gratiaen Prize for her collection of poetry titled 'On the Streets & other Revelations'. Delon Weerasinghe, best known as a playwright, won the Gratiaen for his play 'Thicker than Blood'. Admission tickets can be purchased at the British Council in Kandy for Rs. 50.
FONCA appeals for funds for annual outing
FONCA --Friends of Needy Children Association, a registered N.G.O. are once again planning their annual holiday for the children, whose lives they try to enhance. This time it will be for girls in August and the venue, once again is Anuradhapura. This holiday, for deprived children, many of whom seldom leave the confines and restrictions of their institutions, will be of a week's duration.
FONCA committee members will be on hand throughout, not only to provide them with tasty food, but also to organise various activities. Special buses will take them to Mihintale and the Atamasthana, with an experienced guide, where they could also use the pocket money provided to them by FONCA. Among the other activities planned are a sports meet, cricket match, Do-You Know contest, art competition, concert and campfire, indoor and outdoor games, a cinema outing etc.
The cost of sponsoring a girl still remains at Rs 500, and the organisers request kind donors to try to sponsor at least one girl on this holiday. Cheques/ donations(which will be acknowledged), should be sent to: The Hony: Treasurer,(FONCA) 429/2, Old Kandy Road, Nungamugoda, Kelaniya
Mosquito nets for expectant mothers
Dehiwela-Mount Lavinia Municipal Councillor Channa Vikum presents a children's mosquito net to an expectant mother at an event to distribute nets and baby soap to women attending the Wilawela and Kindawatte mother and child clinics at Kalubowila in Kohuwela.
Organized by the Kohuwela-Kalubowila Community Development Foundation, the distribution was held at the Hathbodiya Viharaya at Kalubowila recently.
SLAAS calls for applications
The Committee for the Popularization of Science (CPS) of the Sri Lanka Association for the Advancement of Science (SLAAS) is calling for applications from Sri Lankans for its annual Science Popularization and Promotion Awards.
These are awarded to individuals who have contributed the most to popularize and promote science within the country in the period between May 1, 2010 to April 30, 2011. Awards will be made for Sinhala, Tamil and English media.
Science communicators, journalists, scientists and others who have excelled in the print and electronic media in this field are invited to apply before August 1, to the SLAAS, 120/10, Vidya Mandiraya, Wijerama Mawatha, Colombo 7. Tel: 011-2688740, 011-2691681, email: hqslaas@gmail.com.
Installation of new president of Lions Club Kandy
Lions Asoka Dangolla was recently installed as the President of the Lions Club of Kandy Hill Capital of the Lions District 306C1 for the year 20011/2012.
He is a Senior Lecturer in the Veterinary Clinical Science Department of the University of Peradeniya well known for treating sick elephants and a charter member of the club.
Picture shows Outgoing President and Zone Chairman-elect Lion M.R. Ranathunga (standing left) handing over the club to the incoming President Lion Asoka Dangolla (standing right). Seated (from left) are Lions Dr. Ananda Jayawardane (District Governor's Programme Coordinator), chief guest Shirley Jayawardane (Deputy Cabinet Secretary), Chanaka Athukorala (District Governor's Programme Coordinator ), Dr Lakmali Ranathunga (Regional Secretary), Gamini Dissanayeka (President of the Lions Club of Senkadagala) and Dr. Gaya Wijesundara (Outgoing Secretary).
KL Leo Burnett staff visit Lanka
Ninety two staff from the Kuala Lumpur Leo Burnett office in Malaysia paid a visit to Leo Burnett Solutions Inc. (LBSI) the local office of advertising agency network Leo Burnett Worldwide recently.
According to Nelleisa Omar, Senior Executive of Arc Worldwide KL and coordinator of the tour, the whole idea behind the visit was to explore new cultures, and to learn about how other Leo Burnett offices around the globe function.
Managing Director of Leo Burnett Solutions Inc. Ranil de Silva said that the visit brought together two families of Burnetters, enabling each side to share their experiences in the company. "This visit was not only eye opening to Leo Burnetters from KL, but also for us here at Leo Burnett Sri Lanka. I think such visits are essential especially in this industry, as it always helps to get insight and inspiration from the outside, and provides the ideal platform for everyone to learn about new cultures and about their extended families."
Presbyterian Girls School PPA get together
The Past Pupils' Association of Presbyterian Girls School, Dehiwala invites all past pupils to the get-together on July 30 at the school's Chandralata Mudalige Hall at 10 a.m.
The National Trust holds lecture on flowering plants of Sri Lanka
'An Overview of the Flowering Plants of Sri Lanka' will be the topic of the 31st monthly lecture of the National Trust of Sri Lanka to be held on Thursday, July 28 at the Institute of Tourism & Hotel Management, No 80, Galle Road, Colombo 3 at 6.30 p.m.
Director General, Department of National Botanic Gardens, Sri Lanka, Siril Wijesundara will give the illustrated talk while Dr. Sriyanie Miththapala will present a short overview of an upcoming National Trust book - 'Some flowering plants commonly encountered in Sri Lanka'. Dr. Janaki Galappatti will close the session with some comments about safeguarding our plants.
Dr. Wijesundara, chairs the National Species Conservation Advisory Group (Ministry of Environment Sri Lanka) and the National Committee on Floriculture (Sri Lanka Council for Agricultural Research Policy). He has co-authored the book 'A Field Guide to the Common Trees and Shrubs of Sri Lanka'.
Dr. Miththapala who is associated with the Smithsonian Institution and IUCN -International Union for the Conservation of Nature is a natural history writer and illustrator with publications ranging from scientific papers to books and articles on biology for laypersons. With her father, she is joint author of 'What tree is that? A layperson's guide to some trees of Sri Lanka'.
Dr. Galappatti was a lecturer at the Faculty of Agriculture and the Postgraduate Institute of Agriculture of the University of Peradeniya, and later in Botany at the Open University, Sri Lanka. She has edited and written science texts for the British Council, to be used to teach English to science students.
The lecture is open to the public with parking available at the venue. The principal sponsor of the National Trust of Sri Lanka is the HNB Sustainability Foundation. For further information please call The National Trust Office - 2682730/ 3091275.
45th Induction Night of the Rotary Club of Colombo North
The Rotary Club of Colombo North (RCCN) held its 45th Induction Night and Rotary recognitions ceremony at the Galle Face Hotel, Colombo recently.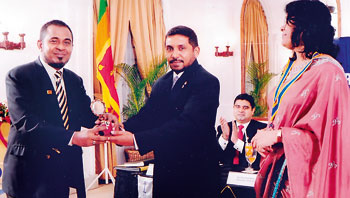 Ruzaik Farook receiving a recognition award from President of the Club Rtn. Marshad Barry. Past President Rtn. Dayani Panagoda and Secretary Rtn. Mirak Farook look on.
President of the Club Rtn. Dayani Panagoda delivered the welcome address and the inaugural address was delivered by incoming President Rtn. Marshad Barry. The Chief Guest was District Governor Rtn. Gehan Siribaddana.
The RCCN has been active in conducting Polio and Dengue eradication programmes and fostering aesthetic values among youth through the Inter - School Shakespeare Drama Competition. Other projects include work with the Home of Compassion for the elderly, an awareness programme in the village of Maillagammana in Rebewa on kidney diseases, setting up a computer laboratory and library at the Welikada prisons and Interact and Rotaract programmes with Wesley College, Carey College and Arethusa College.
Their 'Junior Speech Contest' training programme conducted at Wesley College, to promote public speaking skills won the best district award and citation for 2010/2011.
83rd President of Rotary Club of Colombo
The Rotary Club of Colombo elected entrepreneur and businessman Rtn. Ken Nirmalan as its 83rd President for 2011/12 at a ceremony held at the Cinnamon Lakeside hotel recently.
"Each of us is obligated to level the playing field of life. Schools that have no books, communities that have no water, and people who have no access to medical care, are not someone else's problem. They are also our problem to tackle. It's just a question of whether we have the will to do, what we should consider to be the business of Rotary," Mr. Nirmalan said.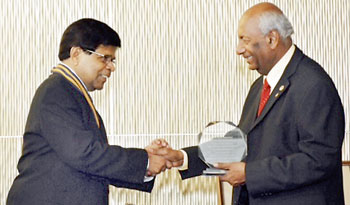 Rtn. Ken Nirmalan handing over a memento to outgoing president Senaka Amerasinghe
RASSL lecture
'Forests, Nature at our Service: A Historical Perspective', a lecture by Prof. Sarath Kotagama, Professor of Environmental Science, University of Colombo will be held on Monday, July 25 at 5 p.m.at the Gamini Dissanayake Auditorium, No. 96, Ananda Coomaraswamy Mawatha, Colombo 07. The lecture is presented by the Royal Asiatic Society Sri Lanka (RASSL) and is open to all.
Appeal for funds to obtain prosthetic
Twenty-three year-old A. W. Buddhi Prasanga who is suffering from chondrosarcoma of the upper left femur urgently requests kind donors to help him buy a prosthetic which will cost around Rs. 800,000, as otherwise he would face amputation of his leg.
The operation is to be performed at the Sri Jayewardenepura General Hospital. Please contribute your mite to Account No. 1-0061-05-4352-7 at the National Savings Bank, Borella or 208-2-001-3-0005536 at the People's Bank, Battaramulla.
Buddhi may be contacted on phone: 0771591290 or 011-5623705