At 3.00 in the afternoon last Monday, a married woman in Akkaraipattu, who was alone at home with her one-year-old daughter, was heading to the toilet when someone seized her from behind in a powerful grip. A man's hand closed over her mouth. She tried to struggle and scream, but could not. She tried kicking, when she realised there was another man in the room.
"They were in black, the two men, and their eyes were red," said the 20-year-old woman, whose name has been withheld. "They tied my hands and legs. They touched my chest. They scratched me with sharp objects attached to their fingers. I fell unconscious. The next thing I new, I was lying in a hospital bed."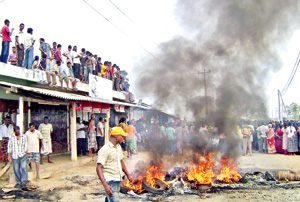 Batticaloa residents make fiery statement in protest against Police inaction.
The woman and her husband, who is not going to work these days so he can be with his traumatised wife, spend their nights in the homes of four other families in the neighbourhood. This is the latest in a series of similar incidents, involving strangers terrorising women, reported from the Akkaraipattu area.
These days, the town of Akkaraipattu comes to a standstill after 5.00 pm every day. Families have formed groups and stay together at nights. "We don't see any policemen in the area, so we have to take care of ourselves," said the most recent "grease yaka" victim.
According to Vani Simon, spokesperson for the Victimised Women's Forum of Akkaraipattu, residents are afraid to go out at night. She said the incidents have occurred between 1.00 and 4.00 in afternoon, and 7.00 and 11.00 at night.
"People are afraid to sleep. Government officials, including MPs, tell us we will be given police protection, but they haven't," she said. Fear of the "grease devil" is spreading like wildfire across the island. In the hills of the Central Province, women live in fear. Most of the women are tea pluckers or factory workers. Because they are up all night, they are unfit to go to work the next day. "Factory workers living in villages must walk at least 20 kilometres to work," said hill country spokesman, Mr. Jeyaraj.
Heightening the sense of fear is the fact that most of these hill areas are poorly lit at night. There are few street lights, and power failures are frequent. "Some carry lanterns, others fire torches," Mr. Jeyaraj said."
Students too are affected, because they cannot concentrate on studies with their families on high alert and tension all around.
Commenting on the latest wave of fear, Mr. Jeyaraj said the women and children of the East had been subject to wave upon wave of fear. "First it was the war, now it's the grease devil." Grease devil fear has resulted in public protests and clashes between civilians and the Police.
In Batticaloa, 18 men have been arrested for attacking the Police during police investigations, and in Vavuniya three men have been remanded on suspicion of being "grease devils." Residents of the village of Thandiyadi, in Batticaloa, attempted to assault two policemen, suspected to be "grease yakas", but a police team arrived on the scene in time and restored order. Police retaliatory action resulted in 18 persons being taken into custody. They were later admitted to the Batticaloa Hospital.
Angry crowds face off with armed forces in 'devil'-provoked disputes.
In another incident, in a village in Vavuniya, residents had beaten up two home guards and tied them to a post for alleged misbehaviour. It was reported that the home guards had tried to take liberties with women in Suduvendapulavu, when the men had gone to the mosque for Friday prayers. The home guards were accosted on Thursday night, when they were seen riding a motorcycle without a licence plate. The men were later handed over to the Vavuniya police.
The grease yaka fear psychosis has resulted in cases of mistaken identity and punitive action. On August 16, in the village of Nallathani, near Adam's Peak, residents seized a stranger dressed in black and handed him over to the local police. The man, who was later handed over to the Hatton Police Intelligence Unit, was found to be a Batticaloa-based Army soldier, a pilgrim who was on his way to Adam's Peak when he was mobbed by the villagers. The soldier was later handed over to the Army Camp in Diyathalawa.
Women's rights groups, meanwhile, are agitating for action. "What are the Police doing, and why have they not found the real trouble-makers?" asked Rohini Weerasinghe of women's development organisation, Kantha Shakthi. She said violence against women was not something new, and that repeat attacks on women were only to be expected because there had been no action on the part of law enforcement officers.
At a media conference last week, activists said law enforcement agencies, civic organisations and local communities needed to work together to find a way to prevent attacks on women. The exact number of attacks on women since the "grease devil" phenomenon began and started spreading has not been determined, although women's groups and other organisations have reported "grease devil" sightings and incidents in at least 24 areas in the country.
"This is widespread, it is not confined to the East only," said Kumudini Samuel, director of the Women and Media Collective. "Some might be cases of mistaken identity, or just rumours caused by mass fear, but the fact is the problem is now quite widespread."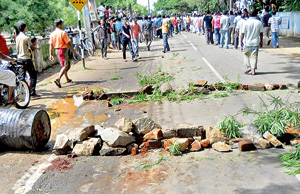 Protesters hit the roads hard. Photos: Deva Adiran and Padma Kumari
"In Kurunegala, women are living in fear and banding together in homes. We need to restore normalcy and ensure security for the whole community," Ms. Samuel said. In Trincomalee, women are not seen on the roads after 4.00 pm, according to Sherine Xavier, executive director, Home for Human Rights.
"During the war, the women here were active and in the forefront," Ms. Xavier told the Sunday Times. "They took a public role and worked closely with the community to make sure life continued as usual. The women worked extra hard to protect their families. They displayed strong leadership qualities. Suddenly, after the war, the role of the women has reversed.
"Now they stay indoors, and seek the protection of the men in the family. The fear is real and the women have to deal with it." Women and Media Collective director Sepali Kottegoda said mentally unstable people were being unfairly blamed for cases of abuse of women.
"We are criminalising mental illness, and this is unacceptable," Ms. Kottegoda said. Activists say the problem has to be tackled at both state and community levels.
'Evil forces of diaspora' behind mischief-making
The grease devil does not exist, and is only a creation by the "evil forces of the Tamil diaspora" to stir up trouble in the country, a crowd of Batticaloa residents were told. The Thursday public meeting was organised by the Vakarai Police in an attempt to allay "grease devil" fears. The speaker was DIG Pujith Jayasundara of the Batticaloa Police.
"The evil forces of the Tamil diaspora, resentful of the President's development programme in the North and the East, are deliberately spreading malicious rumours about a grease yaka," DIG Jayasundara said.
"We won the war, and these people [the Tamil diaspora] are telling us stories of grease devils. Vakarai was once a terrorist area. Now it is ours," he said. "The grease yaka is the work of people who cannot bear to see our people living in peaceful co-existence. The people must co-operate with the defence forces to put an end to this problem."
DIG Jayasundara said only the Army should possess arms, and the Commandos and the Provincial Governors have told the people to surrender any arms they may possess. The senior Police official added that criminal elements were using LTTE logos and letterheads to demand money from the public.
Kalpitiya mob mistakes cop in plain clothes for 'yaka'
Hospital attacked because doctor held victim's hand
By Padma Kumari
On Friday night, in the west coast area of Kalpitiya, in Kudirippuwa, a man mistaken for a "grease yaka" was beaten up by residents and handed over to the police. The man turned out to be a policeman who had been on duty at a school, the Nirmala Mariya Matha MMV, which was being used as an A/Level examination centre.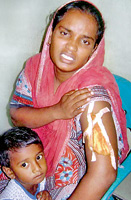 Musadhika: Attacked in garden.
Word had got around in Kudirippuwa that a grease yaka had been spotted in the neighbourhood. The policeman, who had been in plain-clothes duty, ran back to the school when he saw a mob coming for him.
During the uproar, police arrived on the scene and fired shots into the air. The injured policeman was admitted to hospital. The mob continued to go on the rampage, and a fisherman caught up in the melee, was also hospitalised. The two men were later transferred to the Chilaw Hospital.
Tension has been high in the area following reports of "grease yakas" on the prowl. DIG Puttalam R. Wijegunawardene visited the scene of the attack and spoke to the residents, promising to increase security in the area. Normalcy and calm have returned to the village.
Just hours earlier, in the village of Vannimukkulama, a Muslim woman claimed to have been attacked by a grease yaka on Friday night. Mohamad Musadhika, 27 years, told the police that she had stepped out of the house to fetch a pot of water when a stranger emerged for behind a wall and attacked her, scraping her body with his pointed nails. She ran back into her house. A neighbour confirmed her story. Mohamad Musadhika's husband, who was at the mosque at the time of the alleged attack, lodged a complaint with the Kalpitiya Police.
The husband took his wife to the Kalpitiya Hospital to have her injuries treated. A row broke out in the hospital between hospital staff and villagers when the husband alleged that the doctor had "held his wife's hand." Angry residents then attacked the hospital and caused damage to hospital property.
Peace was restored five hours later.
Hikers get nasty shock when they see swords, knives and axes
As "grease yaka" panic spreads, nervous villagers are pouncing on and victimising just about every stranger they see. A team of hikers from Colombo touring Haputale had a narrow escape, after being mistaken for a gang of grease devils. Residents handed the hikers over to the Police, where they were detained for seven hours before they were released.
Here, in the words of one of the hikers, was what happened. "We were staying at a guesthouse in Haputale. On our first day, we checked out a number of waterfalls in the area. We set out early the next day to see more waterfalls. But things did not go as planned.
"We were walking along a path on the edge of a steep cliff. Halfway, we told our guide to take us along another route. After he had gone in search of another trail, we followed the trail back to where we had started out. Suddenly, we heard voices calling out to us from the top of the hill. We thought some estate workers had come to help us.
"When they came into view, we could see there was quite a crowd. The dog accompanying our team started to attack a dog that had come with the estate workers. They then began throwing big stones at our dog. We protested. They stopped throwing stones, but shouted and abused us. It was then that we saw the weapons. Each man was carrying a dangerous weapon. Swords, knives, machetes, iron bars, and axes.
"Our first thought was that they had killed our guide and were now coming after us. We spoke in Sinhalese and said we were coming up. When they had calmed down a bit, we slowly climbed up towards them. When we reached the top, they surrounded us. Some wanted to kill us, but others said no one was to lay a hand on us. They then started interrogating us. We said we were from Colombo and that we were on our way to see a waterfall.
"When we reached the estate road, we saw our guide being detained by a gang. "The crowd kept growing. We felt that at any moment the men would start attacking us. A crowd from a village below came up to see us. There must have been about 200 people surrounding us.
"It was a long time before the police arrived. We were taken to the police station in a jeep. We were kept in protective custody for seven hours before we were released. "We came very close to being killed that day. Our advice to fellow hikers is to avoid going on hikes until the grease yaka problem is sorted out."