The little ones of "Our Little World", A.M.I Montessori, Kohuwela presented their first annual concert, Dancing in the Stars, on 26th November 2011, at the Colombo South International School Auditorium, Kalubowila.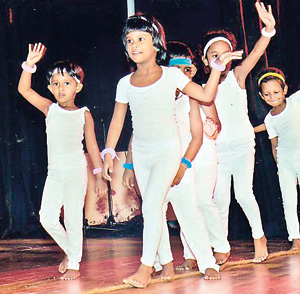 The show featured a colouful array of items that kept the audience's feet tapping all evening. From little masterchefs dancing to Hot Potato, clowns and pretty ballerinas in a well trained circus, traditional folk songs to a dance to the beat of a song from the popular children's movie Rio, the little ones took us on an enjoyable journey.
The Chief Guest for the event was Mr Janaprith Fernando, an attorney at law by profession, who is also the Honourary District Scout Commissioner for Colombo and Chairman of the Asia Pacific Region Management Sub-Committee of the World Organisation of the Scout Movement.
In keeping with the ideology of "Our Little World", all the music and costumes were entirely child centred and it was truly a learning experience for the children. Established in 2010, the montessori has seen a steady growth in the past two years, under the guidance of the principal and founder, an A.M.I qualified teacher with over 25 years experience in child care, who is also a qualified speech and drama teacher.
At "Our Little World", each child's individual talents are appreciated and each child is allowed to explore various avenues of creativity in the fields of music and art, and this was indeed evident in their performance.