Restaurant of the Year: Navaratna
The country's busiest 5-star restaurant. Amongst the world's handsomest Indian restaurants. Eternal-looking frescos in a modern space anticipate the menu - traditional, with contemporised curlicues. Navaratna trumps for its well-crafted menu, assiduous execution and general consistency.
Precious though with spices, saffron, Basmati, dishes aren't disproportionately priced. If "fine dining" restaurants charge Rs 7500/head, a family can eat for Rs 7500 at Navaratna where fine-dining elegance and innovation co-exist with the reassuring warmth of home-style cooking.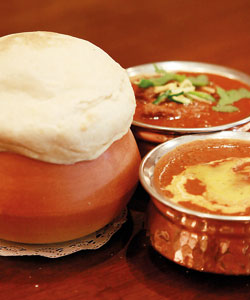 Sumptuous: Navaratna's Indian cuisine
The titillate-the-toughest-palate texture of kebabs (rare feat at 5-stars), nuanced curries, beautiful biriyanis, that sumptuous Dal Navaratna and lush desserts ever hold one in wonderment.
Best Indian food outside India (London's Michelin-starred Indian restaurants are a mockery). Often better even than in India. Colombo agrees - this restaurant is invariably full, remarkably even on week nights.
Invariably gregarious chatter frustrates the efforts of live classical musicians. It's a good sign when you see Indians at an Indian restaurant, but better still when you see locals and tourists swelling outside whilst the F&B-manager-turned-bouncer valiantly resists the charge.
Best Stand-alone: Sri Suryas
This restaurant above all our recommendations seems to have captivated the reader's imagination and extracted the most profluent praise. A fortnight back Suryas was awarded "Best Vegetarian Restaurant".
We think it's the best stand-alone for idlis like cloud cushions (including gunpowder-masala podi idli), dosas (about twelve types, crispest to kurakkan), wondrous vadais, varietal kormas, puri bhaji, "metre" coffee and sweetmeats rich with dry fruit, nuts, ghee (sigh). Best South Indian food this side of Tamil Nadu. It's pricier than other South Indian restaurants but quality, hygiene and elusively decent dosas cost!
Best Coffeehouse: Coco Veranda
What do Coco Chanel and Coco Veranda have in common? Well, apart from Coco? Chic! With verandas so chic they could feature in Vogue magazine, a product just featured in the New York Times and Filicori Zecchini coffee that now features in Four Seasons resorts, Coco Veranda is world-class. Italian diplomats don't drink cappuccinos elsewhere, nobody sensible drinks hot chocolate not Filicori.
Food could improve, but Coco's date, chocolate-peanut and hazelnut rocher are Colombo's loveliest café cakes. Yet the Coco-Frappes (Fresh strawberry, Blueberry, Black Forest) take the cake. Operations Manager Mr Nawaz's liaison of seemingly incompatible coffee and frisky fruit astounds. Nobody churns frappes quite like him.
Barista of the Year, adorable Nimara, almost emulates her mentor's feel for coffee and customers. Demand the sugar-flayed Coco-Frappes they tailor me! Furthermore, for the prices some places grudge scant glasses of local coffee and powdered milk, Coco offers glamorous Italian coffee, quality ingredients and towering portions. Understandable then, this amusing snatch of overheard conversation: "Let's go to Coco," X says. "Been there four times today," Y replies. Let's just check in with laptop, blanket and Chanel No 5 (obligatory…).
Sportiest Hotel: Galadari
They've swallowed my bitter-sweet reviews smilingly. "We take your remarks extremely seriously so we can improve," Galadari's Executive Chef tells me. Several Colombo institutions headed by self-pompous chefs deteriorate: the Galadari advances. With imagination, determination, humility and those unvanquishable tea-drenched date and fruit loaves at Christmas, I see the Galadari soaring in 2012.
Funkiest Address: Casa Colombo
A tourist relates her heart plummeted when she saw the hotel's environs. But on entering she rocketed to stylish pinnacles. "It's almost like Lalin Jinasensa was deliberately setting up the surprise," she assesses. And when she saw that pink pool… Design hotel, dire cuisine is the stereotype. However, Casa's cuisine is shockingly good. Zaza's tapas are trendiest, but Colombo's best kept secret is the Lankan platter at Hevn.
And then T Republic offers Colombo's crumbliest scones and fanciest sandwiches (pre-arrange tomato foccacia, kurakkan baguette, potato, paprika, rye or rock salt bread). The spiciest masala chai with premium home-roasted spices elevates the swish setting into perfumed spice gardens.
Best Fine Dining: Cinnamon Room
"Jetwing's hotels are beautiful, but food lousy," I was told. Such pernicious preconceptions pile into permanent pillars of public opinion. However, when I landed at Jetwing Blue, by default, began a journey that discovered my Chef of the Year: Nihal Senanayake (Executive Chef, Jetwing Lighthouse). I'd never heard of him. One isn't heard of nowadays without an aggressive barrage of PRs, influential GMs and swayable journos fashioning one into a celebrity.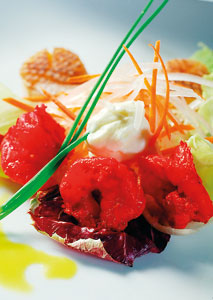 Fine dining: Artistic cuisine at Jetwing Light house
But celebrity chefs are too busy managing their celebrity to worry about quality. Some forget technique, or never learned it- like the priest in Nobel Laureate William Golding's The Spire who became a priest through connections, who never learned to pray, but proceeds to construct a mighty, foundationless "spire of prayer," that topples.
Foundation/technique is paramount in epicurean domains. Chef Nihal has it. A great chef isn't one with an obstreperous imagination, but one who also understands restraint. Chef Nihal's creativity knows dignity.
No glossy sauces, no lurching ingredients; lean, clean flavours balance like a mathematical equation. Here is the minimalism of modern art, the serenity of Philosophy. Nirvana on a plate.
Best Brunch: Spices
"When you come, we have to cancel leave," quips the mischievous, twinkling-eyed Chef Anura. "See how I'm sweating," he teases, but is soon imported by his matchlessly luxurious spread. Octopus, oysters and lobster poised atop ice sculptures, blue water crab, Norwegian salmon, Madeira-drenched Australian beef sirloin, duck paté with apricot and fig compote... Chef Anura's ode to his monumental roast loin of pork with apples, prunes and calvados jus steward Janaka interrupts, "Don't chat too long, your champagne is getting warm at the table."
Then, unprompted he brings over the glass. Alertness distinguishes Hilton's staff. One patronises the Hilton for you may discuss the Bhagavad Gita with Chef Kumar over the country's best breads and brie.
Tourists gawp at the dessert sprawl. Even when mitigated, yet the best and when good, phenomenally so. White Forest (is it sugared?), Chocolate Toffee cake… Now, Hilton's fare can be like a boat on turbulent waters bobbing through crests of excellence and troughs of indifference. Spices lack, textures slack, oil and salt invade previously pristine pastures, I've thought. Then, on Christmas Eve they lashed back with a masterstroke of exquisiteness. I hadn't anticipated the cornucopia unfurled. Christmas festivities I proceeded to abroad couldn't compare. And yet, most delectable- the staff's undiminished flamboyance.
Best Sri Lankan Cuisine:Heritance Kandalama
For curries not submerged like a sunken city under oceans of oil. Perfectly proportioned, unapologetically spiced, terrifically textured.
Admirable Audacity: Milk & Honey cafe
For daring to be healthy! Those low-fat, utterly delightful, muesli bars, date & oat slices, vegan cakes, crumbles, cookies wholesome with dry fruit and nuts have grown men clamouring like children- strictly true!
Homemade Discovery: Cynthia dissanayaka
For ardour, adaptability to varying budgets/palates and for loathing rose and vanilla essences and loving spice and almonds!
Best New Opening: Sambolaya
It's creative, it's cute, it's convenient, it's cost-friendly. Happy 2012 with Sambolaya-style new beginnings!