While being upbeat on Sri Lanka's economic growth, Singapore Airlines believes it is unlikely to increase its frequencies to Colombo this year. This was stated to the Business Times by the airline's new General Manager for Sri Lanka Aldrin Arumugam in Colombo last week on the sidelines of an informal media briefing held to introduce him.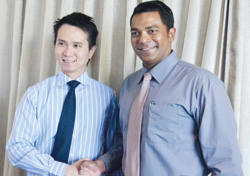 Pic by Hasitha Kulasekera shows Melvin Ng (left) with Aldrin Arumugam
Currently the airline has seven frequencies (one daily flight). With Europe witnessing difficulties the outgoing General Manager Melvin Ng said that Sri Lanka is refreshing altogether and has a "lot of optimism."
The market was growing quite fast today, said Mr Ng who has completed over two years in Colombo and will be taking over the reins next in Russia. Mr. Arumugam said that in the post war era Sri Lanka is currently witnessing a "good growth" and was optimistic of it continuing as well.
He told the Business Times that currently the airline has noted that the inbound and outbound market is good from Asia, South East Asia and the South West Pacific. And if they should increase flights to the country they would also consider the inbound traffic to the country as well, he said.
In this respect, he opined the frequencies would continue to remain unchanged this year although they have noted an increase in travellers flying for business purposes to Colombo.