All SriLankan Airlines economy class check-in counters will close 60 minutes before scheduled time of departure, from February 1st, the airline said this week adding that it was a move to ensure a swift and smooth check in for passengers.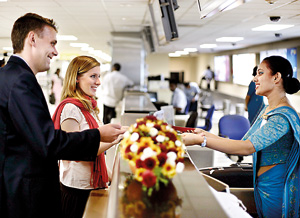 SriLankan Airlines check-in counters close 60 minutes before departure
The change is expected to achieve optimum utilization of the infrastructure at Bandaranaike International Airport, Colombo. SriLankan Airlines opens check-in counters, three hours before flight departures and boarding gates 90 minutes before departure. This would enable all passengers who check in on line to also enter the boarding lounge well in time for their flight.
"This will be a vital step to ensure better efficiency and on-time scheduled departures, for total customer satisfaction for our valued passengers. This will also allow us to provide them with a seamless and a very smooth travel experience," the airline's Chief Marketing Officer, G.T. Jeyaseelan. SriLankan Airlines provides ground services for all airlines that operate through Bandaranaike International Airport and an average of 70 departures are handled by SriLankan staff daily.
Business Editor's note: My personal experience is that this won't work. Here is an example - arriving at the airport more than two hours ahead of schedule, on January 29 (Sunday) to fly to Male on SriLankan Airlines (UL) - 101, there was absolute chaos at the airport.
The queues from check-in counters – at least more than six – were right up to the entry point where security staff check the passports and allow entry into this lounge. There were two more unopened counters, which would have eased the pressure had they been opened.
Tourists, mostly Chinese groups were breaking the queue as it was taking longer to get their tickets processed and the time was ticking for their scheduled time of departure. Others were complaining and trying to prevent 'jumping the queue' which led to many arguments.
Unfortunately there was no senior supervisor from SriLankan Airlines or the airport to ensure order and make sure everyone waited in line. I myself complained to the counter – after reaching it almost 90 minutes in the queue and 10 minutes for take-off – saying there is a need for a senior officer (standard practice in any busy airport) to ensure order is maintained.
If not how could you promote the arrival of 2.5 million tourists in 2016 if the airport is bursting at the seams? The response from an inexperienced and harassed counter clerk – "Sir everyone is delayed today." Sad, to say, because of this inexperience the counter clerks are completely lost and unable to handle a situation which necessitates senior officials being at hand to take over in such a calamity.
I saw many instances where the queue was broken and arguments breaking out – not a nice sight for a country pulling all the stops to promote tourism. Airport chaos is a natural thing on a busy day, when there is a crisis and so on. In this case, the sharp rise in tourist arrivals and current renovations to the airport is causing some of these delays.
However the Bandaranaike International Airport (like any airport 'welcoming guests to the country') should be able to handle emergencies like this with senior, trained staff with a friendly disposition being ever-present to ensure order is maintained and passengers are treated with care and respect.
It is not only at the arrival lounge that the tourism authorities should smile away and welcome guests to our country. The welcome and hospitality should be even more prominent during their departure. Otherwise how do we ensure repeat tourists if their departure is in bad taste?