The Sri Lanka Cricket Umpires' Association (SLCUA), one of country's oldest organizations in cricket umpiring held its annual get-together at the Marine Grand in Wallawatte. The occasion saw 60 new umpires being awarded with certificates under the patronage of Western Province Governor Alavi Mowlana and dignitaries from Sri Lanka Cricket, Nishantha Ranatunga, Carlton Bernadus and the President of SLCUA, Ashrof Ghany.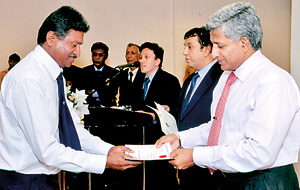 SLC Secretary Nishantha Ranatunga gives a certificate to one of the recepients
Speaking at the occasion Governor Mowlana, who is also a patron of the SLCUA said that umpires have to play a responsible role on the filed as well as off the field. "The sport-loving public will always focus on the umpire especially at vital points where the umpire has to make a vital call. The umpires will have to discharge their duties without any fear or favour in order to win the respect of the cricketers and the public," he said.
The secretary of SLC, Nishantha Ranatunga emphasized that all factions must work in harmony to develop the sport which is widely loved by all Sri Lankans. "Umpires should command respect by doing their job in a professional manner," Ranatunga told the new recruits.
The SLCUA which was founded in 1975 was inactive for a period of time. The association was revived by its present head Ghany, who is a first class cricketer and a well known public servant. He was ably supported by veteran umpires E.K.G. Wijewardena, J.W.K. Boteju and D.N. Pathirana who serve as the secretary, assignment secretary and senior advisor at SLCUA respectively.