The Arabic word Halwa means sweet and Halwai means sweet-maker. The Halwai are a caste of confectioners and sweet-makers, found mainly in North India. The experienced and talented Chambel Singh joins the Taj Samudra from his previous assignment at Taj Connemara, as the new Halwai Chef.
Although there are many varieties of Halwa sweets available, almost all Halwai sweets are grain and/or milk based, dry (like laddus), moist (like burfis) or dipped in syrup (like gulab jamun).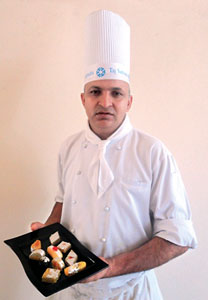 Halwai Chef Chambel Singh
On June 1st, the Taj Samudra launches a new range of Indian sweets at the Lobby Lounge, offering 12 varieties of delicious Indian desserts.
Gajar Halwa, a sweet carrot based dessert is mouth-watering delicacy and is one of the most popular desserts of India. Ras Malai, another sweet widely found in India consisting of sugary cream-coloured balls of dough and a creamy sweet liquid, the malai is a must try dessert.
Besani Kesar Roll, a saffron infused sweet in the shape of a roll is made with besan flour (made with combination of chick pea powder). Chandrakala , a South India a sweet made using flour and sugar is filled with stuffing prepared out of dryfruit etc., is called Chandrakala; indicating its half round shape.
Mysore Pak is a sweet chickpea fudge which originated in Karnataka in India; delicious and famous during the festival of Diwali. Gulab Jamun must be one of the most loved and popular sweets in the Indian sub continent It is made of a dough consisting mainly of milk solids, traditionally, khoya, an Indian milk product (buffalo milk) is rolled into a ball together with some flour and then deep fried, then put into a sugar syrup flavored with cardamom seeds and rosewater, kewra or saffron. Available in many variations – the Lobby Lounge will feature Lancha Jamun and Kala Jamun. Rasgullah is a very popular cheese-based, syrupy sweet dish originally from the Indian state of Orissa. It is similar to Gulab Jamun in the way it is presented. Raj Bhog is an enriched and enlarged version of the Rasgullah.
Burfi is an Indian sweet made from milk solids and sugar and typically flavored with cardamom or nuts – somewhat similar to the milk toffees of Sri Lanka the burfi comes in many varieties. The Lobby Lounge offers 3 types of burfi. Badam Burfi (rose water and almond), Pista Burfi (pistachio), Kaju burfi (cashew).