Finally all arrangements have been finalised to put together the grandest show dedicated to the schoolboy cricketers of our country. Voting for the Bata-the Sunday Times Most Popular Schoolboy Cricketer of the Year 2012 competition ended on May 24 with many changes occurring during the final few days. However the leaders of all three categories remained unchanged as the competition came to a successful end.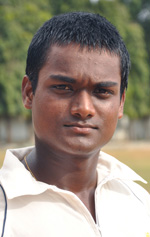 Sajeeva Salgado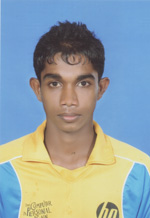 Sasindu Perera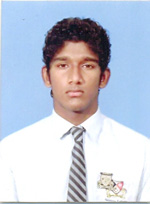 Lakshan Kodagoda
Thurstan College first XI skipper Sajeewa Salgado amassed 24501 votes and became the Bata-the Sunday Times Most Popular All-Island Schoolboy Cricketer of the Year 2012. Salgado, who had a successful season with the bat, also was one of the top contenders in the main selections too. Salgado's selection as the most popular schoolboy cricketer in the All-Island category is justified by his performances during the concluded cricket season. He has 1248 runs to his credit in 16 matches and 26 innings. Salgado reached his landmark 1000 runs during the match against Royal College with a timely knock of 80 runs at Reid Avenue. Salgado has five centuries and six fifties to his account while striking his best of 142 runs against Mahanama Colombo. Interestingly many of his runs, calculated to be above 700, have come off boundaries.
As expected De Mazenod all-rounder Shiran Anuruddhika managed to topple Maris Stella skipper Angelo Jayasinghe to claim the runner-up slot in the All-Island category. Anuruddhika received a record number of 7323 votes over the last few days as his overall collection culminated at 19451. Jayasinghe too had 3409 votes to his credit but ended up with an overall tally of 15852 and was placed third overall in the category. Royal Panadura team-mates, Charith Ruchiranga and Madhawa Fernando completed the race respectively at fourth and fifth with a slight difference of 39 votes. Zahira's Lakshan Edirisinghe, St. Joseph's Dishan Dissanayake, Kavindu Ashan of Royal Panadura, St. Peter's Thanusha Jayawardane, and S. Thomas' skipper Sachin Peiris are placed one after another respectively in the All-Island category.
In the Emerging Schools category, Sasindu Perera, the skipper of St. John's Panadura finished on top with an overall tally of 3599 votes. Sasindu, who is a left-hand top order batsman, was the leading left-arm spinner for his team in the concluded season.
Sasindu scored his career best in 1st XI cricket by hitting a well composed 172 against hometown rivals Mahanama, Panadura while scoring 93 against St. Mary's Matugama and 63 against Royal College Horana during some of the tournament encounters. With Sasindu's contribution, St. John's Panadura qualified to play in the second round of the Division III schools cricket tournament after his team emerged champions of the first round after four games. Second in the Emerging Schools category is Tharindu Guruge of President's College Kotte who has an overall count of 1944. Shenal Deelaka of Piliyandala Central completed the competition as overall third in the category.
The International Schools category was, as expected, claimed by Lakshan Kodagoda of Gateway International. Kodagoda finished with 37634 votes, which is the highest number received in all three categories. Kodagoda, who is an all-rounder representing Gateway Rajagiriya, had constant rivalry from Nishan Perera of Lyceum Nugegoda but during the latter four weeks gathered momentum to entirely dominate the proceedings.
Kodagoda's career has been a glittering one though at present it is the off season for international school cricket. He has been a constant contributor to Gateway cricket, while representing the 1st XI cricket team for many years and many a time steering his team towards worthy wins. Amjad Ifthikar of Leighton Park finished at third with an overall tally of 8925 votes.
All-Island Schools
Player Team
Sajeewa Salgado Thurstan College 24501
Shiran Anuruddhika De Mazenod College 19451
Angelo Jayasinghe Maris Stella College 15852
Charith Ruchiranga Royal College Panadura 3563
Madhawa Fernando Royal College Panadura 3524
Lakshan Edirisinghe Zahira College 942
Dishan Dissanayake St. Joseph's College 627
Kavindu Ashan Royal College Panadura 621
Thanusha Jayawardane St. Peter's College 444
Sachin Peiris S. Thomas' College 285
Jason Perera St. Benedict's College 126
Shehan Dilasri Maris Stella College 116
Emerging Schools
Sasindu Perera St. John's College Panadura 3599
Tharindu Guruge Presidents College Kotte 1944
Shenal Deelaka Piliyandala Central 1102
Mohamed Shilmy St. Anthony's Panadura 431
Samitha Ratnasuriya Seethawaka National School 15
Aruna Dharmasena Sri Sumangala Panadura 15
Anas Mohamed Azhar College Kandy 3
International Schools
Lakshan Kodagoda Gateway International 37634
Nishan Perera Lyceum Nugegoda 20559
Amjad Ifthikar Leighton Park 8925
Shehan Hettiarachchi Royal Institute 5302
Readers' prizes go to: 1. Mohan Sumanasena, 668/2, Etulkotte, Kotte. 2. Saman Manjula, 237, Udammita, Ja Ela. 3. Imana Izzadeen, K 2/2, Sri Sangaraja Mawatha, Colombo 10. 4. Wimala Kulasinghe, 6/7, Kadawatha Road, Kalubowila. 3.