A small brown figure stealthily grabs a saree hanging on a clothesline and bounds to the top of a tree. The desperate owner tries unsuccessfully to get it back from the two-legged thief.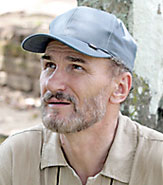 Dr. Wolfgang Dittus
They don't spare even a single tender king coconut or any other fruit or flower in Ratnawali Ranasinghe's garden. This is a day-to-day occurrence for this retired school teacher and other residents in Rajawatte, Peradeniya.
These daytime raiders are the reddish-brown Toque Macaque monkeys (commonly known as Rilawa). They have become a nuisance, invading households looking for food and in the process damaging rice cookers, bulbs, tiles and roofs, angry residents charge.
But how did these monkeys come to Rajawatte, Peradeniya, where there were no monkeys before?
Mrs. Ranasinghe's son, Janaka Ranasinghe a lecturer at the Rajarata University says the Kandy Municipal Coucil authorities translocated these animals from more urbanized areas in Kandy and areas close to the Dalada Maligawa, schools and nursing homes when they started becoming a nuisance there. He said the authorities were fast in a hurry to get rid of them as they were fast multiplying giving little heed to how the residents of Rajarata would suffer.
Meanwhile, well-known Toque Macaque expert Dr. Wolfgang Dittus, who lives in Sri Lanka strongly opposes translocation. "The translocation of pest monkeys is ineffective, harmful, to people and monkeys alike and a waste of public funds," says this scientist with more than 40 years of experience in the study of monkeys.
He says open garbage bins in the vicinity of the Maligawa, Trinity College, Kandy Nursing Home and the Peradeniya University became a rich source of food for the monkeys. The bins mainly contained leftovers consumed by people so they were rich in nutrients. Dr. Dittus explains that a basic principle in animal husbandry is that animals fed with good food will grow healthy and increase in numbers.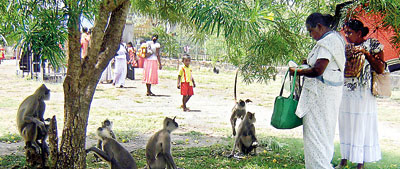 Feeding the monkeys: Another factor that increases their population in urban areas. Pix courtesy Dr. Wolfgang Dittus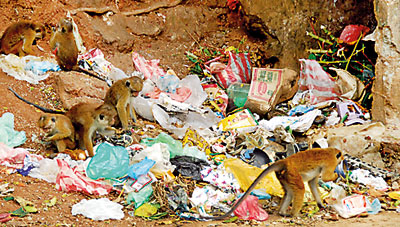 Open garbage dump in Kandy: Monkeys have a feast
"Translocation of monkeys is a desperate act and a deception of the people," he declares adding that those who promote this method as a solution to the human-monkey conflict have not understood the problem at all. Open garbage dumps in urban areas and feeding monkeys are the main causes for the increase in the monkey population and these are the issues that have to be addressed he says.
It is learnt that monkeys that had become a problem in Kandy had been relocated in areas such as Peradeniya, Galaha, Galagedara and Keerthibandarapura among others.
Dr. Dittus also points out that capturing monkeys from one place and releasing them in another is socially unacceptable because it shifts the burden from a politically or financially more powerful community to a poor one.
"The more the good food and water the greater the number of monkeys that can live there," Dr. Dittus says adding that their numbers in a forest hardly increase because of the limited supply of food and water. Predators and disease also control their numbers in the forests, he explains.
This is why he says there are a relatively fewer number of monkeys found in jungles in the dry zone like Yala, Wilpattu, Maduru Oya and Gal Oya.
The translocated animals invariably come into conflict with resident monkeys resulting in high incidence of injury and death to both groups, Dr. Dittus said adding that translocating monkeys to national parks was a waste of money as resident monkeys would chase away the newcomers.
"These new comers won't change their ways and instead of feeding at the park they raid villages bordering the parks," Dr.Dittus said. He said sterilization of monkeys was costly and impractical to carry out on a large scale. Castration of male monkeys is also not effective as female monkeys mate with many monkeys; therefore, one intact-monkey could impregnate many females. "So the female monkeys will have to be sterilized and this takes a long time and costs a lot," he said.
The only viable solution to control the overpopulation of monkeys was to prevent their access to food, the scientist said while recommending educational campaigns to make people aware of the consequence of feeding monkeys and leaving food remnants in open bins.
Other measures Dr. Dittus recommended included systematic collection and disposal of garbage especially in towns and the prohibition of open dumping of garbage.
"The more the foods available for monkeys the greater is the human-monkey conflict," he explained adding that a system of fining people for feeding monkeys should be adopted here too as they do in Malaysia, where one is charged a spot fine of Ringgit 500 if caught feeding monkeys. They also use monkey-proof garbage disposal bins, he said.
Dr. Dittus also had some words of advice for households. He said they could protect their property by disposing edible waste in monkey-proof bins and use chicken wire over open windows to prevent monkeys from entering their homes.
He also said the community should act as one to implement such preventive measures. "One deviant household or vendor with accessible garbage would definitely attract monkeys."
Translocation in Badulla a flop
The first translocation programme was carried out in Badulla in 2010, under the auspices of the Ministry of Economic Development with funding from the World Bank. Monkeys from the Badulla area were dumped in the Maduru Oya Park. It was reported that these monkeys soon started raiding villages in the vicinity. The World Bank was made aware of this and the funding was stopped, the Sunday Times learns.
But the Ministry has stepped in with Rs. one million to each Divisional Secretariat to deal with the monkey problem which includes the distribution of air rifles.