---
Vanished scenes
Sri Lankans will have a fascinating glimpse of our country and its people of ages past, when 'Regeneration', an exhibition of 19th Century photographs of Ceylon (1850-1900) opens at the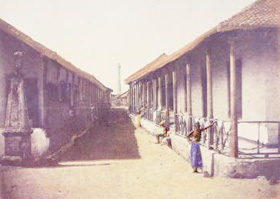 British Council next Sunday (January 30).
Photography was widely hailed as one of the key wonders of the Victorian age and its impact on the world since its invention in 1839 was immeasurable. In Ceylon the earliest surviving significant body of work appears to be a series of hand-coloured 'salt' prints by German photographer Frederick Fiebig. Taken in the early 1850s, a series of 70 of these prints (mainly of Galle, Colombo and Kandy) are preserved in the British Library's Oriental and India Office Collection.
In the 1860s, the photographic studio of W.L.H Skeen and Co. contributed a comprehensive visual documentation of the island. As improved travel facilities brought increasing numbers of visitors to Ceylon, there was a growing demand for photographic views of the coffee, tea and spice trades, the landscape and architecture. Significant also were Skeen's portraits illustrating 'native character', both sensitive and revealing.
Around the same period, Scowen and Co. were also responsible for a fascinating collection of views of Ceylon. The country's archaeological heritage was also documented in the 1870s for an archaeological survey by Joseph Lawton and Co. and later such pioneering work was continued by Plate and Co. These firms also recorded the significant social and political events of the day, such as the Duke of Edinburgh's visit in 1875 and the celebrations for the diamond jubilee of Queen Victoria in 1897. The exhibition which is part of the British Council's 50th anniversary in Sri Lanka celebrations, continues till February 7 and will also tour Kandy, Kurunegala, Galle, Negombo and other major towns.