Kumar's killer still at large
By Leon Berenger
Police probing the assassination of ACTC leader and lawyer Kumar Ponnambalam were last night still hunting for the killer nearly two months after the incident saying that the chief suspect 'Santha' had apparently given them the slip.
Dozens of people who witnessed the incident or who were close by have been questioned including six individuals who resembled the alleged killer but they were all released for lack of evidence
In the latest development a Tamil youth from the upcountry was arrested from a tea boutique in Elpitiya and brought down to CDB headquarters in Colombo as he closely resembled an artist's sketch of the main suspect.
The Officer-In-Charge at the CDB HQ Inspector (IP) Nuwan Vedasinghe said the police were still receiving many tip offs and information relating to the incident.
---
Potato wars
Indo-Pak rivalry spills into Pettah market
By Chris Kamalendran
A Major trade battle was looming between two rival factions of wholesale businessmen in Pettah over the week as the Police moved into investigate the matter.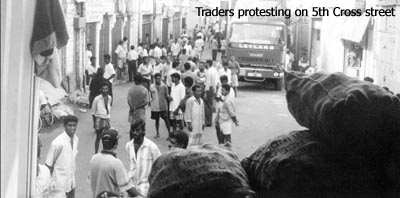 Armed police guards patrolled the streets as all wholesale shop keepers put up shutters yesterday as only the unloading of goods brought in from the harbour took place.
The shop keepers were protesting what they called intimidation against sections of traders and cases of assault directed at certain workers.
'The Sunday Times' investigations revealed that a certain section of business tycoons were responsible for the threats and intimidation in a bid to thwart the thriving business of certain traders dealing with Bombay onions, Potatoes and Chillies.
The main victims have been some traders who ventured into wholesale business with a group of Pakistani nationals.
The first threat came on February 16 when three men entered some shops down fourth cross street and threatened them not to purchase items imported by the Pakistani traders.
The following day a group of unidentified men entered a shop in Pettah and assaulted the Manager and another employee while labourers were unloading a consignment of potatoes and onions. They were severely warned not to carryout any more business with the 'foreigners.'
Investigations have revealed that the men had been sent by a group of importers who felt that the Pakistani businessmen were importing large consignments that were flooding the market which were consequently bringing down the prices.
Some businessmen speaking on anonymity confirmed that imports from Pakistan were bringing down the prices sharply as against the imports from India. However they denied any knowledge of the wave of threats that have been directed at certain traders. As the threats and tensions continued, a group of traders were also trying to keep the prices high by making outright purchases from the Pakistani traders and controlling the market forces.
In a dramatic development, the unidentified group distributed a copy of what they called 'conditions' and have wanted the traders to restrict the imports to targets given by the group and also declare the weekly sales to them.
Traders who received the 'conditions' declined to give details about the group which had distributed the form.
Yesterday's protest was organised by the Pettah Traders Association, but in a separate development an unsigned letter worded in Sinhalese calling traders to put up shutters had also been distributed.
Pettah traders said they believe that the letter was aimed at giving a communal twist to the issue.
The Pettah Traders Association has informed the SSP Colombo Central, G.D.A. de Fonseka about the threats and yesterday's closure.
SSP Fonseka told 'The Sunday Times' that although no official complaint has been lodged about the alleged assault, they were carrying out a full scale investigation into the incidents.
Some businessmen said that intimidation and threats to the Pettah traders could result in the prices of potatoes, onions and chillies increasing or shortages arising.
"Our business will be affected and as a result the consumers will also be affected if this trend continues," a businessman who did not want to be named said.
Due to the protest, traders who were due to come in from outstations to collect their weekly supplies also had not turned up.
---
Censorship unfair and obsolete
A Fundamental Rights case challenging the current censorship on military related news was taken up by the Supreme Court on Friday and fixed for further hearing on March 23.
The case filed by Ms. Sunila Abeysekara was taken up before Justices, Dr. A. R. B. Amerasinghe, S.W.B. Wadu-godapitiya and L.H.G. Weerasekera.
In the case Ms. Abeysekara has claimed that her fundamental rights had been violated by imposing the censorship.
Ms. Abeysekara is the President of the Movement For Interracial Justice and Equality (MIRJE), the Executive Director of INFORM (Sri Lanka Information Monitor) and a member of the Executive Committee of the Movement for Free and Fair Elections.
The censorship on military related news in the north and east has been effective since June 1998.
The petitioner said the censorship was being arbitrarily implemented and that the regulations offended the established principle in international law that restrictions on freedom of expression based on national security interest would not be legitimate if the genuine purpose or demonstrable effect was to protect interest unrelated to national security, such as to protect a government from embarrassment or wrongdoing or to entrench a particular ideology.
Ms. Abeysekera also said imposition of censorship in the manner it was being imposed had been rendered an obsolete exercise by the advent of the communication revolution.
Ms. Abeysekara said the regulations imposed has constrained her from forming and communicating information on matters of public debate and which were of vital concern to the nation .
---
To sir with love
Royal Primary School's former headmaster H.D. Sugathapala will celebrate his 90th birthday today. He is known for his contributions in the field of arts and has won the President's Award and the Sarvodaya National Service Award.
Mr. Sugathapala was the Chairman of the Drama Panal of the Sri Lanka Arts Council, the Public Performances Board, and the first Chairman of the President's Film Award Jury.
The famous 'Nava Ranga Hala' of the Royal College is a monument of his service to Sinhala drama.
An author, editor and designer, Mr. Sugathapala wrote children's books in Sinhala. One of his publications is the 'Nava Maga Readers'. He also served as the Chairman of the Hansa Publishing House in the seventies.
---
Former Air chief Oliver in alleged street fight
A former Airforce chief and his driver have been released on Rs. 50,000 bail each by a city magistrate for allegedly assaulting a driver and a conductor of a bus.
The Borella police produced Air Marshal Oliver Ranasinghe and his driver before Additional Magistrate Colombo Harold Wijesiri Liyanage on Tuesday. They have been directed to appear in court on Tuesday (Feb 29).
According to police, the ex-Air chief had arrived in a cab to the scene of an accident near Kota Road Ayurveda Hospital, involving the bus and his daughter. He has allegedly kicked the driver in the stomach several times. He has also allegedly abused and manhandled the conductor and a three-wheel driver who tried to protect the driver.
Mr. Ranasinghe was not present at the time of the actual accident, but appeared on the scene with two others after his daughter had made a frantic call over her cellular phone, the magistrate was told.
The driver told police that they were bundled into the cab and drove to the Welikada police station and his statement recorded.
The driver was subsequently admitted to the Colombo National Hospital and discharged after initial treatment, but was later re-admitted in the night as his condition worsened, Hemantha Gunatilleke, Operations Manager for the Colombo North Region of the Transport Board told the Sunday Times.
He said the Transport Board trade unions were to launch a strike, if the police failed to produce the culprits in courts.
He added that following the incident some interested persons had attempted to influence the driver and conductor with an offer of cash but this was rejected.
The Police Chief for Colombo South Superintendent (SP) Sunil Perera told The Sunday Times that they were preparing a case of assault against Mr. Ranasinghe, and this will be done once the medical report is made ready.
Mr. Ranasinghe's daughter will in the meantime face separate charges for a traffic offence since the right of way at the time of the accident belonged to the bus driver, a senior policeman with the Colombo City Traffic said.
---
Mystery ailment wrecks family
By Chamintha Thilakarathna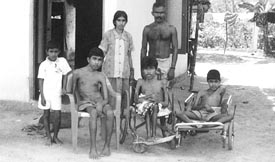 Just nine months after fourteen year old Sampath's death, his mother Somawathi and father Premadasa have been told there is no hope for their four remaining boys to live. This time, no medical miracle could save them. Somawathi's face is dried of tears and Premadasa tries not to appear disheartened for their children's sake .
But, deep inside these are two helpless parents dying of suppressed sorrow.
When Thusitha, their eldest son was nine years, he started finding it difficult to walk and get about his daily chores. When school teachers sent an SOS to the parents one day they were shocked by what they heard from doctors.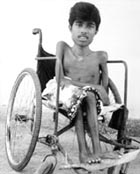 "There is an incompatibility in Thusitha's blood. It won't be long before he is completely paralyzed," the doctors had told the stunned parents.
"He showed signs of weakness first and later his calves began to swell then to contract. This continued onto his legs and arms and now he has been reduced to bones. His senses are in good condition but his physique is weak. Also, his spine is twisted now as a result of the contraction," said Somawathi.
Growth in his bone marrow is almost zero which has weakened the body. Also, as the blood begins to mature with puberty, the body has become unable to cope with the biological requirements which has resulted in the above mentioned symptoms according to physician reports.
Today a nineteen year old, Thusitha is envious of his classmates who visit him with their kids. His brothers Gamini (17), Sampath (14) and Samantha (10) are also victims of this hereditary illness.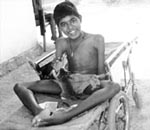 Sampath died nine months ago due to this illness as it had reached an advanced stage where his lungs had swollen disturbing his respiration according to the death certificate issued by the Mathugama registrar.
"Doctors say that if we had girls this would not be the case. But if a daughter of ours has a son, he would suffer from this same illness. By the time we found this out we had already had our children," said the father Premadasa Mallawarrachi.
Somawathi and Premadasa who are not blood relatives are clueless as to how their children could have got this disease.
Premadasa has been forced to stay at home to help his wife take care of the children who need to be fed, clothed and bathed. "They do not have the energy to even chase a fly resting on their nose without our assistance," the parents said.
Neighbours and district officials have asked the parents to hand over the children to an orphanage, "but how can we do that? If there is no cure then we prefer to keep them with us till their dying day, which doctors say will be sooner than later. Having them with us despite their condition is all we want, if only we could give them everything they wish for during their lifetime," they said.

Samantha says he loves ice cream and would one day like to drive a car although he knows that he will never be able to realize his dream. Gamini has no such wish for the future but for the present. He wishes they had a refrigerator and a colour television as they are all great fans of iced food and movies. "Watching the television or listening to the radio is all they could do," Somawathi said.
Ten year old Samantha runs around enjoying the gift of being able to walk and play, realising little that his carefree days are numbered. His four older brothers were equally active during their childhood. What hope does he have? almost none.
"Doctors feel that it is only a matter of time before he too begins to show signs like his brothers. But they add that there is a minute chance he may not be victim, if he is lucky," Premadasa said.
All they wish is for their children to be cured. Their daily prayers are for a physician to help save at least their youngest son, Samantha. But they don't wish to keep their fingers crossed fearing disappointment after having tried everything from medical assistance to pleas and vows to gods.
Donations could be forwarded to Mrs. H.W.S. Karunaratne, Account Number 2-013257-7, People's Bank, Pelawatte Branch.
---
Don't waste your waste paper: SOS from National paper company
The National Paper Company Limited has sent an SOS for waste paper without which they say the two mills in operation are likely to cease functioning.
The production capacity of the mills at Valaichchenai and Embilipitiya is 37,000 mt a year, whereas the country's demand for paper and board is around 160,000 mt a year. As the procurement of waste paper is not satisfactory, the company will be compelled to import waste paper spending a considerable amount of valuable foreign exchange.
"The National Paper Company needs about1800 mt of waste paper a month to keep its two mills in operation. It is worth noting that the collection of waste paper is so poor that the recovery rate is only 16% whereas in most other countries it is over 40%," the General Manager of the NPC said The garbage collected in Colombo Municipal area is 1000 mt a day consisting of 7% of waste paper. This amounts to 70 mt a day.
Once paper is mixed with garbage it is found useless and it also undergoes biodegradation, emanating green- house gases such as methane and carbon dioxide which is harmful to the environment