---
Disabled runners for New York
"SriLankan Airlines could fly the athletes to Europe, and Achilles can sponsor taking them from Europe to America. And we will pay for their stay in New York, and of course for the medical treatment which is the key thing,"
By Nilika de Silva
Marathon runner and volunteer worker of the Achilles Track Club Chris Stewart is here in Sri Lanka to select three disabled runners to participate at the New York City Marathon to be held on November 5.
Stewart who feels strongly about helping disabled people says, "I have been very lucky, I am in good health." And this is the driving force within this man, who is employing his talent in sport to gain for people less fortunate, a better chance to live a healthy life.
The Achilles Track Club, a non-profit organization begun in 1983 in New York City, encourages people with all types of disabilities to participate in long-distance running and organizes annually the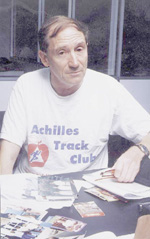 New York City Marathon(NYCM). Last year more than 60 countries participated at the NYCM.
"We started out with the club in New York and we now have our club in countries as diverse as China, Dominican Republic, Algeria, Lebanon and Thailand," said Stewart adding, "I am also very keen to start one in Sri Lanka."
With members in sixty-seven countries whose disabilities range from transplants and paraplegia to blindness and amputation, the Achilles Track Club uses sport to rehabilitate people who are physically challenged.
Explaining how the program would be arranged Stewart said, "I hope to have a diversified team, with three different people. Preferably one Tamil from Jaffna, one blind runner, one disabled person, to show the diversity of Sri Lanka."
"SriLankan Airlines could fly the athletes to Europe, and Achilles can sponsor taking them from Europe to America. And we will pay for their stay in New York, and of course for the medical treatment which is the key thing," he said.
"The basic thing is these people will return to Sri Lanka and hopefully they will work in conjunction with organisations here," Stewart said adding, "We will back them up with donation of computers or electric sewing machines."
Sports training is discipline and this helps the person, Achilles feels that the discipline of the marathon can work wonders on a disabled person.
Chris who ran in the New York Marathon in 1976 and 77 said, that the laying of the 3 1/2 mile long carpet on the bridge had been triggered off by the fact that his feet were cut very badly on the metal grating. Although before this the city had a request from a disabled athlete she wasn't allowed to run as they felt she wasn't safe on the bridge, Stewart said.
"I have been shot in the foot once, in Bosnia. And I hit a land mine once in Cambodia," says Stewart who has played a role in war torn countries such as Bosnia, Cambodia, and the disintegrating states of Yugoslavia.
We will be starting some training groups for Sri Lankan schoolchildren as well, as we want to avoid them stepping on land mines, he explained.
In his bid to find athletes suited to participate in the NYCM, Stewart will travel extensively to places like Trincomalee and Jaffna, he will also work with the inmates of the blind school in Ratmalana.
The importance of long distance running for rehabilitating physically challenged people was stressed by Stewart who said that unlike in sports like golf all what these people needed was a pair of shorts, "so that is the beauty of the running," he said.
"I'll be going to a wheel- chair marathon in Ratnapura and I will be looking at the wheelchair people there. But I'm most keen to help the blind," Stewart said.
The visually impaired runners will run with a guide who will keep up with their speed. "What we do is encouraging people to run long distances, the blind people are very successful at the long distance race, because they can keep going," he explained.
"The exercise improves the chance of a successful eye operation, because fitness means you have a greater response to surgery. We found that cornea transplant works better on an athlete," Stewart said.
Achilles is a worldwide organization that encourages people with all kinds of disabilities to participate in running with the general public.
Achilles includes people with all kinds of disabilities, such as visual impairment, stroke, cerebral palsy, paraplegia, arthritis, amputation, multiple sclerosis, cystic fibrosis, cancer, traumatic head injury and many others. Runners participate with crutches, people in wheelchairs, on prostheses and without aids.
---
Colts triumph on the glorious uncertainties
There could have been no better example of how gloriously uncertain the outcome of cricket than the climax of the club cricket season. The Singhalese Sports Club stood proudly at the top of the points table with Tamil Union following close on their heel. The talking point was which of these two teams would clinch the championship. Both clubs had just completed one hundred years in exsistence. To this end it would have been a fitting result should one of them have emerged on top. Alas! That was not to be. There was no fairly tale ending!
Colombo Colts Cricket Club were on rung number three when the last round of games began. It required something "gloriously uncertain" to happen for them to emerge on top. "Never give up" is a motto of many of the top competitors and teams in any sport. There was no great deal of pressure on the Colts as they were not favoured. So, to win well was the one thing they could have done.
At the end of day one exchanges were quite even and there was no sign of any upsets. As the next two days unfolded it all began to happen. Many telephone calls were exchanged between, Havelock Park, Maitland Place and the P. Sara Stadium as the chances of being champions gradually began to evaporate for the two favourites.
Tamil Union paid the penalty for not making enough runs in the first innings. Perhaps they had an outright win on their minds, as Sebastianites after their early success against the S.S.C., had fared poorly. It does happen in such cases that players tend to forget that they must put up a good total, win on first innings and then think about the outright victory. Should a team underestimate the opposition as weak, attempt to simply bulldoze their way through, often it ends in reversed results.
The 275 runs scored by the S.S.C. too proved to be inadequate. There was life on the pitch for the pacemen for a day-and-a-half. There weren't the bowlers to exploit and as the game wore on the batsmen made runs.
Full marks to the former Sri Lankan wicketkeeper Lanka Silva who blasted a very impressive 213 runs. He played some glorious strokes and dominated all the bowlers. It was one of the better innings seen at the S.S.C. for quite a while.
With C.C.C. tottering at 5 for 2 wickets the home team had every opportunity of making inroads into the visitors' batting line. However, lack of experience contributed towards the C.C.C. getting back into the game. There were too many short and wide deliveries sent down and many no balls bowled.
Finally, it was a case of the race between the hare and the tortoise. Colts played their cricket at a slow and steady pace. After dismissing B.R.C. for 248 runs they piled on 406 for 9 before declaring. The experienced Dulip Samaraweera (114) and Chaminda Mendis (61) being the main contributors. "No game of cricket is over until the last ball is bowled", is another famous saying in this game. So it was in this case as Colts C.C. triumphed over the favourites S.S.C. and Tamil Union who were relegated to second and third places respectively.
Many miles away in Pakistan the Sri Lanka team basked in the glory of victory while the home side licked their wounds after being resoundingly beaten three-nil in the one day series. That the Sri Lankans never loosened the grip throughout the three contest underlined their commitment and singleminded professionalism.
'The Test series will no doubt be a different ball game. Sri Lanka has very wisely called on the experience of Arjuna Ranatunge and Aravinda de Silva. They have in turn responded with big scores in their initial warm up game against the Pakistan Board XI. The home team will also look at picking some of the more experienced players who were overlooked for the one dayers.
Again, the better bowling attack is going to be the deciding factor. On paper Pakistan certainly have the edge with proven bowlers like Akram, Akhtar, Razak, Mahmood, Saqlain Mushtaq and possibly Mushtaq Ahmed. Meanwhile Vaas, Soyza, Pushpakumara, Wickramasinghe and Herath will carry the mantle for Sri Lanka.
Both teams will be desparate to come on top. It will be a very closely contested series and well worth keeping your eyes glued onto the TV set.
---
Lara roller-coaster hits big trough
By Mitch Phillips
LONDON (Reuters) - If ever a sportsman's career could be described as roller-coaster then Brian Lara has had the ultimate fairground ride.
The last 10 years have seen the 30-year-old establish himself as one of the greatest batsmen of all time. New records for first class and test innings, a test average of 51 and startling displays against the odds when all around him were falling have left no question over his talent.
However, during the same period he has been involved in a series of off-pitch rows, captained the West Indies to their first ever 5-0 test series defeat and has seen the former world-beaters slide into ignominy.
Now he has resigned from the captaincy, concluding: "After two years, the moderate success and devastating failure that has engulfed West Indies cricket have brought me to the realisation that there is a need for me to withdraw from my present leadership position."
It is difficult, if not impossible to see how such a state of affairs could have come about for Lara, who a decade ago seemed set to conquer the world.
He made his test debut in a fabulously successful West Indies team in 1990, deep into a period of dominance that saw them unbeaten in test series from 1980 to 1995.
He took a while to adjust to the test arena and did not score his first century until 1993 - although 277 against Australia at Sydney is a special way to get off the mark.
The following year was his annus mirabilis as he posted a test match highest 375 against England in Antigua and followed it with a world record first class score of 501 not out for Warwickshire - his sixth century in his first seven innings for the English county.
Things started to go downhill the following year when he walked out of West Indies' tour of England after a dressing room row but was persuaded to return days later. He also withdrew from a tour to Australia just two days before departure and in 1995 was involved in more disputes with the board after a disappointing World Cup.
As the West Indies aura of invincibility slowly disappeared, internal rifts were taking their toll.
In 1997 West Indies lost a series 3-0 in Pakistan, two of the defeats by an innings, and Lara took over the captaincy from Courtney Walsh, who had himself replaced Richie Richardson a year earlier.
His first series was a 3-1 home victory over England but very little else went right.
He was sacked as captain after a players' revolt over pay just days before a tour to South Africa but re-instated after four days of talks at Heathrow Airport.
He must have wished he had stayed where he was as the Springboks ripped his team apart, handing them their first 5-0 test defeat and a 6-1 thrashing in one day internationals.
Under fire from home, he was reappointed for the first two tests of the 1999 home series against Australia. It looked a poor decision as they lost the first test by 312 runs after collapsing to 51 all out in their second innings, their lowest-ever total.
But with the clamour for his dismissal reaching deafening proportions, Lara rediscovered his genius.
He scored his first century for a year - 213 - to help win the second test then a quite brilliant 153 not out to snatch the third. The series was drawn 2-2 but those thinking the corner had been turned were soon to be disappointed.
A terrible World Cup in England saw them finish fourth in their group and fail to qualify for the Super Six stage and this year they toured New Zealand where they lost a test series 2-0 and a one-day series 5-0.
Such results were unimaginable during the glory days of West Indian cricket and Lara has been unable to live with it.
---
Cricket fiasco: Only tip of the iceberg
By Neville Abeygunewardena
Those who possess a selfless care and concern for our sports - those who are steadfastly committed to the wellbeing of our sports - and those thousands, nay, lakhs of fans and followers of our sports, heaved a sigh of releif when yet another humiliating fiasco in cricket ended within just three days.
The misadventures in cricket is only the tip of the iceberg. There are other sports rampant with allegations of corruption, abuse, fraud, deceit, deception and even sex. There is much more than the eye could see and the appointment of a high powered Commission to go into the mess and morass in other disciplines will not only help remove the fungus for a better growth but will earn the gratitude of a whole generation and generations yet unborn.
Enforce the sports law strictly
To the credit of K.B. Ratnayake as Minister for Sports in the mid-seventies, it must be said, that of all the sports laws the one that clearly stipulate the requisite to hold office in a National Sports Association stand out as the most important.
It says that other than the post of the Treasurer the person seeking office should have represented the respective sport at a major level of competition. Perhaps KB the wise old bird saw through the manipulation and the scheming of the pretenders, fakes, and exploiters, and was determined to keep the wolves away. Yet this is the very rule that is trampled with impunity blessed by the tacit support of the powers that be, and making the scenario a comedy on the surface and a tragedy at the end. A perusal of those holding office in National Sports Association will show the mediocre and the average riding the high horse and in some sports the reigns are with the wits, pretenders and nincompoops. They have not even played for their school teams leave alone at major level of competition as required by the relevant sports law. In some National Sports Associations its top flight officials are mere political sidekicks. While in some other sports they are glorified mudalalis. So obviously the purse commands and the rest fall in line.
Judge or Judas?
The inability to enforce strictly the sports laws has been paradoxically the strong point since the inception of the Ministry of Sports in 1965. In fairness to the late Sugathadasa and K.B. Ratnayake the situation did not worsen. The late Vincent Perera was the first to permit the prostitution of the sports law. Nanda Mathew continued this drama unabatedly and S.B. Dissanayake the incumbent Minister for Sports followed this drama until it became the best melodrama. What is unfortunate even tragic, is the fact that while we have an abundance of former international sports stars with stature and standing, these wits and fakes - the mediocre and the average are permitted to run the administration. It is obvious the purse is the point of success. Our sports need a full Cabinet endeavour not merely a ministerial effort. The situation has gone beyond the control of a single ministry. It is the solemn and onerous duty of the government as a whole to put things right and do it early the better. The least we expect is the moving hand of Her Excellency Chandrika to rise above a single ministry, and for the sake of this country and its sports appoint a Commission in the first place, for only then will you see the mess, muck and the morass, in our sports.
There can be more important national issues to stand to, but in heaven's name do not treat the decadence of our sports step-motherly nor only look at one child, for what is fair and just is the family. You can rest assured that barring cricket and perhaps a couple of athletes, our sports is nowhere near Asian standards, leave alone Olympic standards, and mind you for over fifty two years now. Its all at your feet Madam... please do something about it.