Light for the poor
Poets around the world insist that the eyes speak more than the tongue. Should you ever go to Serupitiya, a remote village in the hills of Walapane in the Nuwara Eliya district, you will meet a person who will make you realise just how right those poets are.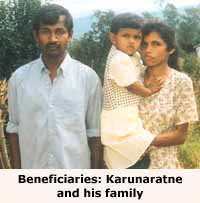 D.M.P.Karunaratne is a shy man in his early thirties, who at first glance seems ordinary. But that impression lasts only until you notice his eyes. There is light and warmth in them and even though he can't voice words of welcome, his ever-ready smile says it all. It was his expression of contentment that drew me towards Karunaratne, when a village development project funded jointly by the Ceylon Tobacco Company and the National Trust Fund was handed over to the villagers themselves. The project had introduced SALT (Sloping Agricultural Land Technology) to the people of Serupitiya, who are mostly chena cultivators. Twenty of the poorest families including Karunaratne's in the village were also given new houses.
SALT, the brainchild of engineer and inventor Ray Wijewardene, is a combination of soil preservation and enrichment. Its ingenuity lies in the use of naturally-growing Acacia trees such as wetahira and giniseeriya, which are rich in nitrate-producing bacteria, to enrich the soil.
The basic technique involves growing Acacia saplings on farming land during the off-season, lopping the top part off and laying them on the ground, for the decaying leaves and roots to enrich the soil.
This rich soil gives a better harvest, which in turn means a higher income for farmers. Fertilizer costs are also reduced.
A CTC spokesman said they introduced SALT first to Dadayampola and later on the government's request to Serupitiya, both tobacco-growing areas. SALT is a mandatory technique for their tobacco growers.
However, it was introduced to Dadayampola and Serupitiya on the understanding that villagers do not grow tobacco but some other crop on SALT lands, to ensure maximum benefit with no strings attached. They have also been given cash crops by CTC, he said.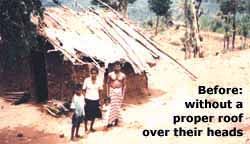 To reach Serupitiya you must make your way up a steep, untarred road. But the climb is worth it. Once there, the breeze brushes away your fatigue and the view is spectacular — blue-green mountains meet the eye, unblemished by human presence. Below the village, paddyfields stretch out in the valley.
The villagers led a simple life in their small shacks and mud-huts before the project came to the village. But now they have a proper roof over their heads. Though we were greeted with smiles, lines of hardship were etched on their faces. They live off the harsh land, cultivating their chenas and supplement their income by growing coffee, mangoes and lime.
Karunaratne was born into a family of nine. He was deaf from birth as were three of his brothers and one sister. Their parents had a difficult time, but tried hard to educate the children. His three handicapped brothers are employed and the sister is married and, as is the custom of the area, helps her husband to cultivate the land.
Karunaratne himself is a carpenter, his elder brother D.M. Somaratne, who communicates with him through sign language, said. He learnt his trade at the Koswana School for the Handicapped. Later he met and married a girl, who like himself, heard and spoke with her eyes. They have two healthy children, a six-year-old son and a four-year-old daughter. We only saw their daughter, for their son was living in Poramadulla with his grandparents.
How has the development project helped Karunaratne? His brother replies, "He had a hard life, like most of us here do. The project has given him a good roof over his head. He is happy."
- Chatura