---
A Tennis Star in the making
By Jatila Karawita.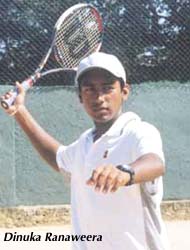 Dinuka Ranaweera the teenage tennis sensation from Ananda College who recently clinched the boy's under 18 title of the Junior National Hard Court Tennis Championships at the National Tennis Centre Court says one of his main goals for the future is to represent his country at the Davis Cup tournament as well as to get among the top 100 of the ITF Junior rankings.

"One of my main ambitions in tennis is to take part in the prestigious Davis Cup tournament being a member of the Sri Lanka team, and also to be featured among the top 100 players in the ITF Junior rankings system" said Dinuka Ranaweera speaking to the Sunday Times at the SLTA courts last week.

Ranaweera who is 16 years old, beat Royalist Sanjeeve Paramanathan in two straight sets of 6-4, 6-1 in the under 18 final.

Dinuka Ranaweera who has idolised World number one and American tennis superstar Andre Agassi, and one who has a tremendous future ahead of him tenniswise said, that in his teenage tennis career he has hitherto won the hard court tennis nationals in the categories of under 10,12, 14, 16, and 18 age groups respectively.

Asked to comment on any previous tennis tournament which he had won, the very enthusiastic and equally ebullient Ranaweera went on to explain in detail taking enormous pride in those tournaments which he had tasted success.

"I first competed in 1994 if I am not mistaken and beat Upendra Walgampaya in the under 10 age group.

I also became the men's open tournament runner-up to Rajeeve Rajapakse this year having ended up being the runner-up to Renuk Wijemanne in the open tournament last year.

In between taking part in these tournaments I have also toured abroad representing Sri Lanka in countries such as Japan, Indonesia, Malaysia, Singapore, Bangladesh, India and Brunei" said Dinuka Ranaweera who was quite glad with the foreign exposure he has had so far in his budding tennis career, which he feels is going from strength to strength.

" In 1997 in Indonesia I took part in the Starko International tennis tournament in the under 14 age group and received third place, while during the same year competing in the South Asian Circuit in the same age category I was placed fourth.

The following year in 1998 I competed in the Indian Circuit tournament in India and in the World Youth Cup team tournament in Hiroshima in Japan.

Then this year I have so far taken part in the World Youth Cup team championships in Jakarta, Indonesia and in the Junior ITF ranking tournaments in Singapore, Malaysia, and India" stated young Dinuka who extended his gratitude to his longstanding coach Ricardo De Fonseka for fine-tuning his career for the past five years or so, in such a way that he has been able to vie for tennis laurels year after year.

" My coach Ricardo De Fonseka has been a tower of strength to me over the past few years and I can say proudly that he indeed has been the inspiration behind my success of course not forgetting my parents and my elder brother Samitha Ranaweera who won the under 18 national in 1998, and Ricardo also has coached few other young tennis stars as Renuk Wijemanne, Ravi Munasinghe,and my own elder brother Samitha", said Ranaweera who described the greatest moment in his career as being the occasion when he beat star Sri lankan Davis Cup player lanky six- footer and left hander Rohan De Silva in the semi finals of the open men's tournament in 1999.

"Ousting Rohan in that tournament in the semis I can say has been the acme of my career and that win I will treasure for a long time" mentioned Dinuka who was pleased with the arrangements made by the Sri Lanka Tennis Association for the smooth conduct of the Junior National Hard Court Tennis Championships despite the many hiccups faced by the organisers in the face of adverse weather conditions experienced in Colombo during the past few weeks.

Asked how he would look at the future prospects of tennis players in his age group Ranaweera was full of optimism saying there was much talent to be harnessed and if it could be properly tapped Sri Lanka could go a long way in Tennis.

"I think there is a great depth of talent in my age group and if it can be identified I feel we will be that much better off tenniswise" added the dusky Dinuka Ranaweera who told the Sunday Times that he was placed 520th in the ITF singles rankings while in the ITF Junior doubles rankings he was placed as the 576th in the world.

Asked to comment on what other ambitions he has apart from his favourite sport Ranaweera went on to say that having finished his Sri Lankan 'O' level examination hopes to sit the London 'A' level and once successful at it to go overseas for higher studies, but he was quite categorical in stating that he will not give up his career in tennis altogether.

---
Test Matches of by-gone days: (8)
By Bruce Maurice
This Test match which was played at the S.C.G from the 14th to the 20th of December, 1894, was the first instance where a team followed-on and won a Test.

This Test was one that contained many highlights and records. The match aggregate of 1514 runs was a new record. And Australia's score of 586, was to remain an Australian record for 30 years, while Gregory and Blackham put on a record partnership of 154 runs for the ninth wicket. Giffen produced an outstanding all-round performance for Australia and certainly did not deserve to be on the losing side. He scored 161 and 41 and took 8 for 238 off 118 overs.

Australia winning the toss, batted first and made 586. England were then dismissed for 325 and forced to follow-on. But then came disaster upon disaster for Australia. First, Blackham suffered a severe thumb injury and could not keep wickets in England's second innings. Then after 5 days' play, Australia needed only 64 runs to win with 8 wickets in hand after England had replied with 437. The elements now decided to come to England's rescue. The heavens opened up and the rains came tumbling down. The next day was followed by blazing sunshine and Australia were well and truly trapped on a 'sticky dog.' Briggs and Peel took full advantage of the conditions and the last 8 wickets went tumbling for only 32 runs. This gave England victory by just ten runs.

Scores: Australia 586 (S.E.Gregory 201, G.Giffen 161, F. A.Iredale 81, J. Blackham 74, T. Richardson 5 for 181) and 166 ( J.Darling 53, R.Peel 6 for 67) .

England: 325 ( A. Ward 75, J. Briggs 57) and 437 ( A. Ward 117, J.T. Brown 53)

---
"Who decides our Olympic participation"
Rejoinder - By Annesly Ferreira
In the "Sports Editor's note" a detailed analysis of Sri Lanka's participatlon at the XXIVth Seoul Olympic Games were promised in these sports plus pages. Poring over reports and sports news items, clearly reveals that "Sri Lanka's contingent to the 1988 Seoul Olympic Games may go down on record as one of the most disappointing ever assembled. Their participation at the 24th Olympiad did not bring honour or respect to Sri Lanka."

For the record: two track and field, two marksmen, and two swimmers represented Sri Lanka at the Seoul Olympics. Since Ms. Tara Bolling [swimming coach] had raised an issue of the piece written in The Sunday Times Sports Plus of June 04, 2000, here are the performances of Ms. Bolling's son and niece. Her son participated in the 400 metres freestyle, 200 metres Butterfly and 400 metres individual Medley.

Ms. Tara Bolling's son submitted for the:

[a] 400 metres freestyle - entry time of 4:10.59. He finished 6th out of 6 in his heat with a time of 4:18.88. Uwe Dassler (GDR) won the gold with a new World and Olympic record of 3:50.91.

[b] 200 metres Butterfly - entry time of 2:18.4. He did not start the race. Michael Gross [FRG] won the gold with a new World and Olympic record of 1:56.94.

[c] 400 metres individual Medley - entry time of 4:48.32. He finished overall 32nd out of 35 Two were disqualified with a time of 4:53.61. Tamas Darnyi [Hungary] won the gold with a World and Olympic record of 4:14.75.

Ms Tara Bolling's niece submitted for the:

[a] 100 metres Breastroke - entry time of 1:18.36. She finished 6th out of 7 and returned a time of 1:20.95 and was overall 38th out of 42. Tania Dangalakova [Bulgaria] won the gold with a World and Olympic record of 1:07.91.

[b] 200 meters Breaststroke - entry time of 2:48.84. Finishing 3rd out of 3, overall 42nd out of 43 with a time of 2:51.60. Silke Hoerner (URS] won the gold with a new World and Olympic record of 2:26.71.

[c] 200 metres individual Medley - entry time of 2:33.65 and returned a time of 2:33.58 with and overall 31st out of 35 that swam the race. Daniela Hunger [GDR] won the gold with new Olympic record of 2:12.59 and Ute Geweniger [GDR] holding the World record of 2:11.73.

Reporting from Seoul. Korea, the respected Sports Editor of the Divaina newspaper, stated in the Island newspaper of Wednesday September 21, 1988 quote "sixteen-year-old Dipika Chanmugam swam in the 200m Breaststroke first heat, timing a 2mts. 51.60secs, mark below her confirmed best performance, 2mts. 48.84secs. Only three competitors were listed in this heat and Dipika was made to trail from the first 50 metres. There were 43 girls competing in the six heats worked out, and with the disqualification of the Argentinian, Dipika Chanmugam is now listed 42nd in the ranking." Unquote. In his report filed on September 23rd. Quote "Julien Bolling said that he had a bad season and could not train well. In a telephone interview Julien said he was scared to go into the 400 metres Individual Medley race, which shows that most Sri Lankan sportsmen and women do not have the killer instinct. Julien Bolling swam in the second heat and timed 4:18.88 which is an unimpressive performance compared to his career best 4:10.59. He is now ranked 46th out of 49." Unquote.

These two items of reporting are reproduced to indicate the sorry state of Sri Lanka's representation at this prestigious and demanding competition. As Ms. Bolling had indicated her son not only was ''unfit" but ''unwell" as well, but yet made the Olympic team to represent Sri Lanka. How lucky and fortunate for him. It is in this context that the piece referred - that our selection to the Olympic were "bamboozled" as attested by Ms. Bolllng ln her reply of June 11, 2000. The then National Olympic Committee's two principal officials saw to that only mediocre representation was possible and allowed the state contingent to Seoul. Hundreds-of-thousands of public funds were wasted on this jaunt. The objective of the piece of June 04, 2000 was to highlight the pattern of selection by the National Olympic Committee, Cohorting with those in power and influence to get to the Olympics. The argument presented in this piece that if the same criteria were to be applied, Young Conrad Francis should automatically be selected. Without even reviewing Conrad's scholarshlp performances. The NOC Secretary, in collaboration with the ministry [imputingly controlling all Olympic sports] have denied him of participatlng at the 2000 Sydney Olympic Games. How disgusting a situation for young Conrad Francis? The piece of June 4th may have unfortunately identified the poorest performing Sri Lankan participation. The piece never intended to denigrate the participants however poorly they may have performed, by "bamboozling" the entry timing as they so blatantly did. The respect for Olympic participatlng must be acknowledged at all times. But cannot condone the refusal by NOC and other responsible authorites for denying Conrad Francis from representing his motherland at his dream sport, swimming, at, the 2000 Sydney Olympic Games.

The argument here is that if the powerful can only seek participating at the Olympic Games as is being done for the Sydney Olympics, then say so to young Conrad Francis so that he and/or his parents start flirting with the powers that be if they wish to participate in a competitive trial to represent his country at any future competition. One such situation to the Sydney Olympics has already taken place.

What is most sad is that all those who can do something about the case are deftly silent as was with our "super star golden girl" Susanthika Jayasinghe. Conrad Francis is certainly not in her league, but as the reports indicate, Conrad has certainly and immensly improved and deserves to represent his country as were the son and niece of Ms. Tara Bolling. This piece no longer will engage in frivolous debate. As there is no such debate envisaged. All correspondence with this rejoinder is closed.

[In association with C. Vijitha Fernando, Duncan White Sports Foundation. The views expressed in this piece do not reflect the position or views of the foundation and the foundation disclaims any form of attribution]

---
Countdown to the Olympics - 88 days [13]
Chronicling the Olympic Games [Part 3]
| | | | | | | | |
| --- | --- | --- | --- | --- | --- | --- | --- |
| | GAMES | | | | NATIONS | COMPETITOR | COMPETITORSS |
| OLYMPIAD | YEAR | CITY | COUNTRY | WHEN HELD | REPRESENTING | MEN | WOMEN |
| XVIITH | 1960 | ROME | ITALY | AUGUST 25 - SEPTEMBER11 | 83 | 4738 | 610 |
| XVIIITH | 1964 | TOKYO | JAPAN | OCTOBER 10-24 | 93 | 4457 | 683 |
| XIXTH | 1968 | MEXICO CITY | MEXICO | OCTOBER12-27 | 112 | 4750 | 781 |
| | | | | |
| --- | --- | --- | --- | --- |
| MEDALS | MEDALS | MEDALS | MEDALS | MEDALS |
| NATION | GOLD | SILVER | BRONZE | TOTAL |
| SOVIET UNION | 43 | 29 | 31 | 103 |
| USA | 36 | 26 | 28 | 90 |
| USA | 45 | 28 | 34 | 107 |
By Annesley Ferreira
It takes only a single person's steel-like determination and devotion to achieve an objective to its completion and eventual success. History is replete with such extraordinary people - and it seems fit and appropriate to highlight the portrait of one such person who endured insurmountable and almost impossible odds to make one of the most successful events the world has yet to see.

A spectacular human extravaganza that put the world's youth into a kind of attention every four years and for the past one hundred is a phenomenal achievement yet to be surpassed at any level in the world stage - between 1896 and 1996 - One hundred years to be exact. That person is no other than the founder of the Modern Olympic Games, French aristrocrat and nobleman Baron Pierre de Coubertin of France. His life story goes in this extraordinary narration.

"He was small, barely five feet three inches tall, and he cultivated a sweeping cowcatcher of a mustache beneath his nose that seemed made for a bigger man. Writing was his favourite pastime, pedantic, unpoetic stuff dealing with politics, history, education. He participated in sport very little, confining his activities to riding and rowing. In his late 20's he came upon the theme that was to define his life: The "Physical Degeneracy" of France and the need to promote fitness and athleticism as a central tool " In the work of moral education".

Eventually he tried all this together with the idea of resurrecting the long-dead olympic games.

He chose a November night in 1892 to spring his idea on the Intelligentsia of Paris with a speech at the Sorbornne. He spoke of his hopes for "The Diminution of the chances of war" and declared that the "cause of peace would receive a new and forceful boost" if Nations competed on the athletic field rather than on the battlefield. He built a crescendo, then proclaimed his central point that peace could be advanced through "This Grandiose and beneficient work: The re-establishment of the Olympic Games !" The audience had no idea what he was talking about, and soon the Baron was being peppered with questions.

"Do you mean a theatrical reproduction with fake athlete?" Mais, Non, he said, the real thing.

"Then will the althletes be nude? Will women be forbidden to watch? Who will participate? Only the French?" It should be done on a world scale, he said.

They were laughing openly now. "Oh, then we'll have Negroes and Chinese and .. And.. Redskins ?" Shouted one man. Disgusted, the Baron left the podium.

But he was tough, and he had good connections. He convened an international meeting in Paris in 1894 with leading sportsmen from nine countries, and after a week of wining, dining and entertaining them, he engineered a unanimous vote to exhume the ancient Olympic Games in Athens in March 1896. When the Greek government balked at the expense, de Coubertin got the king of Greece and his sons to lead a fund-raising campaign. They convinced George Averoff, a wealthy Greek philanthro-phist, to one million Drachma [US$ 184, 000] for a new stadium.

At the opening ceremonies, the statue unveiled at the stadium entrance was not that of the French aristrocrat who had created the Games, but of Averoff, who had merely paid for them. Ultimately the Baron would receive the credit he deserved, but definitely not in Athens. He kept saying "I hereby assert once more my claims for being sole author of the whole project." However, when he returned home, his wife confronted him with the cruel question, " Why was it that not one time did they mention your name at the ceremonies ?"

The hideous games in Paris in 1900 were not the Baron's fault. He had been shunted aside by officious organizers until the last minute, when it was too late to salvage the situation. The Paris Games of 1924, which he oversaw as President of the International Olympic Committee, were far more successful, and when they were over, he resigned with the satisfaction of a job well done.

In the final years of his life, he lived in Lausanne and was occasionally seen rowing alone on lake Geneva. His ancient family fortune was gone, and he lived with his Shrewish wife and metally disturbed daughter in a hotel suite provided free by theCity of Lausanne.

He was nominated for the Nobel Prize in 1936 and was deeply disappointed when the jury did not select him. He had hoped that the prize might serve as validation of his lifelong belief in the olympic games as a vehicle for world peace. " He was very disillusioned, very sad, at the end of his life," said his nephew, Geoffrey de Navacelle.

The Baron died of a stroke on September 2, 1937, at the age of 74. In his will he decreed that he should be buried in Lausanne but that his heart should be removed from his body, encased in a marble column and shipped off to be buried at Olympia in Greece. His wish was granted.

1960-ROME: The Pope was a spectator at this incident free games. Rome Olympics was the last to permit South Africa to participate. American woman sprinter Wilma Rudolph captured the warm Roman imagination - Overcoming polio, and at the age of 20, won three Gold Medals: 100, 200 and 4x100 metres sprint events. The monopolistic events of the 100 and 200 metres of the United States was ended by Soviet Union's Army Hary.

The other sensation was the marathon feat of barefoot runner of Ethiopian Abebe Bikila. Perhaps the most controversial judgement in olympic history came during the men's 100-metres freestyle. Australian John Devitt and American Lance Larson came thundering to the wall in an explosive finish.

It was quite evident that Larson edged out Devitt, and Devitt infact congratulated Larson before climbing out of the pool. To the astonishment of both competitors, Devitt was announced, the winner.

The three first place judges, two of whom picked Devitt as the winner, however, the three second place judges picked Devitt for having touched after Larson. The tally gave each swimmer three first place votes, as well as three second place votes. To confuse the issue two teams of timers, three timed Devitt at 55.2 while Larson was timed at 55.0, 55.1 and 55.1, which clearly indicated that Larson had touched the wall before Devitt.

The film of the race also gave Larson as the winner. To resolve the embarrassing issue, Larson and Devitt were officially timed at 55.2 seconds. Despite the overwhelming evidence that American Lance Larson had won the 100 metres freestyle sprint, Australian John Devitt was awarded the Gold Medal and Larson the Silver. Ironically Larson and Devitt co- held the olympic record at 55.2 none of the protest for years were of avail. Destined to be, Larson would remain the " Unofficial Olympic Champion."

1964 -Tokyo: The Tokyo Olympics, tested for the first time in Asia saw Japanese efficiency and modern technology ensuring the smooth conduct of these games and the readmission of Japan to the International Community. The host city of Tokyo invested heavily on futuristic infrastructure. The extraordinary architectural design of the swimming stadium led the IOC president, American Avery Brundage to call it the " Cathedral of Sports." Volleyball and Judo were the two new Olympic sports. American Don Schollander won four golds in the swimming pool and was celebrated as the most successful participant. Australian Dawn Frazer defended her 100 metres freestyle in a new Olympic record. Likewise, Ethopian Abebe Bikila, set a world record in defending the marathon.

1968-Mexico City: Mexico City Games became to be known as the "Black Power" Olympics protested by United States sprinters, Tommy Smith and John Carlos for having raised their black-gloved fists at the victory podium, seeking equal rights in their home country as a part of the civil rights movement that had gathered favourable momentum. The City's altitude, 7347 feet [2240 metres], became a controversy where the rarefied air led to numerous world records in the short distances, but adverse to those in endurance competition. American Jim Hines ran the first sub-ten -second 100 metres to a world record of 9.9 seconds.

This time was later officially recognized as the inaugural electronic timing of 9.5 seconds. The most outstanding achievement of the games was the extraordinary leap in the long jump by American Bob Beamon with a staggering 29 feet 2 1/2 inches [ 8.90 metres]. It took 23 years for Mike Powell of the United States to leap farther than Beamon. American high jumper "Dick" Fosbury made a winning jump of 7 feet 4 1/4 inches [2.24 meres] with a sensational technique that became to be known as the " Fosbury Flop" a jump that would clear the shoulders first - revolutionized high jumping to replace the usual and conventional Straddle Technique. American swimmer Debbie Meyer secured three gold medals in the freestyle events.

For the fourth consecu-titive Olympiad, Al Oerter of the United States won gold for the discus throw event, considered a phenomenal achievement in the same event.

In association with C. Vijitha Fernando, Duncan White Sports Foundation.