---
The Kataragama factor and the 1962 coup
She played a backstage low-profile role largely as a mother of three young children. Suddenly, history and destiny called Sirimavo Ratwatte Dias Bandaranaike to the centrestage with all its pitfalls and pressures. Stereotyped as the weeping widow and an unwilling one at that, she eventually took the mantle of leadership and the political history of the next four decades tells the story of the unparalleled heights she reached locally and internationally.
In this article, the veteran and widely respected administrator Bradman Weerakoon — secretary to the prime minister when Sirimavo Bandaranaike took office — recalls how the widow in white though untried and untested dealt with a crisis that no leader had faced before — a coup by leading officers of the armed forces and the police.
The article is reproduced from a book by veteran journalist Gunadasa Liyanage who wrote about Bradman Weerakoon's experiences in the corridors of power under seven prime ministers.
Parliament was dissolved at 12 noon on April 23, 1960. The Gazette notification said that the general election was to be held on July 20, 1960 and the new Parliament was to meet on August 5.
Mr. C.P. de Silva, the new leader of the SLFP, resigned with the dissolution of Parliament. There was little doubt that a leaderless party posed a major problem for the SLFP when it was about to face a general election.
Though Mrs. Sirimavo Bandaranaike was the most suitable person to lead the party, she repeatedly said she was not going to get involved in politics. She maintained that her husband died an untimely death because of politics and described politicians as opportunists.
All said and done, ultimately, Mrs. Bandaranaike was compelled to accept the party leadership and conduct the election campaign. However, she made it clear she was not contesting a seat, but if her party was given a mandate she would become the Prime Minister through the Senate.
Though the Lanka Sama Samaja Party and the Communist Party signed a no-contest pact with the SLFP, for the general election, Mr. Philip Gunawarden's Mahajana Eksath Peramuna decided to go it alone and contested 55 seats. Ultimately the whole election campaign turned out to be a straight fight between Dudley Senanayake and Sirimavo Bandaranaike.
When the results were announced on July 21 Mrs. Bandaranaike's SLFP had won 75 seats while Mr. Dudley Senanayake's UNP had won only 30 seats.
A little while after the last result of the election was announced caretaker Prime Minister Dudley Senanayake resigned. Governor-General Sir Oliver Goonetilleke invited Mrs. Bandaranaike to form a Government. She took her oaths before the Governor-General and became not only the Prime Minister of Ceylon but also the first woman Prime Minister in the world.
Abortive coup
As Mrs. Bandaranaike was not an elected MP, she could not attend the meeting of the Parliament. So, I had an additional duty of watching the meetings from the Officials Box and providing a summary of the day's proceedings to the Prime Minister.
Within two years of Mrs. Bandaranaike becoming the Prime Minister she had to face a dangerous situation. And that was the abortive coup of 1962. Some top officials of Army, Navy and Police had plotted to remove Mrs. Bandaranaike and capture power on the night of January 27, 1962.
On a tip off by Mr. Stanley Senanayake, the attempt was foiled in the nick of time.
I have a feeling that I too contributed in some little measure to the foiling of the attempted coup. Sometimes great changes in the course of history are based on trivial incidents and as such I wish to relate this particular story too.
The coup leaders had planned to execute their scheme on the night of January 27. It was a Saturday and Mrs. Bandaranaike had arranged to spend the weekend at Kataragama. According to the programme prepared by her faithful aide Amarasinghe Mrs. Bandaranaike was to leave Colombo on Friday, attend the poojas on Saturday and return to Colombo on Sunday. This decision was made ten days before the date of the planned coup.
However about one month before that Mrs. Bandaranaike had received a letter from the Chief Incumbent of Gatambe Temple (Peradeniya) inviting her to a ceremony there on the 27th night. Mrs. Bandaranaike asked me to write to the Gatambe Priest saying that she was unable to accept the invitation as some urgent duties compelled her to remain in Colombo that night.
When the arrangements were being made for that Kataragama trip I was reminded of this particular letter. I pointed out to Mrs. Bandaranaike that it was not proper to go to Kataragama on the 27th night when she had informed the Gatambe Priest that she was compelled to remain in Colombo. I also told her that when the Priest reads in the newspapers that Mrs. Bandaranaike was at Kataragama on 27th night it would create a bad impression in his mind about Mrs. Bandaranaike. Mrs. Bandaranaike listened to my argument and spoke " Then Bradman, ask Amarasinghe to cancel the Kataragama trip."
That was how the Kataragama trip was cancelled at the last moment. The coup leaders had planned their strategy assuming that Mrs. Bandaranaike would be at Kataragama on the 27th night. Actually, if Mrs. Bandaranaike was at Kataragama on that fateful night there was every possibility of a bloodshed and the coup succeeding.
Trip cancelled
With the revealing of the coup attempt Mr. Felix Dias Bandaranaike became all powerful. While Mrs. Bandaranaike was trying to get over the shock, Felix tightened security and started investigations. Infact he took all the Police powers into his hands, made Temple Trees a virtual CID Headquarters and continued investigations day and night. It is my impression that Felix faced the situation very boldly and efficiently. The suspects were brought before a special tribunal.
Based on the facts revealed at the investigations, Mrs. Bandaranaike was quick in making changes in certain key positions in the Government. The most important change was the replacing of Sir Oliver Goonetilleke as the Governor-General. On February 18, 1962 Mr. Felix Dias Bandaranaike made a statement in the House of Representatives and said that during the investigations of the attempted coup, the name of Sir Oliver Goonetilleke too had been mentioned.
When this was brought to the notice of Sir Oliver, he had indicated that he had no objection to being questioned like any other citizen, Mr. Bandaranaike added.
However, nobody had the power to question the duly appointed representative of the Queen of England. Under the circumstances, the first thing that the Government had to do was to remove Sir Oliver from Queen's House. To do so a new person had to be found for the position. Mrs. Bandaranaike decided to appoint her uncle Mr. William Gopallawa as the new Governor-General.
At that time Mr. Gopallawa was serving as the Ceylon Ambassador in Washington. I had to give long distance calls and send cables to Mr. Gopallawa to get him down here from Washington.
Mission to London
One morning when I went to office Mrs. Bandaranaike asked me to fly to London immediately with that 'dangerous' letter. I packed a suitcase and left for London in a hurry.
Gunadasa Liyanage (who writes my story) wants me to give a detailed account of the London trip and the meeting with the Queen at Buckingham Palace. Liyanage puts the same question from different angles and tries to draw me into speaking. But I do not wish to give any more details. Reason: Some of the actors in this 'censored' episode are still alive.
However, it is sufficient to say that when I returned to Ceylon after a week's stay in London my mission had proved a success.
In the afternoon on February 26,1962, we informed all newspaper offices and Radio Ceylon to stand by for a very important announcement to be released at midnight. Accordingly, Radio Ceylon too extended night transmissions beyond the normal closing times.
The announcement made under the name of Prime Minister Sirimavo Bandaranaike was broadcast at 12 midnight. It said that Her Majesty the. Queen of England had kindly consented to a proposal made by the Queen's Government in Ceylon to appoint Mr. William Gopallawa as the Governor-General of Ceylon to succeed Sir Oliver Goonetilleke. The appointment will be effective from March 20, 1962, the announcement added. At the same time a similar announcement was made by Buckingham Palace, in London.
---
She held her own amidst tough and shrewd men
By Chandani Kirinde
"The only man in her Cabinet," said her main opposition rival of her, a remark that puts in a nutshell the courage and fortitude with which former prime minister Sirimavo Bandaranaike handled her four decade long journey along the perilous road of politics.
When she decided to call it quits by stepping down as Prime Minister, Mrs. Bandaranaike brought to an end an era in the political history of the country where she held her own among some of the shrewdest and toughest men to walk the country's political landscape.
The now famous quip was made by Sir John Kotelawala for the brave and swift manner in which she acted to crush the youth uprising in 1971 soon after she took office as prime minister for the second time in 1970, despite the nervousness of her male colleagues.
Mrs. Bandaranaike was thrust into the political limelight after the assassination of her husband the late Prime Minister S.W.R.D. Bandaranaike in 1959 and since then there was no turning back for her.
She became the world's first woman prime minister in 1960 and continued to be a dominant political force for four turbulent decades, during which her governments were nearly overthrown, first in a military coup in 1962 and then in a youth insurrection in 1971.
In her letter of resignation addressed to her daughter President Chandrika Bandaranaike Kumaratunga, the former prime minister cited health reasons for her decision to step down saying the move would enable the President to appoint a suitable person to the post who could actively campaign on behalf of the People's Alliance in the upcoming general elections.
Mrs. Bandaranaike said that during her 40 years in public office, she aimed at maintaining a high level of decency, fairplay, honesty and governance but now it was time for her to withdraw from the humdrum of busy political life, to a more tranquil and quite environment.
Mrs. Bandaranaike was born on April 17,1916 . Her daughter Chandrika and she were the first mother-daughter duo to hold the two highest political offices in the land.
Mrs. Bandaranaike's first tenure of office as prime minister ran from 1960-65 and the second from 1970-77. She was reappointed in 1994 when the ruling PA seized power and her daughter became the present President.
Mrs. Bandaranaike had a number of achievements in the sphere of foreign affairs during her administration. The most notable ones included the hosting of the Non-Aligned Movement (NAM) summit, of which she was a founder member, in Colombo in 1976.
Her non-aligned policies also won her many friends overseas mainly from the former socialist bloc countries. During her administration, she signed the Sirima-Shastri Pact in 1964 to solve the citizenship problem of the Estate Tamils, and successfully maintained cordial relations with both India and Pakistan during a border war between the two countries, even allowing Pakistani aircraft to refuel at Katunayake without offending the Indian government. When there was tension between India and China over a border issue, Mrs. Bandaranaike met with the leaders of both sides and brought about a settlement.
"With her personal charm and ability she was able to be equal among great world leaders and work for her country," a long time companion of the former Premier, Yasa de Lanerolle wrote in a local paper last week after Mrs.Bandaranaike's announcement of her resignation.
It was also during her term in office that Sri Lanka became a republic in 1972.
But Mrs. Bandaranaike's terms in office were not without their share of problems with allegations of abuse of power, nepotism and corruption being directed at her and her ministers.
Her decision to extend the term of her government by two years after she completed her five years in office from 1975-77 drew sharp criticism from her opponents and resulted in her party being reduced to eight seats in the '77 elections in which the UNP lead by Mr. J.R. Jayewardene took power.
The 1970-77 period also saw people being burdened with immense hardships and brought the country to the verge of economic collapse. Reeling from the after effects of the failed JVP led insurrection, the country was faced with severe shortages of essential goods. Her second term in office came to be largely symbolised by the 'long bread queues' in which people were forced to stand for many hours to buy their rationed quantity of bread.
Her decision to take over the Lake House group of newspapers and seal an independent newspaper also was a severe blow to the independence of the media in the country.
The UNP which took power in '77 appointed a presidential commission to inquire into Mrs. Bandaranaike's second term in office which found her guilty of abuse of power. As a result, she was stripped of her civic rights by a resolution of parliament in October 1980. They were restored in 1986.
Despite the many ups and downs that beset her political life, Mrs. Bandaranaike retires as a political figure whose life will remain unparalleled as the world's longest serving prime minister.

---
Central Bank issues note of warning
By Nilika de Silva
The Central Bank will add more security features to currency notes in its fight to outwit counterfeiters.
Central Bank Governor A.S. Jayawardena told The Sunday Times they plan to incorporate a hologram on currency notes which cannot be copied as part of the security features .
"We will try to incorporate more and more anti-counterfeit features in our currency," he said.
"Every time we release new notes, we introduce features which are difficult to counterfeit," Mr. Jayawardena said, adding, "What we do is try to stay one step ahead, and bring in an additional feature which cannot be copied."
Up to now nobody has copied a Lankan currency note perfectly. The paper used is never identical. We use a special type of paper, while the watermark can never be copied, he said. "The metal thread cannot be copied. The counterfeit currency can deceive gullible people in backward villages. A forged note can be recognised easily," he said.
According to the Counterfeit Currency Bureau, a special unit of the CID assigned to combating forgery, counterfeit currency estimated at more than a million rupees has been released into local circulation and detected."
In a recent incident at Agrapatana, 90 counterfeit notes of 1000-rupee denomination were detected, a CCB official said. "We have taken in all 90 notes, all of which carried one number," he said.
To date more than 20 instances of counterfeiting have been detected in the country with the Central Province accounting for the most number of cases.
Detection is made with the aid of the built in security features in the currency. These features are changed from time to time with the intention of thwarting swindlers.
Forged currency dissolves in water, a drop of water is sufficient to blur the figures, a senior official of the CCB said.
The latest method being adopted by counterfeiters in Sri Lanka is employing ink jet colour printers. The lithographic system has also been in use for a while.
The majority of the counterfeiters have a knowledge of computers. When an arrest is made the CCB takes charge of the computers and other equipment and produce them in court.
The CID has called on the public to be on the alert for counterfeit currency, especially after 6 p.m. when counterfeiters are on the prowl to dupe their unsuspecting victims.
---
Lankan at helm of US software giant
By Duminda Ariyasinghe
One of the stories doing the rounds at Computer Associates (CA), the world's third largest independent software company, was that all its top executives were from the same New York City borough of Queens. Referring to the one exception, Sri Lankan-born Sanjay Kumar, the joke went that "Colombo" too was a borough of New York City.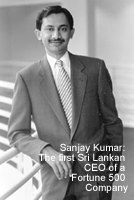 This week Kumar became one of the highest profile CEOs in the U.S replacing Charles Wang, the highest paid Chief Executive in the country last year. Wang, 55, had taken a little known software manufacturer into an industry giant whose revenues of over $6 billion and 13,000 employees placed it only behind Microsoft and Oracle.
Kumar is the first Sri Lankan born manager to rise to the pinnacle of power in a Fortune 500 company. His achievement is all the more creditable given he has done this at the age of 38. The ascendancy places Kumar in the same eclectic company as Microsoft CEO Steven Ballmer and Oracle CEO Larry Ellison, two of the biggest guns in the software industry.
Kumar takes over the company at a crucial time in its history, when growth is sputtering. For years, CA was a darling of Wall Street with its merciless growth strategy, which won it awards as one of the best managed companies in the US. In the highly competitive software industry, CA grew aggressively by gobbling up its weaker rivals - a practice that earned it admirers on Wall Street for solid financial returns but few friends elsewhere.
One must note however, that aggressive business tactics are hardly an anomaly in the US . In a culture that lionises achievements in sports, no figure looms larger than Vince Lombardi, the legendary coach of the Green Bay Packers Football Team. In the 60's, Lombardi took a perennially also - ran team from a small Wisconsin town into consecutive Super Bowls championships the pinnacle power in the NFL, the National Football League. Go into the office of any senior manager in the US, and the chances are that his - for it is still a predominantly white male culture - walls would be adorned with a quote from Lombardi such as his most famous maxim: "Winning isn't Everything. It is the Only Thing!" , Lombardi is revered for his results despite the heavy toll his methods had on his players through fractures, internal bleedings and other serious injuries. As long as you deliver, no questions will be asked, was the implication.
By these standards, Computer Associates has been a stellar performer for much of its life. Its street-fighting strategy helped CA grow from an $842 million operation in 1988 into the $6 billion powerhouse it is today.
But even by the hyper-capitalist standards of Wall Street, Computer Associates' tactics have been tougher than most. It acquired weaker rivals for their software, and then cut expenses to the bare minimum, often laying off legions of workers. As Forbes magazine noted on CA, "schoolyard bullies may score lots of lunch money as well as their peers' fear-tinged respect, but never their allegiance." This has come to haunt CA as some of the best employees of its acquired firms – the most vital asset it is after - often have threatened to jump ship.
The US corporate culture is also one in which companies are expected to deliver solid profit and revenue growth quarter after quarter, year after year. One could be the most profitable company in the world, but if it misses one quarterly earnings target, its stock would be dumped by investors. This is indeed what happened to Computer Associates this year.
On July 5, the company surprised Wall Street by warning that its first quarter earnings would be far below expectations. The stock plummeted 42% on the news. Analysts at some of the best-known investment houses - Goldman Sachs, CSFB, J P Morgan, Morgan Stanley Dean Witter and Prudential - immediately downgraded CA stock. It is into this pressure cooker atmosphere that Kumar has stepped in.
If anyone has had a good grooming to be a CEO, then it is Kumar. Over the last few years, he has effectively run the company along with Wang. Kumar joined CA in 1987 with its acquisition of UCCEL Corporation, where he was director of software development. Kumar has said that he is proof that there is "life after an acquisition."
In CA, Kumar has held progressively senior positions in development, strategic planning and operations before being promoted to president and chief operating officer in 1994. He is credited with executing a multidimensional strategy: developing the best products, acquiring and integrating key technologies, building strategic partnerships with hardware, software and consulting companies and strengthening client relationships, according to a company news release.
"Kumar continues to increase the flexibility and efficiency of CA's business units to ensure the company remains responsive to changing client requirements," the company said. These initiatives include the launch of a worldwide service organisation and an expanded global channel organisation.
"What we're doing is having a smarter division of the labour at the top," Kumar said.. He said Wang would take on "the task of unlocking value by spinning off technology in the company that's not getting recognised." Wang's new role is similar to the role being played by Bill Gates who handed over the day-to-day running of Microsoft to his deputy Steven Ballmer earlier this year.
Kumar has said the company plans a number of "rapid-fire" spin-offs, the first of which will be iCan-ASP Inc., which makes software for application service providers, a quickly growing market. ASPs rent software to other companies through the Internet. The chief technology officer of Computer Associates, Nancy Li, who also happens to be Wang's wife , will be iCan-ASP's CEO.. Other potential spinoffs are a desktop accounting software business and four telecommunications joint ventures in Asia, Kumar said. All these efforts aim to boost CAs sagging stock price – the pre-eminent measure of a company's worth.
Wall Street analysts generally believe that the spin-off plans seemed to make sense, but the scant details made it hard to tell what the impact would be. An analyst at the Gartner Group noted:"Any one thing in the grand scheme of CA can get lost in the laundry because they're so broad," he said. "This might be a better opportunity to take advantage of the small niches that they might have something interesting in."
However, some analysts saw the move to create and eventually spin off iCan-ASP as more of a toe in the water instead of a headlong dive into a new structure. "I think there were a series of things that are a step in the right direction, an analyst at ABN AMRO told Reuters. "It didn't appear to be a series of huge announcements. "This was not the decision to split the whole damn company up," he said. "They could talk all they want, but if they keep blowing quarterly estimates what do they expect investors to do"
Even before becoming CEO, Kumar had become one of the highest paid executives in the US. Last year, a judge rejected the company's bonus plan, forcing Wang, Kumar and another executive to return stock valued at $1.1 billion. Still, Wang led the compensation league with a package totalling $650.1 million, most of it from bonuses related to stock performance.
What has made the relationship between Wang and Kumar special is that both are immigrants to the US. Wang's family moved from China in 1952, when he was 8 years old, to settle in the New York City borough of Queens. He earned a degree in mathematics at Queens College and learned computer programming. Kumar, a software developer by education, emigrated from Sri Lanka in 1976.
Over the past few years, Kumar has done an excellent job in raising his profile with both Wall Street analysts and the US financial press. He is a regular visitor on financial news channels such as CNBC and CNNfn. The role played by analysts has become even more critical in the past few years. A comment by an influential analyst can move the value of a stock significantly, and as a result senior executives such as Kumar have become increasingly adept at managing this relationship.
This week Sanjay Kumar capped a lifetime of achievement at Computer Associates by ascending to the CEO spot. His legacy at C A, however, will be judged not on how he got here, but on what he does from now onwards.
Good Luck!
Duminda Ariyasinghe is a North American based Senior Marketing Manager who has specialised in business turnaround strategies for Kraft Foods, Procter & Gamble and Coke Foods. After his current vacation in Sri Lanka, he will head billion dollar division at a Fortune 500 Company in Pittsburgh USA