The Goss
---
No room at the Inn
They may be two of the biggest names in show business, but even Madonna and Gwyneth Paltrow get turned away from restaurants sometimes. The glamorous pair, who struck up a friendship two years ago, had set off with high hopes for their girls' night out, accompanied by Madonna's friend, actress Debi Mazar.
They arrived at Peppone, a popular Italian restaurant in the LA suburb of Brentwood, only to be told to try again later as there were no tables free. But when they returned an hour later they still couldn't get in, so they spent the rest of the evening in a local bar.
No doubt they had lots to catch up on - the friends hadn't seen each other since Madonna's wedding in December.
---
New start for Quaid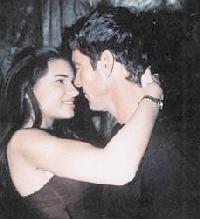 Dennis Quaid is clearly putting his relationship problems behind him by dancing the night away at various night-clubs around the world. The 46-year-old actor, whose nine-year marriage to actress Meg Ryan broke down last summer, hit the dance floor at a trendy club in Milan where he enjoyed the attentions of a young companion. Only recently he'd been spotted in Manhattan's famous watering hole Hogs and Heifers- notoriously decorated with the bras of female patrons-where he boogied with two barmaids. Rumours also began to abound when Dennis flew out to Italy to meet up with actress Andie MacDowell.
---
Schwarzenegger considers political role
Hollywood heavy-weight Arnold Schwarzenegger is considering a move into politics and a bid for the governorship of California. In an interview with the LA Times, Austrian-born Schwarzenegger said he would be happy to give up his movie career to turn to politics, explaining: "I've thought about it many times because I love politics." Arnie, a Republican supporter who was previously linked to a bid for the California governorship in 1999, said he could see himself following in the footsteps of actor turned-President - Ronald Reagan, who gave up acting for politics when he was elected governor of California in 1966. Unlike Reagan, however, Schwarzenegger could never become US president because only American born citizens are eligible.
---
Whitney Houston -trouble in Hawaii
Prosecutors in Hawaii have asked a judge to reopen drug possession charges against pop diva Whitney Houston, amid allegations that she has not fulfilled all the specific conditions of a plea-bargain agreement Hawaiian officials made with the star. Whitney had faced up to 30 days in jail and a $1,000 fine stemming from an incident last year when security guards at Hawaii's Keahole-Kona International Airport allegedly found marijuana in her bag. By the time police arrived at the airport, Whitney and her husband Bobby Brown had already boarded a flight to San Francisco. It had been agreed that the case would be wiped from Whitney's record if she paid the $1,000 fine, donated $3,000 to a youth-oriented anti-drug programme and submitted to a substance-abuse assessment within three months. However, because Whitney reportedly failed to submit to the assessment on time she may still have to go to jail if she ever returns to Hawaii.
---
New ER star Nancy's real-life tragedy
The beautiful star of the classic movie The World Of Suzie Wong, Nancy Kwan, is making a high-profile comeback, with a key role in the hit TV medical series ER. But the tragic story of Nancy's missing four years from show business is more dramatic than any script.
Nancy, still stunning in middle age, has had to cope with the early death of her only son, Bernhard, from A.I.D.S. He contracted the deadly disease from a girl, whom he later married. To add to the tragedy, the couple lost their baby through a miscarriage.
Even the most dramatic story-line in ER cannot compete with Nancy's real-life medical agony. Nancy says: "Things are never the same after a tragedy like this. Life goes on, yet the pain remains. Over time, you learn to live with your loss."
The Asian actress, who has been featured on the cover of Life magazine, is burying her agony with yet more work. After writing Celebration Of Life as a tribute to her son, she launched a skin care line called Pearls of Beauty.
But the mental scar of her terrible loss will always be with her. Nancy says: "My son, Bernhard Pock, passed away from A.I.D.S. on June 5, 1996. It is a terrible disease, and it was very hard to see him decline.
He was only 33 and it was a great loss. But, by observing his strength, I learned how resilient human nature is. At first, Bernie wanted me to be quiet about the disease. He didn't want others to know he had A.I.D.S.
That was hard for me - to keep all the pain bottled up. He caught the virus from a young woman he fell in love with and eventually married. Her name was Devorah. She had a miscarriage and, at the hospital, they discovered she had full-blown A.I.D.S.
This was in 1991. The doctor advised Bernie to get tested. His test came back H.I.V positive. I was shocked and devastated when he told me the news. Devorah caught the virus from someone she knew before meeting and falling in love with my son."
Nancy, born in China to a Chinese father and British mother, goes on: "Despite the horror, Bernie loved Devorah and they were married in 1992, shortly before she died. But this was a double tragedy for him. He lost the woman he loved, and then had to face his own death."
The actress believes that the tragedy has taught her a lesson in life. She says: "I don't make any long-term plans any more. But I do live every day fully."
---
Shaggy and Rikrok rock the pops
Shaggy is top of the pops again. Having recently captured the top spot on the US singles chart his song 'It Wasn't Me' moved across the Atlantic to become the No: 1 song in the UK this week.
When 'It Wasn't Me' was released last week chart watchers were predicting the song would become a No: 1 hit. This week the song did so ending the three week reign of 'Whole Again' by Atomic Kitten. Unlike previous Shaggy hits the current chart topper is probably his best. His has of course to be thankful to Rikrok who really puts heart and soul into 'It Wasn't Me'. Most of the vocals, if not all are performed by Rikrok. Like Shaggy, Rikrok hails from Jamaica and brings a refreshing element to the sound of Shaggy we have been used to since 1993. Most of us have in Sri Lanka have heard 'It Wasn't Me' over radio, the clubs etc. We have also seen the two perform this song in Colombo in January this year.
As 'It Wasn't Me' takes pole position in the UK this week, it has been certified with a "Platinum Disc" for sales exceeding 600,000 copies. The song is taken from Shaggy's very successful album 'Hot Shot' which has sold two million copies. Meanwhile as we all know Shaggy's follow up single 'Angel' too is rising on the US Hot 100 singles chart. The song is likely to be his next release in the UK around June.
Over the years Shaggy has recorded on three labels. His first No: 1 'Oh Carolina' back in 1993 was on the independent label Greensleeves. He then recorded on Virgin while his current material is on MCA/Island records. 'It Wasn't Me' is Shaggy's third No: 1 in the UK. As mentioned his first was 'Oh Carolina' in 1993 followed by 'Boombastic' in 1995. The featured artiste on 'Oh Carolina' was Rayvon. He had a further four Top 20 songs too in the UK. The last being 'Piece Of My Heart' peaking at No: 7 in 1997.
Former chart champions Atomic Kitten have been given a "Platinum Disc" by the BPI as the song 'Whole Again' (No: 2 this week) sold over 600,000 copies.
Ricky Martin and Christina Aguilera together have an entry this week at No: 4. The song 'Nobody Wants To Be Lonely' is a good pop song. Both artistes have a strong following in the Latin scene. The teaming up of the heavyweights is a one-off but helps in the business aspect of things. In the video people will be more interested in seeing Christina Aguilera in a rather revealing outfits sighted at times in a maze.
The Welsh heavy metal band Manic Street Preachers strike at top 20 at No: 8 with 'So Why So Sad'. It's very much in the tradition of all previous Manic Street hits, a great rock song with an ear friendly sound. It brings the Manics back to the chart after more than a year's break when 'Masses Against The Classes' hit No: 1. The Manics also recently created history by being the first western rock band to play in the Cuban capital Havana.
Billie Piper was reported to be stepping up security after Juliet Peters the woman who threatened to kill her was released from prison on Friday 2nd March. On a happier note the teenage pop singer is expected to marry her media-moghul boyfriend Chris Evans within the next few weeks.
Spice Girl-Melanie C had a narrow escape as a Thai Airways aircraft exploded at the Bangkok airport on Sunday March 4.
Jennifer Lopez may have parted company with Puff Daddy, but the actress turned singer is now reported be seriously interested in moving into the fashion scene.
Brian Eno one time member of Roxy Music blasted plans of a reunion which was announced last week. Roxy Music was a leading UK band in the late 70's and early 80's fronted by Bryan Ferry.
Robbie Williams is said to be preparing to appear naked in his next video. He was almost naked for his video 'Rock DJ'.
---
Baby trouble for Becker
He once dismissed Angela Ermakova's claim as the fantasy of an obsessed fan, but last month former tennis ace Boris Becker had to admit he was indeed the father of 10-month-old Anna Ermakova, who bears a striking resemblance to the three-times Wimbledon winner.
It was a curious turn of events that followed a DNA test requested by Boris himself, which proved that Angela's tale of a sexual tryst in the broom cupboard of a classy Japanese restaurant in Mayfair was more than just wishful thinking.
In an out-of-court settlement, Boris, 33, has reportedly agreed to pay Angela, also 33, an estimated £2 million - £1.3 million less than what the Russian waitress and model had initially demanded. Boris also issued a statement saying: "I take responsibility and will care for little Anna," adding, "I hope that with this declaration the speculation of the last few weeks will end. Children are the most innocent things in this world. Whatever I can do to contribute to a happy future for Anna I will."
Angela's claim, which surfaced last November, came at an undoubtedly awkward moment for the German sports star. His marriage to his wife of seven years, Barbara, 34, was breaking up and custody of the couple's two children, Noah, six and Elias, one, was the subject of a bitter battle, perhaps accounting for Boris' initial denial of Angela's story, and his later claims that she had tricked him into fathering Anna.
The dispute took on a bizarre tone as it evolved to include allegations of sperm theft, the Russian Mafia and DNA tests on soiled nappies.
Now, Boris is understandably eager to have the case closed. His divorce came through last month with a £10 million settlement, he has stepped out in public with his new flame, 27-year-old German rap singer Sabrina Setlur and, by assuming his paternal responsibilities, he is no doubt hoping to close a brief but murky chapter of his life and look to the future.
London-based Angela is also set for a fresh start. "I am very relieved that Anna's father, Boris Becker, has now accepted the situation," she said. "The last few months have been very difficult for Anna and I."
Meanwhile, in Berlin, Barbara Becker declined to comment on the case, but said she was "sad" about her former husband's new romance.
---
A tale of two Lisa Maries
At first, Hollywood reeled in amazement when the news broke ... "Lisa Marie Presley slapped with a $50 million lawsuit for refusing to take a DNA test to prove she is Elvis's daughter!"
Then the truth dawned. It was not THAT Lisa Marie Presley, but the one who lives in Sweden. The long-haired Scandinavian beauty who is also known as Lisa Johansen.
The Swedish Lisa claims she is the true daughter of rock king Elvis and Priscilla Presley and that the Hollywood Lisa is nothing but an impostor. And she has written a book, I, Lisa Presley, in an attempt to "prove it".
The Texas publishers paid Lisa $200,000 in advance, estimating the sensational book would rake in $50million's worth of international sales. But the story didn't have a happy ending for them because, according to the publisher's attorney Peter Pratt, sales "weren't that great".
And the publishers put all the blame for the book's failure on to Lisa Marie, the pretender from Sweden. They claim she broke an oral agreement to take a DNA test that would have proved - or disproved - her claim, once and for all.
Papers in the court action say: "As a result, the book never achieved the legitimacy that it required if it were to be the best-seller that it was destined to become. Without the test, the book came across as the rantings of a crazy person."
Meanwhile, back in Hollywood, Lisa Marie Presley has been battling her on-going weight problem. Friends feared she was going the sad way of her father, as she binged on junk food and tried fad diets.
At one time, 32-year-old Lisa, whose father died aged 42 on August 17, 1977 - piled on 30-plus pounds. Then began the struggle for the 5ft. 2ins. entertainer to trim back down to 102lb., in time for the release of the CD she had been working on with her fiance, rocker John Oszajca.
But recently, mother-of-two Lisa Marie triumphantly stepped out with the guitarist at a Los Angeles premiere.
The slimmed-down entertainer wore a slinky mini-skirt and belly-revealing top. To bare all for the doubters, Lisa had to show everyone her stretch marks, too.
Her publicist, Paul Bloch, said: "Lisa is in perfect shape."
---
A hair raising issue
From William Shatner's toupee to Ewan McGregor's plaited ponytail,
Hollywood has spawned some of the world's worst hairstyles
Hollywood has given us some pretty laughable hairstyles over the years. More recently we've seen Halle Berry sporting a long platinum blonde wig in X-Men and Ewan McGregor wrestling with a plaited ponytail that was almost as unbelievable as the plot of The Phantom Menace. Before that there was John Travolta's hair extensions in Pulp Fiction, and the high, mercilessly teased locks of Melanie Griffith and her co-star Joan Cusack in Working Girl.
Yet hair has played an important, some might say integral role in Hollywood cinema over the years, a role that can be compared to that of costume. Not only can hairstyles place characters firmly in a specific historical period, but they can indicate whether or not audiences are meant to take them seriously, whether they are the heroes or the villains, and even their emotional development through the film. How many times, for instance, have we seen the hair of actresses get progressively wilder, let to fall loose from its usual ponytail as they discover their passion for the leading man?
Indeed, hair stylists have long been revered in Hollywood. Warren Beatty's much desired character in Shampoo is said to be based on Jon Peters, the former hairdresser who married Lesley Ann Warren, styled Barbra Streisand's hair in For Pete's Sake, divorced Warren and became Streisand's lover and manager. Then Peters produced A Star is Born and teamed up with Peter Guber to form one of the most successful production partnerships in recent Hollywood history.
Sadly, stylists sometimes get it wrong and hairstyles can backfire spectacularly. In his famous essay on the blanket use of fringes to indicate Roman-ness in Joseph Mankiewicz's 1953 film Julius Caesar, Roland Barthes pointed out how ridiculous the hairstyle looked on Louis Calhern, the actor who had the dubious honour of playing the head honcho himself.
"One cannot believe in Julius Caesar," Barthes pointed out pithily, "whose physiognomy is that of an Anglo-Saxon lawyer – a face with which one is already acquainted through a thousand bit parts in thrillers or comedies, and a compliant skull on which the hairdresser has raked, with great effort, a lock of hair."
An ill-judged wig or toupee can send audiences into fits of giggles instead of earnest attention. Who can forget Bruce Willis's hairpiece in the fatally flawed Bonfire of the Vanities? Or the increasingly ridiculous and vain hairpieces sported by William Shatner in the Star Trek series of movies? Then there is the conspicuously blow-dried quiff of Patrick Swayze in everything from Dirty Dancing to Ghost, obviously and poignantly designed to disguise his thinning pate. And River Phoenix's unpredictable barnet in Little Phoenix: one minute it's slicked back, the next his blond bangs are hanging down around his eyes – sometimes in the same scene.
Women aren't immune to big screen bad hair days, either. Top of the crops must surely be the cinnamon buns that seemed to have attached themselves to the sides of Carrie Fisher's head in Star Wars. (No wonder Harrison Ford kept gazing at her intently.)
Off-screen, human hair has proved just as vexing and difficult to comprehend, let alone control. In fact, Aristotle thought hair was excess brain matter. Some 100,000 strands grow from the average human head, and we are the only species of mammals that need to cut our hair – something we have been doing for hundreds of thousands of years.
"Some primitive tribes shear their locks by draping them across a flat rock and running a sharp-edged stone back and forth over them," says Daniel McNeill in his book, The Face. "The stone flakes of Homo habilis and Homo erectus could have cut just as well."
It seems that as long as we have been growing our hair long, we have been cutting and styling it. The Powhatan Indians of Virginia shaved the right half of their heads and let hair grow full length on the left; in Japan Samurai warriors cropped two deep coves into their hair; and Mohawk Indians shaved both sides of their skull, leaving a strip of hair to grow from the forehead to the neck.
It "stands right on end like a cock's comb or hog's bristles," a Dutch observer wrote in 1644.
In 17th century China, men valued long hair because they could arrange it into elaborate coifs that they viewed as a sign of masculinity – a kind of hairy peacock display. Indeed, after the Manchu regent Dorgon conquered Beijing in 1644 and ordered all Chinese men to shave the front of their heads on pain of death, armed rebellions broke out.
Today we still manipulate our hair in as many ways as we can imagine, dyeing it, spraying it, weaving it, adding extensions, bombarding it with blow dryers and curling irons, and sometimes shaving it all off. Yul Brynner is probably cinema's most famous baldie, but there have been many others, including Telly Savalas, Patrick Stewart and Sigourney Weaver, not to mention all those actors who have removed their hair to play villains – an association between hairlessness and evil parodied mercilessly in the Austin Powers movies.
Bald men, our subconscious tells us, are bad men. But why? We may find it threatening because, in evolutionary terms at least, baldness conveys age-related dominance. "It exposes more cranial skin, so when the face flushes in anger, the display is larger and fiercer," explains McNeill.
Certainly baldness allows actors and performers to exaggerate the grimaces and sneers of villainy, and in recent years some Hollywood actors have chosen to reclaim hairlessness (or at least shaved hair) from the bad guys and use it as a symbol of virility and action heroism – Bruce Willis for instance.
Ironically, considering how often and how many ways we change our hair, it is the one thing that people remember most easily about us. Indeed, victims of crime find hair the easiest facial feature to describe to a sketch artist.
"In one experiment, subjects viewed hatless men in a lineup," says McNeill. "In half the cases, the men had gone bareheaded during the robbery; in the other half, they'd worn a knit pullover cap that covered the hairline. Witnesses identified 45 percent of the hatless, but only 27 percent of the capped thieves." Which just goes to prove that you can't get away with crimes against hair. Especially in Hollywood.
---
More challenges for Moore
Julianne Moore's decision to step in for Jodie Foster as FBI agent Clarice Starling in the sequel to Silence Of The Lambs has guaranteed her ascent to the A-list of Hollywood actresses.
Her role in Hannibal is an assignment that would have daunted the most confident of stars. Not only is the subject matter at times truly gruesome, with even more over-the-top horror than the original, but it is also an enormous challenge to step into the shoes of Jodie, who won an Oscar for her portrayal of Clarice.
"Jodie set a very high standard," Julianne admits in an interview published in the March edition of Vanity Fair. "She was wonderful, and that makes you nervous."
As for the dark nature of the script, Julianne tells the magazine she had some initial reservations. "My apprehensions had to do with the nature of the violence. I am pretty careful about violence," says the auburn-haired actress, "but eventually I came to feel that this story was fablelike. This is a film about good and evil coming up against each other.
It's ironic and almost mythologised. But it is psychologically horrifying. I actually talked to my shrink about it. Hannibal is the dark side that is part of everyone.
We are socialised, civilised, but in our fantasy lives we explore these themes. That's okay, but it's a fine line I feel uncomfortable with".
In other aspects of her life, how-ever, the actress seems to positively glow with self-assurance. She recently celebrated her 40th birthday and, after ending her unhappy eight-year marriage with actor John Gould Rubin, has been in a loving relationship with film director Bart Freundlich for the past five years. The couple have recently moved to New York, where they live in a trendy three-bedroomed West Village loft.
With two Academy Award nominations already under her belt for her memorable performances in The End Of the Affair and Boogie Nights, Julianne has recently become known as one of the hardest-working and most versatile actresses in Hollywood.
She has appeared in everything from arthouse movies to Steven Spielberg blockbusters, and Hannibal director Ridley Scott said he considered Julianne to be the only contender for the role, even though Gwyneth Paltrow, Angelina Joli and Gillian Anderson were rumoured to be up for it.
Among her most recent projects are a film with Nicole Kidman and Meryl Streep called The Hours; co-starring Kevin Spacey; and Tarveler , another production with her boyfriend (the couple originally met each other when Julianne agreed to be in Bart's first film)
Taking precedence over her career, however, is Julianne and Bart's three-year-old son, Caleb. "Having a child was the biggest emotional thrill I've had in my life", she tells Vanity Fair's Leslie Bennetts. "The best day of my life was the day he was born. I was on an incredible high that lasted the whole first year; I was euphoric. I wasn't prepared for how happy it would make me - for the depth of my happiness. There's nothing better than choosing to be a parent."
Although she's in no rush to get married, the actress says having another child is a top priority. When she does, she will take a year off to have the baby. At the moment, however, work is demanding all her time.
And modestly, Julianne insists that it is luck, not talent, that has made her so popular. "I'm the luckiest girl in the world," she says.