Every coin has two sides
By Chandra De Silva
'Eco-tourism' has become a buzz word and a marketing tool for spurious products. This is referred to as "green washing'' in eco-tourism literature. Eco- tourism should be developed with ecological and sociological sensitivity to achieve the principles on which it is based, namely: responsible travel to natural and cultural areas, which conserves the environment and sustains the well-being of local people.

Eco-tourism ranges from a casual walk through undisturbed forests to exploration and study of unique, natural and cultural features in remote areas. Conventional tourism often involves substantial 'leakages' of income out of the country as costly items for construction, furnishings and decor, food and beverages are central to the construction and operation of traditional hotels. On the other hand, eco-lodges - the lodging facility of eco-tourists - are small units of 10-15 rooms constructed with local building material and traditional methods. An eco-lodge could be constructed with wattle and daub with village labour and decorated with local artifacts to create an indigenous flair. They have to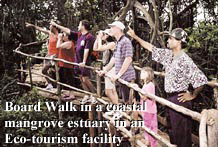 be built in harmony with the natural environment in spirit and design.
Eco-tourists do not expect accommodations, food or night life that meet the standard of comfort or luxury held by other groups of tourists. For eco-tourists, living with local conditions, customs and food 'enriches' their vacation experiences. They are well educated and discerning travellers looking for knowledge - based holidays, and they indulge in activities, such as bird watching, nature and cultural tours etc. for which expert interpreters (guides) are engaged.
Thus most of the money remains in the country - particularly in peripheral areas where generally natural and cultural assets are located, thus stimulating economic activity and growth in the rural sector.
Consequently, eco-tourism, which is a niche segment of the tourism industry should be owned and managed by Sri Lankans, which will prevent leakages out of the country and provide the right Sri Lankan flavour and stimulate the appreciation of nature and culture within the community itself.
Further, Sri Lankans know their country best and eco-tourism should be their business; as the resource base is their heritage. The local entrepreneurs should be assisted by government authorities in providing guidelines in the construction and operation of eco-lodges and facilities as well as training interpreters for bird watching, nature and cultural tours etc. This will open lucrative employment opportunities to our graduates in the biological sciences, archaeology etc.
The Government should assist in providing low cost finance to Sri Lankans to launch eco-tourism projects. The second Small & Micro Industries Leader and Entrepreneur Promotion Credit Scheme (SMILE II) could target this sector as the cost of constructing eco-lodges is low. This is a means of linking economic incentives with conservation and promotion of eco-tourism for the benefit of local entrepreneurs.
The increasing popularity of eco-tourism is of concern to conservationists. The demand placed on ecosystems and cultural resources from increased tourism can destroy the very attractions that draw people. Developing eco-tourism wisely, therefore, poses an enormous challenge. Consequently "carrying capacity" - the minimum level of visitor use an area could accommodate with high levels of satisfaction for visitors and minimal negative impacts on resources - has to be carefully managed and monitored.
This could be the responsibility of the Sri Lanka Tourist Board with the assistance of the Ministry of Forestry & Environment, Department of Wild Life Conservation and other relevant institutions relating to tourism. Unplanned growth and exceeding the "carrying capacity" could lead to diminishing returns, and a threat to the ecosystem and cultural assets on which eco-tourism depends. Further, there is increasing evidence that eco-tourism has facilitated commercial access to ecologically sensitive areas such as bio-diversity, rich forests, to collectors entering tropical countries as ecotourists, engaging in bio piracy. The eco-tourism market cannot be reached by the same marketing techniques used in the 'mass' tourism market. Ecotourists want to know how their travel is benefiting local communities, the local environment and cultural assets. We are in the decade of the environment and there is a growing interest, in the media, in conservation issues.
Stanford Research Institute (SRI) blended demographic and psychographic variables called VALS, for values and lifestyles. This is a niche marketing technique, which could be applied in marketing eco-tourism products. Bio-diversity and rich cultural heritage are the most important attributes of an eco-tourism destination. Sri Lanka has both. Eco-tourists travel in small groups - five to fifteen is the average. This is the niche.
Market research has demonstrated that, Europe, United States and Japan generate the largest volume of eco-tourists in the world. Local eco-tour operators should establish links with nature and culture tour operators in these countries.
(The writer is President of the Eco-tourism Society of Sri Lanka)

---
He loved to live, he loved to act
By Christopher Noble
Family, friends and fans gathered re cently to bid farewell to two-time Oscar-winning actor Anthony Quinn, whose vital screen presence gave life to a host of characters, including the career-defining earthy and worldly-wise "Zorba the Greek".

A crowd of about 100 well-wishers paid tribute to Quinn's well-known zest for life during services at the First Baptist Church in America, the historic Providence church originally founded by Roger Williams.

Quinn's fierce gaze, which emanated from two large-screen televisions bracketing the pulpit, and a colourful painting of the actor entitled "Triumph," which hung behind the speakers throughout the service, were a constant reminder of his vigorous life. "Anthony was truly a gift to all of us and to millions and millions and millions of people," said actor Edward James Olmos, who befriended Quinn toward the end of his life. "He was prolific, outstanding; he gave his life to others."

Quinn, who appeared in more than 100 movies in a career that spanned six decades, died on June 3 in Brigham and Women's hospital in Boston. He was 86. Tributes also came from Providence Mayor Vincent Cianci and former New York City Mayor David Dinkins, who called Quinn "a big man with a big heart." Quinn's last wife, Katherine, and four of his children also spoke.

A large contingent of Quinn's children and grandchildren attended the service. The actor fathered 13 children with five women, three of whom he married. One of the children died as a youngster but the others are still alive. The speakers celebrated Quinn's passionate existence and the great spirit he exuded. "He told me to always find new places and exciting new ways to get there," said Francesco, Quinn's sixth child, who has followed his father into acting.

Quinn has been mourned in Mexico, the place of his birth, and Greece, which considered him an honorary citizen because of his larger-than-life performance as Zorba. Quinn's sensual, vigorous roles earned him two best supporting actor Academy Awards. He first won in 1952 for his portrayal of a Mexican revolutionary in "Viva Zapata!," and he clinched the golden statue again four years later for his performance as the French painter Paul Gauguin in "Lust for Life". But he was best known for "Zorba the Greek." "I am Zorba" he once said after playing the character. He also appeared in such landmark films as "Lawrence of Arabia,"and "The Guns of Navarone".

Quinn was born April 21, 1915, in Chihuahua, Mexico, where his half-Irish father Francisco Quinn had married a Mexican of Aztec ancestry while fighting for revolutionary leader Pancho Villa.

His early years were spent in poor neighbourhoods in Los Angeles and he worked as a shoe shiner, fruit picker, electrician, cement mixer, dress cutter, musician and professional boxer before gravitating to acting. "To me, acting ... (is) living," he once said. "I love to live, so I live. I love to act, so I act. I gotta have vitality."

(Reuters)