A Touch Of Fairy Dust
Enter the land of the fairies, and savour the magical delights on offer. Salma Yusuf takes a closer look at a show inspired by time-honoured fairytales
From the producers of previous highly successful productions like King And I, Aladdin, Magic And Mayhem, and Just Showing Off, the Yolande School, as a part of their biennial production, will transport audiences to a world of ragdolls, tomahawks and a silver slipper in their production of A Little Princess, Peter Pan And Cinderella, which will hit the boards next week.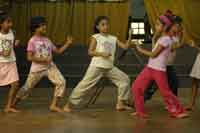 Comprising a cast of over 150 students from many national and international schools, Samantha Abeywira De Soysa, producer, director and principal of the Yolande School says, "A feature we have been working towards is to accommodate as many children on stage, so as to afford opportunities for aspiring young actors and actresses. For this reason, two casts will play on the four days."
Cinderella is the classic story of rags to riches. A Little Princess deals with the harsh life in Miss Minchin's Academy, when the avaricious headmistress discovers that one of her 'star' pupils is no longer as wealthy as when she first joined her establishment. Peter Pan, the magical fairy story of the boy who never 'grows up,' together with Wendy and the Darling family, goes into a magical world of Red Indians, pirates and lost boys.
One of the many challenges that were faced, Samantha says "was that originally they were very shy, but they have come a long way since."
However, the enthusiasm and eagerness of the cast is ever apparent. It is obvious that they are absolutely enjoying their theatre experience. This makes the whole process easier for us, notes Samantha.
The cast for the production includes Danica Fonseka, Shenali De Silva, Dinuka Hettiaratchy, Menakshi Uduwela, Janith Rupasinghe, Sabira Caffoor, Sashenca Lakshmansinghe, Daniella Joshua, Kayshia De Soysa, Mineka Karunaratne, Dane Joshua, Scott Ritchie, Dinuke Munasinghe, Quraish Fazleabas, Tanisha Wijesinghe and Karishma D' Almeida.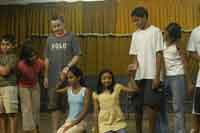 In this production, Samantha is assisted by Ninette Staples, Laman Wahab and Dini Amaratunge. The Yolande School has been and continues to be one of the leading institutions teaching Speech and Drama, Effective Communication, Spoken and Written English. The choreography for the performance is by Oosha Saravanamuttu and musical direction is by Soundari David.
The production will go on boards from June 1 to 4 at the Lionel Wendt Theatre at 7 p.m. Box plan and Tickets are available at Lionel Wendt.