'Sewwandhi': Another dramatic twist by Obeysekere
By Susutha R. Fernando
'A director/ artiste should not be guided by the audience; audience should be guided by the artiste' saidveteran filmmaker Vasantha Obeysekere speaking on filmmaking in Sri Lankan cinema and about his latest directorial venture "Sewwandhi" (The Rose).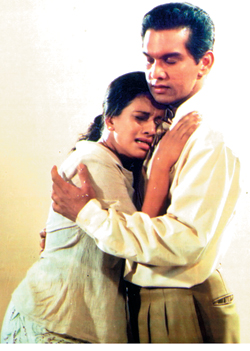 Kamal Addaraarachchi and Sangeetha Weeraratne in a scene from the movie 'Sewwandhi'
The film 'Sewwandhi' is produced by popular actress Sangeetha Weeraratne, who also acts in the main role.
TV Times: What made you choose a story like "Sewwandhi"?
Mr. Obeysekere: Well, As usual. It was based on a true incident which gave me an idea to make it a universal experience. So the script them the film was the outcome.
TV Times: What's the theme?
Mr. Obeysekere: Basically deals with the aspects of loneliness and separation. A woman at a time of war analyses her deep desires and longings for fulfilment. When they meet their relationship is threatened. The man feels intimidated this makes him violent and the outcome…
TVT: About Sangeetha, the producer your view?
Mr. Obeysekere: I knew her for fifteen years. Like any other producer with whom I have worked I had no problem at all. The reason for this is all the producers I worked with know that I know exactly what I want and what I do. And they have confidence in me. Besides being a producer she gave an excellent performance as lead female, Sewwandhi.
TVT: What is the criteria that governs your filmmaking?
Mr. Obeysekere: You have to have a thorough dedication for what you do. After all it is my emotions I am playing up in my film. For this I never compromise with my producers. You have to be absolutely dedicated to your work and your objectives. I make films for my satisfaction to relate to some experience subjectively.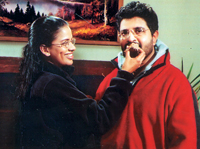 Sangeetha and Dayan
TVT: What about many young directors that mushroom in the industry?
Mr. Obeysekere: One can command and win respect only if you know the subject. One Italian director said there are 360 angles for you to take a shot. But there is only one effective position we can use it. If you don't know your basics you can't do anything in cinema. At least they should know their onions.
For example I violate my medium when I use language to project my objective. There is no fixed grammar in any form of art. If art is going to be fixed and rigid it cannot survive and it will be like Pali and Sanskrit, both dead languages.

TVT: Is the filmmaking a collective effort?
Mr. Obeysekere: It is my conceptions and my feelings that I express through my artistes and technical crew. As Hitchcock said director is like a shepherd. He leads the rest follows. The rest would always co-operate if they know what their director is doing. Therefore corporation and collective effort matters in the context.
TVT:'Dadayama' brought success with the emotional response given by the audience. Do you agree?
Mr. Obeysekere: A film is made of dramatic events. But it need not always be high drama like 'Dadayama'. I have made some other films which were box office hits. It was my feeling that compelled me to do the film.
TVT: Can you give us some facts about you- on location?
Mr. Obeysekere: I am a very strict disciplinarian. There should be punctuality for everything. I never permit the use of alcohol at my locations while filming. The cast and crew are free to do anything once the job is complete.
TVT: An unforgettable moment while doing 'Sewwandhi"?
Mr. Obeysekere: We filmed massive war scenes in Vavuniya. I should be thankful to all the army officials in these areas who really supported me and helped to complete shooting on schedule. When I think of Sewwandhi it is this support I never can forget.
Director's Cut .............Vasantha's Way
Graduating from the University of Ceylon in 1962, Vasantha Obeysekera started his career as a journalist serving on the Editorial Staff of the Associated Newspapers of Ceylon Limited (1964 - 1970). In addition to editorial responsibilities, he wrote short stories as well.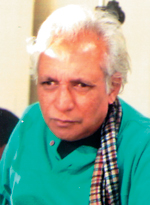 Director Obeysekere
His prime interest was however in film making, and was associated as Co-Screenplay Writer and Assistant Director of the film "Sath Samudura" (Seven Seas), which was Sri Lanka's official entry for the Moscow International Film Festival in 1967. In 1971 obtained a certificate in Cinematography from the Conservatoire Independent Du Cinema Francais - Paris.
Story, screenplay and direction of Vesgatththo (Masked Men) (1970), Valmathuwo (Lost Ones) (1976) and Diyamanthi (Diamond) (1977) witnessed a unique calibre of a new director in making for Sri Lankan cinema. His next two films 'Palangetiyo' (Grasshoppers) (1799) and 'Dadayama' (The Hunt) 1983 won him Presidential awards for Best screenplay, direction, Best Film and Special National award and one of the best 10 films ever produced in Sri Lanka.
Rest of his films 'Kedapathaka Chaya' (Reflections on the Mirror) (1998), 'Maruthaya' (The storm) (1998), 'Theertha Yathra' (Pilgrimage) (1999) won him many awards including OCIC and Presidential awards. 'Salelu Warama' (Web of Love) and 'Agni Warsha' were his last films screened.
'Aganthukaya' which he did for the Film Corporation circuit was still awaiting for the release and 'Sewwandhi' is to be released in September on EAP circuit.
Sage of 'Sewwandhi'


The story of the film 'Sewwandhi' depicts a man who was caught up between legality and morality.
The main character, a police officer family goes with his family for a holiday where they meet another family on holiday. The two families become friends but the Police officer realises that the face of the woman is familiar to him. It was regarding a crime committed ten years ago. He digs in and traces police records to discover what had happened. It was about Sewwandhi who was said to have murdered but now had returned to life. He further finds the past of a horrendous crimes to which she is a party. Confronted with the evidence she had no alternative but to admit her real identity. She confesses that she became a part in these crimes in self defence.
Thrilled at his discovery the police officer dreams about the possible promotion he is to get by uncovering a culprit of a long forgotten criminal. But this leads to a conflict in his own family life when his wife accuses him destroying a family. Should her present happy life be destroyed on account of her past crime? questions the police officer's wife. The police officer is now caught up between the duty and compassion.