Senior Professor Nimal Senanayake, PhD, DSc, FRCP, the former head of Faculty of Medicine, Peradeniya is a highly qualified academic in the medical field in the country. Prof. Senanayake enters movies scene as a script writer and producer with 'Sankranthi'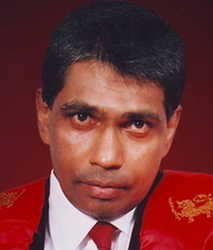 Prof. Nimal Senanayake
Before entering cinema Prof, Senanayake's contribution to Sri Lankan teledrama was remarkable. He produced Dharmasena Pathiraja's award winning dramas 'Ella Langa Walawwa' and 'Suba Anagathayak' based on world renowned Charles Dickens 'The Great Expectation' and 'Durganthaya' based on Emily Bronte's 'Withering Heights'.
"My association with Mr. Pathiraja is long standing. I was able to join him with many of his good works for the television," says Prof. Senanayake. He also produced and scripted tele play 'Dhawala Kanya' based on Wilkie Collins 'Women in White'.
Having made a successful journey in the miniscreen Prof. Senanayake has now entered cinema with Anuruddha Jayasinghe's maiden film. Prof. Senanayake wrote the script in addition being the producer. "I entered this field because of the necessity I felt," says this highly qualified medical academic.
Prof. Senanayake who entered Medical College from Henegama Central College said "even as a student I had interest in arts and aesthetic subject".
"Yet I am a self made scriptwriter and even though I have involved in medical field in my imagination I have always taken special interest in literature and dramas".
"If you have the will and the interest there is enough time to do this", says Prof. Senanayake who had made remarkable contribution to country's teledramas field despite his busy academic career.
Specialized in selection of directors, Prof. Senanayake has scripted dramas for Thusutha de Silva and Anuruddha Jayasinghe.
"I work with some talented people. And in my production I have given the priority to what we are doing. And as a policy I don't put restriction to the direction," explained Prof. Senanayake.
Speaking about the state of present teledrama industry Prof. Senanayake says "They are in a disappointing state".
With teledrama like 'Ella Langa Walawwa' we were able to give a direction to our teledrama industry. But unfortunately this trend had changed now," says Prof. Senanayake.