'Rekawa' release recreated at the Regal Cinema
Last December 28 was a significant day not only for experienced filmmaker Dr. Lester James Peries but to the country with a filmmaking history over 50 years. It marked the golden jubilee of the release of Rekawa, which is well known as the first 'real' film made in Sri Lanka.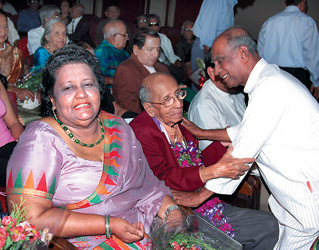 Leater, Sumithra and Amaradeva
Number of artistes including actors, technicians, playback singers joined Lester at the Regal cinema Colombo where the film premiere took place exactly 50 years ago on December 28, 1966 to celebrate this rare occasion.
The Rekawa artistes Sunila Jayanthi, Mallika Pilapitiya, Shesha Palihakkara, Sisira Senaratne, Indrani Wijebandara, Ivor Dennis and Lata Walpola took part in the historic event and they were presented with special awards.
When invited to share a few words on the occasion, Dr. Peries thanked everybody who joined him for the historic venture. Reminiscing the day when 'Rekawa'' was originally released, Dr. Peries said that he had to spend whole day in Hulftsdorp courts for a case, the charges he could not remember now. 'Spending the day there I came straight to Regal cinema for the premiere,' said Dr. Peries.
The event also coincided with the launch of two books on Rekawa by veteran journalist A.D. Ranjith Kumara and his son Nuwan Nayanajith Kumara.
Prof. Sunil Ariyaratne making the keynote address on the book ………. explained how Lester along with Willie Blake and Titus Totawatte the spirited young trio started a revolution against South Indian copy cinema entirely made in studios and among the sets made out of gunny bags and cardboard.
Actor, director and journalist Jackson Anthony in his speech on Nuwan Nayanajith's book said that the young writer has kept his hand on the historic endeavour the value of which the most of the younger generation failed to identify.