Where the first rubber seedlings were grown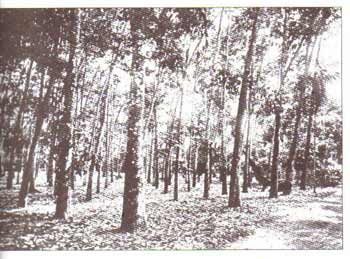 Rubber trees at Henaratgoda Gardens
Henaratgoda Gardens, the not so well known botanical gardens in Sri Lanka due to the dominance of Peradeniya and Hakgala Gardens, were established 130 years ago. The recorded date is January 15, 1876.
ituated just beyond Gampaha, the Gardens were set up for the propagation of the first para rubber seedlings to be successfully grown outside native Brazil.
'The Handbook for the Ceylon Traveller' describes the event thus: "The story is amongst the most fascinating botanical true-romances – the smuggling of the seeds down the Amazon in bales of cotton; the intensive research for the best technique of exploiting the tree commercially; the development of various technological uses for the product including the rubber tyre which made the automobile industry possible – and the sequel is more exciting still. From these trees came the seeds dispersed throughout South-east Asia to give a dozen countries a financial mainstay, and the economic revolution that sprang from them broke for ever the ruthless rule of the South American 'rubber barons' and made of their millionaires' city, Manaos, with its marble pavements and gold-plated WCs, a ghost town.
No.6 at Henaratgoda was the first tree to be planted; but the most famous is No.2, which yielded 392 pounds of dry rubber in less than five years at a time when every aspect of growing and tapping was still experimental."
The article states that there is more to see than the rubber grove. "A plantation, for instance, of Chaulmoogra, an ancient Eastern specific against leprosy long disregarded by the West; a rare collection of palms; and magnificent trees of many kinds. Trees, indeed (rather than flowers) are the glory of Heneratgoda and the most impressive of all are giants from the South American continent seen here to better effect than in any of Sri Lanka's other Gardens. They are also preserved on either side of the entrance gate, two small patches of untouched 'jungle'; an unusually imaginative exhibit."
Heneratgoda Gardens is well worth a visit. You can go by train, get down at Gampaha station and do a quiet trudge along the Minuwangoda road. By road, go along the Colombo-Kandy road, turn off at Miriswatta junction, reach Gampaha and proceed.