Huge crowds at US porn convention
Thirty thousand people have gathered in the US city of Las Vegas for the annual convention of the pornography industry. The scale of the Adult Entertainment Expo reflects the huge growth in a business which is said to be bigger than Hollywood and worth $57bn (£29bn).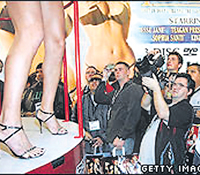 About 200 pornographic films are shot in the US every week.
Estimates of its annual contribution to the US economy range from $12bn-$20bn. One of the reasons for its recent success is the pioneering use of new technology - video on the internet and use of moving images on mobile phones.
The BBC's Guto Harri in Las Vegas says it is easy to be embarrassed at such a show, with explicit films, intimidating toys and hundreds of half-naked actors on display.
The adult industry is bigger than every professional sports combined - it's part of life, it's mainstream now.
But the scale and seriousness of the convention is not that different to a more mainstream gathering because pornography is big business, our correspondent says. Adult entertainment model Jasmine Mai told the BBC: "The adult industry is bigger than every professional sports combined. It's part of life - it's mainstream now." BBC