Caring about AIDS
Youth activism is a concept that is fast becoming a key ingredient in changing perspectives of young people, and creating awareness about prevalent issues in society. Being educated by their peers, as opposed to by adults, is always more appealing to young people, making it more likely for such ventures to be successful. And taking on one of the most vital social issues at present, is the group of talented, energetic and passionate young people we met up with last week.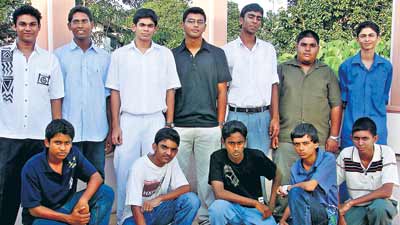 Interact club of St. Peter's College- one of the schools involved in organising this programme.Pic. by Berty Mendis.
About 36.3 million adults and 2.5 million children live with HIV and AIDS worldwide, at present. Around 6,000 young people get infected with HIV everyday. These are only some of the stark statistics concerning this deadly virus, which is quite prevalent in Sri Lanka. Undertaking the responsibility of educating fellow youth, and creating awareness on Sexually Transmitted Diseases, mainly HIV and AIDS, the Interact Clubs of St. Peter's College and St. Bridget's Convent are presenting the "AIDS Awareness Campaign, 2007."
An annual project held successfully for the past four years, the campaign began on December 1, 2006, and will continue to run through January, 2007. The objective being to create awareness on AIDS and other existing STDs affecting the youth of Sri Lanka, the target audience of the campaign is school goers between the ages of 14-19. The campaign involves not only Colombo district, but also Kandy, Ratnapura and Galle, and is sponsored by Community Concern Society and Save Lanka Kids.
"We have been organising this campaign consecutively along with St. Bridget's Convent and it has been a huge success right along. The earlier campaigns consisted of a walk and an education and awareness fair at Excel World, but this year we decided to take it one step further and hold awareness workshops as well," said Heshan Perera (17), the President of the Interact Club of St. Peter's College. The workshops are highly interactive, with the speakers at the event being a doctor and a youth activist from International Congress of AIDS in Asia Pacific (ICAP). "The doctor handles the medical aspect of the subject matter, while the youth representative covers the social side," said Shehan Amaratunga (17), Co-Project Chairperson from St. Peter's College.
The campaign began in Colombo on December 1, coinciding with World AIDS Day. "Unfortunately the turn out for the first workshop was not very high due to a bomb blast, but it was quite a success," said Heshan, adding that this workshop will be repeated on January 11. They both went on to explain the workings of the second workshop, which was held on January 3 at the Galle Municipal Council Hall. "The turn out numbered at around about 50-60 students from invited schools in the District, said Shehan. The next workshop is scheduled to be held in Kandy on January 13, while the fourth workshop will be held in Ratnapura on January 14. The campaign will wind up on January 20, with a walk and day fair, at Excel World. "The fair will once again be part education and part fun, with essay, speech, poster and multimedia presentation competitions and debates being held throughout the day. Every participant at the walk, wearing an AIDS ribbon will be entitled to reduced prices at Excel World," said Shehan, adding that while the whole venue will be utilised for the event, there will be DJ music and guest performances right throughout the day. The walk on January 20, will begin at 8.15 a.m. and will extend from Viharamahadevi Park to Excel World, and promises to be a crowd puller. With 30-40 schools being invited for the event, the turn out expected should be almost 3000.
Speaking to Romali Boteju (17), Co-Project Chairperson from St. Bridget's Convent, she described the experience as "new and different." "Since we have always worked on school-based projects, this is a entirely different situation, where so many of us are working toward one goal. Our main priority is to work towards eradicating AIDS from our country."
With the entire community numbering 26, each school has 13 representatives working on the project. "We have learned a lot during this project, and we have been able to put our differences aside and make the project a success," said Stephani Fernando (17), Project Secretary from St. Bridget's Convent. A sub project of the campaign is a wristband with the slogan "I care. Do you?" It will be sold at Rs. 20 each at the fair, and all proceeds will go towards the future aspects of the project. The committee members extended their thanks for the support given by their respective principals - Rev. Fr. Travis Gabriel, Principal of St. Peter's College and Rev. Sister Marjorie Silva, Principal of St. Bridget's Convent, staff advisers, the Rotaract Club of Colombo West, sponsoring Rotary Clubs, the District Interact Committee and Dis. Int. Thesula Rambadagalle.
Driving Force
Co-Project Chairpersons - Int. Shehan Amaratunga and Romali Boteju
Secretaries - Int. Ishrath Badurdeen andInt. Stephani Fernando
Treasurers - Int. Kanishka Peiris and Int. Udeshi Gurusinghe
Finance - Int. Mohomed Bilal and Int. Charm Jayathilake
Publicity - Int. Shahan Fernando and Int. Joanne Ramanandan
School Coordinators - Int. Jude Mnedis and Int. Vishmi Fernando
Walk Coordination - Int. Rishitha Peiris and Int. Cheranka Mendis
Fair Coordination - Int. Shannon Fernando and Int. Vindya Fernando
Campaign - Int. Joy Alphonsus and Int. Keshini de Silva
Décor and Innovations - Int. Christian Quyn, Int. Ishanka Wimaladarma, Int. Zehan Samsudeen and Int. Nihara Perera
Entertainment - Int. Trionne De Jong and Int. Erika Ekanayake
Games and Competitions - Int. Kanishka Herath and Int. Sabrinah Mawzzon