Worst landslides in years: 18 dead, 15 missing
Thick mist, impassable roads hinder rescue operations
In the aftermath of the worst landslides in some 15 years, the Army and Police backed by air support mounted a major search operation in the Walapane, Hanguranketa and Maturata areas yesterday, where at least 18 were killed, 15 missing and some 1, 500 houses destroyed.
Nuwara Eliya District Secretary R.M.B.Ratnayaka said after three attempts on Friday to reach the affected areas by air failed due to the thick mist, the Air Force yesterday went through to rescue and airlift more than 20 of the injured people to the Kandy General Hospital.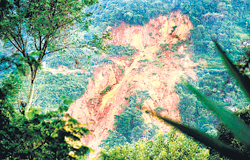 The site in Kiriwana ella area of Walapane where five houses were buried in a landslide. Pix by Hanguranketa Samarasinghe
The landslides have displaced more than 10,000 people who are being given shelter at welfare centres set up by the government, but food supplies are said to be short because most of the main roads are impassable.
The District secretary's office is appealing for heavy machinery from the private sector to clear the main roads so that essential supplies could be transported. Among the main roads blocked is the Kandy – Nuwara Eliya highway via Hanguranketa and Walapane .The main road running beside the Randenigala dam was also shut down for vehicular traffic due to a landslide and motorists were advised to use the old Mahiyangana road via Hunasgiriya.
Rescue workers were able to locate 16 bodies until last afternoon and the search for the others was going on. Another 15 people are reported missing.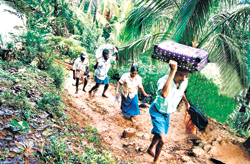 Following the landslides in the Walapane, Maturata and Hanguranketa areas hundreds of villagers have been fleeing their homes for safety. Here villagers in Kadurukade, Hanguranketa are seen leaving their homes yesterday.
The District Secretary said that of the 25 welfare centres set up, 18 were in inaccessible areas and he had directed the Grama Niladharis of those areas to open the Co-operative stores there and issue dry rations to the affected people. He said most of the welfare centres were schools and the displaced people would have to be moved elsewhere soon to reopen the schools this week. The landslides were reported to be the worst in more than 15 years and the National Building Research Organisation was monitoring the situation to identify other areas which may be vulnerable.
Meanwhile several other areas of the country were also affected by landslides and floods displacing more than 50,000 people.