One in line with the Ashes and a subcontinent triangular in the offing
Sri Lanka Cricket is planning to have a regular bi-lateral one day series with New Zealand on a home and away basis in line with the famous Ashes series played between England and Australia.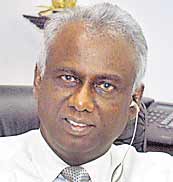 Jayantha Dharmadasa
According to Sri Lanka Cricket Interim Committee Chairman Jayantha Dharmadasa a proposal to this effect has already been sent to the New Zealand Cricket Board. "We have written to the NZ Cricket Board on this proposal and are awaiting a response. We also hope to discuss this matter further at this months International Cricket Council (ICC) Chief Executives meeting in Dubai later this month".
Although SLC is in favour of a regular test series between the two countries Dharmadsa was of the view that with the heavy ICC schedule, a test series was not possible. "We are really looking at a series of one day matches that could be played every year on a home and away basis as we do not want to disturb the already scheduled ICC future test programme", said Dharmadasa.
SL-India-Pak triangular!
SLC , which faced a huge financial setback last year due to the cancellation of a triangular series is looking to compensate by scheduling another triangular series with India and South Africa/Pakistan in June this year. The SLC Chief confirmed to The Sunday Times that India has already agreed to play four to five one dayers against Sri Lanka in June. "We are now looking at a third team to convert this into a triangular series and South Africa and Pakistan are the two teams which we have in mind".
Pakistan are believed to be free during the month of June and it will be a huge success if the SLC authorities can convince the sub-continent side to join their neighbours for a triangular tournament. Sri Lanka, India and Pakistan have played together only during Asia Cup engagements and if SLC can put together a triangular tournament in Colombo featuring the three Asian countries the event will not only be a huge money spinner but will also be a historical first ever event. As pointed out by a cricket analyst it is going to be an enormous task that will require a lot of hard talk and careful negotiations from the SLC hierarchy to convince the Asian giants to meet in a triangular in Colombo.
Moody in West Indies
Meanwhile the Sri Lanka Cricket team returned to the island earlier this week from New Zealand minus coach Tom Moody, Assistant Coach Trevor Penny and the Physiotherapist. According to Manager Michael Tissera Moody left to the West Indies to inspect the wickets where Sri Lanka is expected to play during the World Cup. The Sri Lanka team is expected to re-group next week after a short holiday and prepare for their four match one day series against India early next month which will be their final assignment before the World cup.