People's Bank support on training in new markets
SME's participating in the CATGEN Project conducted by the National Chamber of Exporters of Sri Lanka (NCE), were recently trained to develop their own websites with product catalogues, to upload the catalogues into the CatGen Server and also to update the catalogues regularly, on their own, in an easy manner.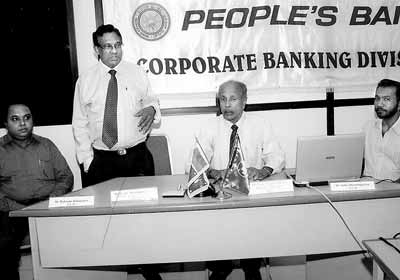 Picture shows L.S.G. Tillekeratne – Director (Member Services & New Projects) of NCE addressing the participants. From left – Mahinda Rajapakse, Consultant – ILO, Rasa Weerasingham, Executive Director – NCE and Suda Shanmugaraja – Consultant - ILO.
This Server also provided a low cost hosting solution for their product catalogues, free access to trade information and statistics, search engine optimization, etc and is the most comprehensive e-trading platform available for networking of SME's worldwide to develop export business.
The most compelling and unique feature of CATGEN is its capability to combine numerous individual product catalogues of SME's into powerful "Meta Markets" which is easily accessible by buyers.
The NCE proposes to enter the Meta Market System of this project for the benefit of its members.
The NCE conducted the first training workshop under this programme with the active collaboration and sponsorship of the People's Bank on January 24. The workshop was very well received by all participants. Following this workshop due to several requests made by exporters the NCE conducted a second training programme on February 9.
The People's Bank further supported the programme by sponsoring a group of SME exporters who are customers of the Bank, as a value added service provided by the Bank to its customers in view of the opportunity provided by the programme to expand exports.
The NCE proposes to conduct a third training workshop in March 2007 to accommodate those who are interested in benefiting from this opportunity.