Hayleys Consumer appoints Trevor Reckerman as CEO
Trevor Reckerman, a top marketing professional who spent most of his working life at Nestle (here and abroad) and Mobil Sri Lanka, has joined the Hayleys Group as its Chief at Hayleys Consumer Products Limited (HCPL)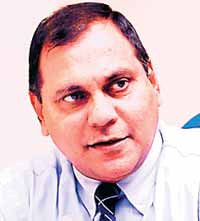 Trevor Reckerman
The company said in a statement that Reckerman will have overall executive responsibility for the diverse range of products marketed and distributed in Sri Lanka by Hayleys Consumer in sectors such as Consumer Durables, Photo and Imaging, FMCG, Personal Care, Consumer Lighting, Home Care and Food Products.
Commenting on his appointment, Reckerman said: "I look forward to using my skills and extensive experience in marketing and general management to take Hayleys Consumer to a new paradigm. The company represents some exciting brands in vastly different categories that cater to different market segments. Developing and directing strategy for them is a challenge that I will relish." An alumnus of the prestigious Institute of Management Development (IMD) in Lausanne, Switzerland, Reckerman was the first Sri Lankan to be posted by the Nestlé company as an international expatriate. Over a 10 year period, he developed strategy for and helped set up operations for Nestlé in Malaysia, Indonesia, Bangladesh, and Myanmar, as a Nestlé Country Manager. His extensive training and representation for Nestlé has taken him to Switzerland, the UK and Australia among several other developed Nestlé operations.
On his return to the country in 2000, Reckerman who is widely credited with establishing Nestomalt as a flagship brand for Nestlé in Sri Lanka, joined the Exxon-Mobil affiliate McLarens and took charge of the Mobil brand, which is today the acknowledged value leader in the local lubricants market.