Triad begins "year of learning"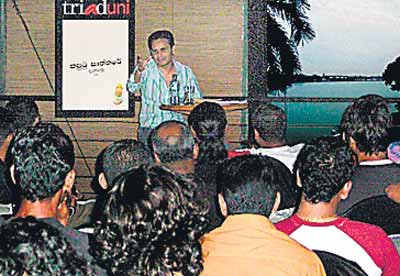 Seminar in progress
TriadUni, the educational initiative of Triad Advertising kick-started the "year of learning" with Dileepa Abeysekera, Sri Lanka's golden boy of advertising sharing nuggets of knowledge and experience at an interactive listening and learning session held at the Colombo Rowing Club, earlier this year.
Triad said Abeysekera, one of Sri Lanka's best creative minds, delivered an impromptu discourse into the making of creative, memorable and impactful communications. Citing examples from folklore, art, theatre, history and an array of humanities, he delved deep into the discipline of insight based creativity. Professing the view that creativity and communication needs to be relevant to its audience, he spoke on locally acceptable communication, in particular.
To this end, Abeysekera noted "advertising messages reach out to the public uninvited, so the effort to reach out and be accepted by your audience is all the more harder. Only when messages seamlessly blend into their value systems and culture or evoke sensitivities that are welcome, do audiences react positively and engage with the communication. My experience is that you cannot create memorable communication unless you know how to stroke your audience, for this you need to feel their pulse, understand their lives and be one with social peculiarities".
Abeysekera has been credited for countless award winning campaigns and is the Founder and Creative Head of Heensare, a truly Sri Lankan creative hot shop.