Magistrates to get tough on IPR law violators
Sri Lankan magistrates last week collectively agreed to be tough on violators of Intellectual Property Rights (IPR) laws in Sri Lanka, where the country is losing billions of rupees due to this.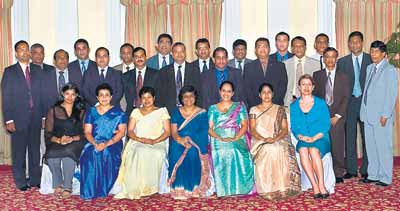 Picture shows -- Magistrates, Members of AMCHAM, Director General of NIP Office and Corporate Heads who participated at the colloquium.
A colloquium for Magistrates on 'Enforcement of Intellectual Property Rights' organized by the American Chamber of Commerce (AMCHAM) and the National Intellectual Property Office of Sri Lanka held recently successfully concluded with a collective accord by the Magistrates to be stringent on enforcing IPR laws in Sri Lanka.
The colloquium was organized under the patronage of the Judicial Services Commission of Sri Lanka.
Under the auspices of the Director General of NIP Office, Dr. D.M. Karunaratne, the forum was addressed by eminent judicial personalities such as Justice Raja Fernando who spoke on criminal sanctions against the infringement of IP rights in Sri Lanka, while Justice K.T.Chithrasiri raised awareness on civil litigation and the process to follow with regard to the complaints received.
Justice Fernando urged the Magistrates to impose the punishment as stated in the statute signifying the maximum penalty of Rs. 500,000 and a six-month imprisonment for the offence of violating IP rights. He stressed the importance of not accepting a mere guilty plea by the violators and reiterated the use of higher jurisdiction granted to Magistrates against IPR infringements.
A press release from Amcham, said the discussion was enlivened by a presentation by Jayant Singh, Managing Director, SmithKline Beecham (Pvt) Ltd., who explained counterfeit products could be fatal to the consumer in regards to the pharmaceutical industry and that the consumer is paying more for the packaging than the good itself.
Amice Van Der Burg Dissanayake, License Compliance Manager, Microsoft representing the software sector underlined that a low software piracy rate encourages the growth of the indigenous software industry, stimulates foreign investment, increases revenues to the local and national economy and assists in the creation of jobs.
The presentation done by Ajith Perera, Security Manager, Ceylon Tobacco Company highlighted the annual average loss of revenue, a staggering Rs 90 million per every single 40foot container of counterfeit and smuggled cigarettes.
"IP theft, which is increasingly becoming a problem in Sri Lanka is crippling our economy.
The problem is no longer confined to fake luxury items but now includes fake medicine, software, garments and spare parts etc, many of which are destined for a developing economy as well as the living condition of human beings.
Thus, protection of intellectual property rights is vital to our economic growth as well as the well-being of our citizens and any form of violation should not be tolerated by all responsible authorities" said Dr. D.M. Karunaratne, Director General of National Intellectual Property Office.