UK's First Choice Airways back with tourists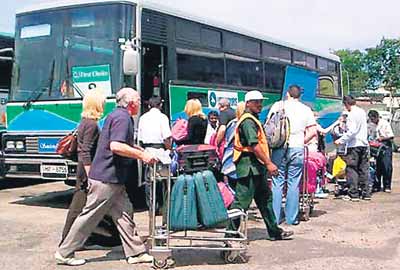 First Choice tourists
First Choice Airways of the UK, a subsidiary of the leading international leisure travel company First Choice Holidays Plc. has re-commenced weekly charter flights to Sri Lanka from Thursday, February 8, bringing in 258 leisure travellers to Sri Lanka on a weekly basis. Hemtours (Pte) Ltd, a subsidiary of Hemas Holdings Ltd, one of the leading ground handling agents in Sri Lanka, is the exclusive local agent for both First Choice Airways and First Choice Holidays. "Hemtours and Sri Lanka Tourism UK should be congratulated for this achievement since this commencement of the weekly charter comes at a time where Sri Lanka's tourism industry is faced with many challenges", Howard Bicknell, Area Manager First Choice Holidays & Flights said in a statement issued by the Hemas Group. With an operating fleet of more than 32 aircraft, the new First Choice leisure aircraft will bring in over 13,000 leisure travellers to Sri Lanka per year. The flight operates to/from London Gatwick weekly on a non-stop service. Customers from First Choice will benefit from the great selection of tours and excursions that Hemtours offer, together with a range of beach stay hotels in the major resorts of the island, the statement said.
Abbas Esufally, Sector Head of Hemas Leisure said, "UK is viewed as a high potential and rapidly growing market for Sri Lanka with a potential of more than 100,000 arrivals each year. The commencement of this flight operation will help the occupancy of all partner hotels and have the 'trickle down effect' for the communities in those areas. I see this as a tremendous boost for Sri Lanka's tourism industry, especially at this moment in time. I hope other tour operators from both the UK and other destinations will be encouraged to follow suit".
Hemas Holdings Ltd is one of Sri Lanka's top conglomerates with a focus on five key sectors - FMCG, Healthcare, Transportation, Leisure and Strategic Investments.