Parisians rediscover taste for "art of the nude"
PARIS, (Reuters) - Backstage at the Lido, the dancers in one of the French capital's most celebrated nude revues file into place, adjust their plumed headdresses as the music begins, and stride out for the night's show.
As the evening progresses, bare-breasted dancers stream on and off stage, handing their feathers to wardrobe assistants and wriggling into new costumes before fixing a smile and taking their positions for the next number.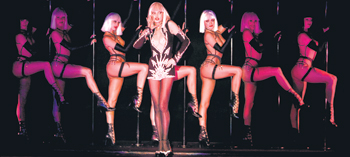 French actress and singer Arielle Dombasle performs during her show at the Crazy Horse cabaret in Paris
Belying their champagne image, they must exercise near-military discipline, as suggested by the rank of captain held by the lead dancers in the troupe.
"It does have to be a little bit like that to work," said Andree Deissenberg, general manager of the Crazy Horse, another of the city's top cabarets, just a short walk from the Lido.
High-kicking, bare-breasted dancers in plumed headdresses have been a staple of gangster films and a feature of Paris night life since the days of the legendary Josephine Baker before World War Two.
Through years of changing tastes, the Lido and the Crazy Horse, and others such as the Moulin Rouge or Paradis Latin have gone on, helped recently by a fascination with the camp glamour of the 1970s in pop music and fashion.
"The history of it all is interesting," said Lido dancer Emma Rooney as she put on her make-up. "But for me, I like to live today, live the feathers, live the plumes today."
The basic formula has remained little changed for decades and, in an era of lap-dancing clubs and Internet porn, the long legs and glittering outfits of the showgirls seem almost like a throwback to an earlier, more innocent age.
"I think the French public has got back its taste for live spectacle," said Pierre Rambert, artistic director of the Lido.
"But nudity as such has become banal. There's probably the same amount of nudity in the show as 30 or 40 years ago but its meaning has changed."
Sense of spectacle
While the once-daring revues may have lost their dangerous edge, one thing they have kept is their sense of spectacle.
The Lido has scores of performers, including nude dancers, ice-skaters, a live horse, a model elephant, a singer, an aeroplane, a strong man and 3 million euros' ($3.90 million) worth of feathers and sequined costumes.
"You should never be afraid of exaggerating," Rambert told Reuters. "But at the same time you can't just do anything. You have to keep control."
The Crazy Horse, a temple to "the Art of the Nude" for more than half a century, is smaller and more intimate but its fluorescent-wigged dancers and their tightly choreographed routines are no less extravagant.
Opening with a number based loosely on a Grenadier Guards parade (complete with screaming sergeant-major), they perform a series of tableaux, some decidedly surreal, bathed in kaleidoscopic lights like the credits of a James Bond film.
"It's like a Frenchman's vision of an American burlesque show," said Deissenberg.
Built up by forceful postwar entrepreneurs who left a firm mark, both the Lido, now owned by catering company Sodexho, and the Crazy Horse employ a core of backroom staff who have often been there for decades. Evolution is gradual.
"You can't just do it any old how," said Deissenberg, brought in last year from the more highbrow Cirque du Soleil. "You really need to understand how you can do it."
For the first time, she has invited outside performers to the show's small red stage to follow a long line of in-house artistes whose outlandish stage names -- Kiki Tam Tam, Lili la Pudeur or Rita Renoir -- are inscribed on a plaque near the bar. Dita von Teese, a retro burlesque artist celebrated for reviving the kind of striptease popular when the Crazy Horse started in the 1950s, was the first last year. She has been followed by Arielle Dombasle, actress, singer and wife of one of France's most prominent intellectuals, Bernard-Henri Levy, who has sung in the show and says she is charmed by it.
"It doesn't have the feathers and all of that, it's the beauty of the feminine form, the mystery of the feminine," she told Reuters.
Prince and the showgirl.
It is a mystery that has made a night out for personalities ranging from John F. Kennedy to fashion designer Jean-Paul Gaultier and left those who were there sometimes misty-eyed at the memory.
"The best night I can remember is when Sammy Davis Junior came late and excused himself by buying champagne for all the girls," said Jacques Asplanato, chef de salle at the Crazy Horse, who has worked there for 40 years.
"They took a week to drink it because they couldn't have it all at once and still perform."