Embrace the dance
Appreciate creativity and innovative dance movement? Then brace yourself for an experience that will not just entertain you, but also get you thinking, above all, on the reality of life. Merging just the right amount of modern, experimental and traditional dance techniques together, MODABORN, a unique dance performance, is scheduled for February 24, at 7 p.m, at the Lionel Wendt.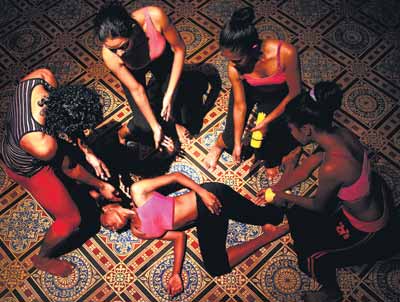 Pix. by M. A. Pushpa Kumara
Talking to Kapila Palihawadana, choreographer and director of 'nATANDA dance theatre of Sri Lanka' about the show, we got some insight into what the night promises. "The dance technique that will be used in this performance is unique, and I have combined elements of our traditional dance, with Western dance techniques. The first half of the show will be easier to grasp, while the second half will get you thinking and reflecting on life and its realities." And what of the title of the performance? "Basically, MODABORN comes from "modern dance born."
The line-up for the first half of the performance will be made up of items such as "Colours," "Gejji," "Anda Bhutha," "Vibrations" and "Secret of Nature." Speaking of a few items in particular, he said that Anda Bhutha was based on a Jathaka story, and "Secret of Nature" is a dance that has steps which symbolises the 18 Vannam in Kandyan dancing.
The second half revolves around "cake" and how it is a symbol of capitalism. "In every occasion, be it a death anniversary, wedding anniversary or birthday, the cake is such a vital part. Everybody looks for the cake as soon as they come to the occasion, and it's a huge let down if there is no cake. Also, this section of the performance shows how in a birthday party, while some people are happy and celebrating, others will be depressed about whatever is going on in their lives.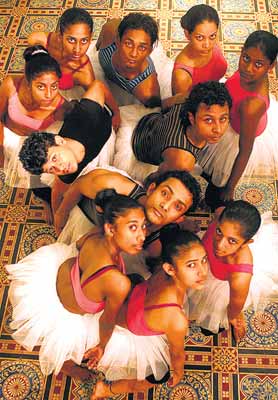 Through his performances, he also promotes the idea of the male dancer. "Most people have a "typical" notion whenever they think of a male dancer. And dance steps of the male dancer, in order to fit into the present trend, more often than not, have become feminine. But it does not have to be so. Strength and manliness can still be presented through a man's dance, and I promote this idea to quite an extent, in my performances," he said. He also added that in his dance routines, the costumes he uses are not very colourful, but most often comfortable and simple, making it so much easier for the dancers to do his innovative dance moves. In MODABORN, the guys will be clad in sarongs, while the girls will be in white tights and tutus.
While his dance ensemble consists of 17 dancers, four of them have been with him from the inception of his career in 2001, and for Ruchira Chathuranga, Malith Upendra, Dakshika Bandara and Neelika Madushani, dancing is a career. "I didn't ever expect to start a dance company, but it was only after I completed my degree at the University of Kelaniya, and returned from Germany, that I took the initiative." Learning modern dance and choreography in Germany under some well-known European teachers in the field, he was also at one time, the principle male dancer in the Channa-Upuli Performing Art School. This versatile dancer also received his ballet training by Oosha Saravanamuttu, and is a principle dancer in the Oosha Garten Ensemble.
Kapila extended his thanks to the Goethe Institute for allowing him and his dancers to use its facilities during practices for the performance and veteran dancer Niloufer Peiris for all the support she has given him, during his career. As for future plans, "Peace Dialogue" is scheduled for September this year, while "Power of Male" is scheduled for December. "I am also looking for new students who are interested in learning my technique of dance, and as soon as I find a location, I will start on my school," he said smiling.