Minister bulldozing his way through State land?
Farm employees and villagers in Kottu kachchi, Puttalam have launched a protest against a non-Cabinet minister who has been allegedly responsible for trying to sell part of a State farm in Kottukachchi village to a private company.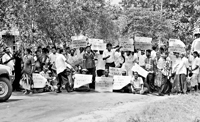 Villagers protesting the sale of the State land
The farm was started way back in 1945 on a near 1000 acre land as an animal farm.
Recently when it was close to being in a state of neglect, media attention was focussed on it with the result that serious attempts were made to revive the farm. In spite of such attempts spearheaded by the Anamaduwa Pradeshiya Sabha chairman, the minister was reportedly contemplating its sale to the private company for cadju cultivation. It is said the contemplated sale was illegal and had no legal grounds for it, but the minister was said to be using his political clout to go through with the deal.
At present backhoes and bulldozers are working on the land with concrete posts and barbed wires coming up, all sans any authority. The company meanwhile is reported to be encroaching on the catchment areas of the Kachchimaduwa and Idellawa wewas.
The management of the farm is said to be disturbed at the goings on and Livestock Development Board officials informed of the activities. But in spite of such intimation, both verbally and in writing, nothing seems to be happening to counter the attempts of the minister. Early this month a crowd led by PS chairman R.M. Dayaratne and JVP NWP councillor Saman Dissanayake registered their protest over the issue by blocking the Puttalam-Kurunegala highway causing a two-hour traffic snarl. Anamaduwa police intervened leading to an exchange of words but a clash did not materialise.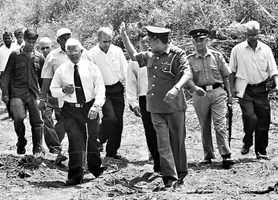 Officials arriving to inspect the land
As a result of the protest Puttalam District Secretary H.M.Herath, Anamaduwa Divisional Secretary J.N.Pathirana and District Engineer N.P. Gunasekera were among the top officials who went to the scene.
Addressing the demonstrators Mr. Herath said the area does not belong to private parties and it was heartening to see people registering their protest. He said State lands would never be sold to private companies.
Mr. Dayaratne said the farm was the heart and soul of the people and therefore he would fight for its survival. He would appeal to higher authorities not to sell the land to the private sector and allow the place to be destroyed.
A villager Lal Mendis said he came forward to save the farm and prevent it from being sold in an underhand way.