Killer kotthu: Ruwan's last supper
An incident where a 27-year-old man who died of cyanide poisoning soon after eating a meal of kotthu last week, was being investigated by Athurugiriya police.
The victim was identified as Ruwan Lakshan.
Though his mother Leela Grace with whom he had shared the kotthu and the dog to whom the left over of the kotthu was given are in perfect health, Lakshan who ate the major portion died within half an hour of eating it.
The mother said her son had mentioned the food had not tasted well but as she had a little of it herself, she had not felt anything wrong.
"First I thought that the kotthu was stale, but then I remembered that it was warm. My son said he bought it not from the usual place but from another place and added the taste was not good at all", she said.
"As soon as he had dinner, he went to bed and when I went to check on him, he was half conscious and phlegm was coming from his mouth. So I ran to my other son's place which is close by and called for help", she said.
The mother said her son was friendly with all the people in the village and did not have any enemies as far as was known.
"He neither smoked nor took liquor and he rarely ate food brought from out", she said.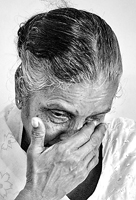 The mother.
"I cannot think of any thing other than the kotthu he ate, for his death", she said.
Nimal Guneratne, Ruwan Lakshan's brother said that around 11.45 p.m. he was informed that something was wrong with his brother but he had thought that Lakshan was having a phlegm problem.
"It didn't take more than 20 minutes for us to take him to the National Hospital", he said.
Lakshan had been admitted to the ICU immediately but he had already passed away.
"Whatever happened, it happened within half an hour. We have no idea from where he bought the kotthu. He had bought two packets from the place from where he normally bought food but had given them to his friends. After that he had bought the other packet of kotthu which he shared with his mother but nobody knows from where he bought it", Guneratne said.
Ruwan Lakshan's elder sister Sriyani Mangalika confirmed her brother did not have any food with him when he visited her house on that day at around 9 p.m. Lakshan had left around 10.30 p.m after participating at an almsgiving where he had not eaten any food.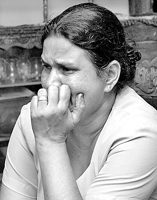 The sister
"There is no place for him to buy a packet of kotthu on the way home from my place. He may have gone all the way to Athurugiriya to buy it", she said.
Dr. S. Wijeratne of the Department of Forensic Medicine and Toxicology of the Medical Faculty of the Colombo University, who had carried out the post mortem, said he was positive the death was caused by cyanide poisoning.
"But the question remains that nothing happened to the dog and the mother who ate from the same packet. Considering the speed of the reaction, the poison must have got into his body at the same time as the food", he said.
Additional Coroner Ashroff Rumy said no evidence had been forwarded to give reasons for him to commit suicide.
"No evidence of broken affairs or enemies came out. I postponed the case and ordered that the person who sold the packet of kotthu be produced", he said.
Police are yet to trace the place from where the kotthu had been purchased and further investigations are in progress.