Positive ahead of the World Cup
With national selectors naming their teams for the world cup the focus on this once in four year event is gathering momentum. India and Sri Lanka have locked horns in an absorbing four match series. The first one got washed out with unseasonal rain in Kokata just when a real contest was beginning to build up.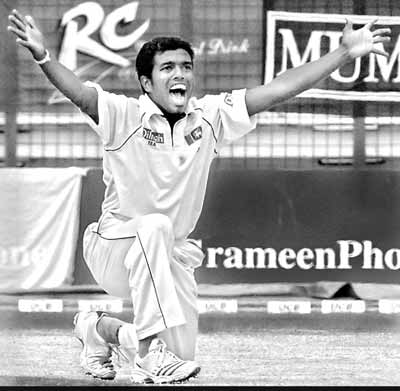 Leg spinner Malinga Bandara once again has proved his worth as has been given the chance to do so.
On both occasions the Sri Lankans had to fight tooth and nail. They got themselves into trouble and wriggled out on a number of occasions. That in itself is a good situation for the team to be in. Particularly in the one day game, there is always the possibility of losing your way. To have players who can quickly get the team back on track and quickly is of utmost importance.
The second game in Rajkot saw the advantage swing back and forth as both teams strived to gain control. There was a lot of life on the pitch for about fifteen overs and it made life difficult for the top order Sri Lankan batsmen.
On such situations a batsman's technique, temperament and shot selection is tested to no end. Precise foot movement becomes a vital ingredient for survival. Four of the top order failed to get all that right. Jayasuriya, Tharanga, Atapattu and Jayawardene had to pay for their errors in judgement. It was from this tormenting situation that Kumar Sangakkara played a gem of an innings. He had to conquer the bowlers who were with their tails in the air and waiting to strike. The fielders were pouncing on everything, having tested success. Sangakkara had to be precise and had to place the ball into gaps on the field which he did. The pitch had some venom and every delivery had to be watched and played on its merits. Then the accelerating time came after the thirteen over. Play a lot with a straight bat and taking minimum risk, Sangakkara completed a memorable century.
Dilshan was equal to the task in keep the vice captain company. Although it was just another half century to his credit the value was very high. Their century partnership gave Sri Lanka another lease of life. After Sachin Tendulkar and Sourav Gangully had blasted away the Sri Lankans came back again. This time through the younger and lesser experienced trio of Malinga Bandara, Fervez Mahroof and Nuwan Kulasekara. After a horror first spell where he conceded twenty one runs Lasith Malinga came back to grab two wickets. The fielding was of a very high standard. Skipper Jayawardene and Mahroof held onto two sensational catches, under pressure, in the end. It was a wholesome team effort.
India levelled the series in Goa. Again it was a tough battle. Sri Lanka were again on the back foot losing early wickets. This time Marvan Atapattu and Russell Arnold together with T.M. Dilshan, guided Sri Lanka to respectability. The Indians were determined and thorough in their approach with captain Rahul Dravid leading the way. Ganguly displayed his class once again and Mahendra Singh Dhoni compiled a subdued innings. Dilhara Fernando's bowling was the big plus point for the touring team. He came back after a foot injury, to bowl with pace and accuracy. It will be hugely welcomed by captain and coach. Add Muttiah Muralitharan and Chaminda Vaas to the equation and it will be a good, balanced outfit. Mostly, they showed they could come back when down on the mat in these two closely contested games. A huge positive ahead of the World Cup.