THE GIANT LEAP
The 1975 Prudential World Cup cricket tournament could have been named the year that the Lankans had their learning curve in 'big time' cricket as they went into this tournament on an equal footing with the rest of the gang and learned the ABC's of being with the big'uns.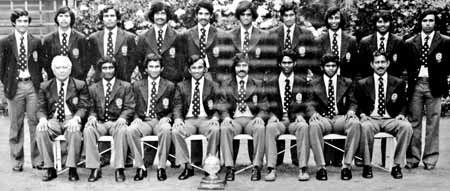 (Standing) Ranjan Madugalle, Rohan Jayasekera, Ranjan Gunatilleke, D.L.S. de Silva, Ajith de Silva, Sunil Jayasinghe, Sritharan Jeganathan, Roy Dias, Sudath Pasqual. (Seated) Gen. B.R. Heyn, Duleep Mendis, Sunil Wettimuny, Anura Tennekoon ( captain), Bandula Warnapura ( vice captain), D.S. de Silva,Tony Opatha snd Abu Fuard.
However after this initial invitation system the entire membership of the ICC wanted a piece of the cake, and thus the ICC was compelled to draw up another competition for the associate members to ascertain as to who was good enough to be the real ones among the minnows. So the World cricket also saw the birth of the ICC Trophy Tournament to precede the ICC Cricket World Cup.
Just to share with our readers how Sri Lanka had taken up to the 'big time' game and how resilient they were in take up to the game Musings then walked up to another Nalandian who suddenly had to wear the captain's hat as a result to an injury to the incumbent one. He was none other than Bandula Warnapura who later wore his cap through to lead the fledgling nation to its inaugural Test against England at the P. Saravanamuttu Stadium, three years later.
Warnapura explained after their initial invitation to the World Cup in 1975 saw themselves fighting out with the other minnows for the ICC Trophy. However their biggest drawback at that quest was that Sri Lanka had no permission from the then government to play Israel based on its foreign policy. So it was a walkover offered to them even before a ball was bowled in the tournament. Then in the tournament proper after beating the United States in their opening match, the Lankans followed it up with a win against the Netherlands while the Wales match at Hinckley was washed off. However, Sri Lanka topped the group to play their semi-final against Denmark which they easily won by 208 runs. Thus the two finalists Sri Lanka who came from group 'C' and Canada who came from group 'B' were elevated to the World Cup tournament proper.
Bandula Warnapura Sri Lanka's first Test captain explains. Pic by Saman Kariyawasam
In the tournament proper Sri Lanka – the complete outsiders in Group 'B' did exceptionally well. They lost the first match with New Zealand by ten wickets and incidentally during this game, regular skipper Anura Tennekone pulled a hamstring and was out of cricket for the rest of the tour and Bandula Warnapura was called up to take over the mantle and guide the new comers through the rest of the series. The second match was against the then mighty West Indians (The ultimate winners in that tournament too). It rained for two whole days and the two teams ended up with two points each.
With two points in their pockets, Sri Lanka then took on a problem riddled Indian outfit and beat them by 47 runs in Manchester to end the tournament head of their mighty neighbours and thus gave the cricketing world another reminder that the little Lankans had come of age.
Finally they capped it all by taking the inaugural ICC Trophy by beating Canada in the final by 60 runs.
Explaining the Lankan mental attitude towards the game at that time Warnapura explained "1975 was the first time we went to England, I remember long years ago when Dhanasiri Weerasinghe, was the chairman of the selection committee along with H.I.K. Fernando and Co. But, there were clashes and we could not pick a squad. I am sure had we gone on that tour at that time we would have got test status long before 1981. That proved that we were weak and there was infighting going on. After going to England in 1975, I stayed back and played a couple of years cricket there and so did some others. So by the time when it came 1979, most of us knew about the conditions there in England. Prior to that people were commenting on how the ball swings and the wet conditions that prevailed in England, but, by 1979, England was no more a mystery place for us. Most importantly after 1975, we had a target to go for. Now we knew that we had a World Cup to prepare for once in every four years. This was something that we never had prior to 1975 in Sri Lankan cricket. Besides that we also started getting a few teams coming over to Sri Lanka to play serious cricket.
The World Cup final eight on show.
"Besides that we were also facing a transition period where some of the seniors --in Michael Tissera, Anura Tennekoon, Tony Opatha and Ranjith Fernando quietly moving out and there were a lot of new faces knocking at the door. So we went to England some time before the tournament began with 18 players rather than the customary 14 players you take on a tour. Among the younger players we had Sunil Jayasinghe, Mahesh Gunatilleke, Ranjan Madugalle, Roy Dias, the late D.L.S. de Silva etc. were prominent and they were talented enough to establish themselves in the top slot. They were just out of school and they were good enough to hold their own in the senior side. That time there was a good lot of school boys coming straight out of school to the national level and from that point onwards it started dwindling. At the same time we also had the Ali Bhutto Trophy series coming up against Pakistan and all of a sudden Lankan cricketers were getting opportunities. In short cricket was being taken very seriously. Not that we were getting money, but, with whatever we had the game was becoming a very serious one. Facilities wise we were far behind the visiting teams till we gained full status and we played the first test. Then I am always grateful to all those who kept to the game before we played it and nurtured it to the level that we took over amid so many shortcomings. I remember Robert Senanayake was the President of the Cricket Board for seventeen long years. At that time there was no money in the Board and no one wanted it. So it were the people who really loved the game kept on nurturing it".
Then Musings queried from the former captain about getting our rightful place in the cricket world two years later and how it came about. Warnapura explaned "The buildup came from 1979. We had made the application prior to 1975 and authorities were worried about out the facilities and the infrastructure available in Sri Lanka. I do not think there was a problem in our cricket at all by 1979 they were convinced enough to that effect. So what we had to do was to go on with our good work in cricket and build up the infrastructure at the same time so that we could show them that we could sustain that level of cricket. There is a certain quarter who are of the view that some of the countries who attained Test Status after shouldn't have got it because they have not been able to maintain it. But Sri Lanka never faced that problem.
"Just before we were given the final nod of approval the Australian side under Kim Hughes came to Sri Lanka and we nearly beat them. Then we followed that up with a tour to England to play against the county teams and we did not lose to any of them and we played about ten matches on that tour. Especially when the Australians came to Sri Lanka I think they were also under instructions to provide a report on all aspects cricket in Sri Lanka and when we did very well against them obviously there may been a very good report about our cricket and its structure.
"I still remember it was our game against Yorkshire when the ICC meeting was taking place with Gamini Dissanayake, Nisal Senaratne and Co. fighting for our cause. At that time Gamini Dissanayake a prominent minister in the then government gave the guarantees about the financial aspects of it while we provided the necessary cricket background for them to fight for our cause. It was on that day while we were playing the match that we received the good news. "I think every thing came together. Gamini's efforts with the assurances about the infrastructure and we playing good cricket out there it was one whole complete unit. It came at the correct time. By chance we did not get the nod at that time we also may have lost the enthusiasm we had at that time.